"On The Smugglers' Radar" is a feature for books that have caught our eye: books we have heard of via other bloggers, directly from publishers, and/or from our regular incursions into the Amazon jungle. Thus, the Smugglers' Radar was born. Because we want far more books than we can possibly buy or review (what else is new?), we thought we would make the Smugglers' Radar into a weekly feature – so YOU can tell us which books you have on your radar as well!
On Ana's Radar:
The Story of Owen: Dragon Slayer of Trondheim by E. K. Johnston was a slow burner of a read and it has become – upon reflection – one of my favourite reads of the year. Needless to say, I can not wait for the sequel: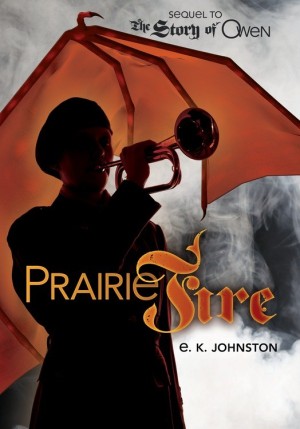 Listen! For the song of Owen Thorskard has a second verse.

Every dragon slayer owes the Oil Watch a period of service, and young Owen was no exception. What made him different was that he did not enlist alone. His two closest friends stood with him shoulder to shoulder. Steeled by success and hope, the three were confident in their plan. And though Siobhan McQuaid was the first bard in a generation, she managed to forge a role for herself and herald Owen as a new kind of dragon slayer for a new kind of future.

But the arc of history is long and hardened by dragon fire. Try as they might, Owen and his friends could not twist it to their will. Not all the way. Not all together.

Listen! I am Siobhan McQuaid. I know the cost of even a small bend in the course of history. Listen!

I saw this title on Edelweiss and I am really looking forward to it. Although: "Neil Gaiman's Stardust meets John Green's The Fault in Our Stars", what is even that?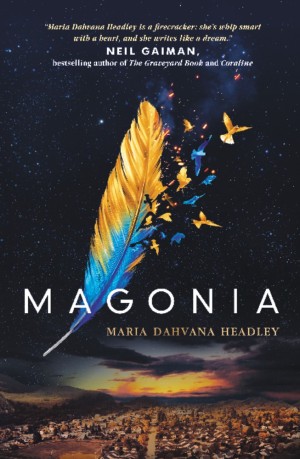 Neil Gaiman's Stardust meets John Green's The Fault in Our Stars in this groundbreaking fantasy about a girl caught between two worlds…two races…and two destinies.

Aza Ray is drowning in thin air.

Since she was a baby, Aza has suffered from a mysterious lung disease that makes it ever harder for her to breathe, to speak—to live.

So when Aza catches a glimpse of a ship in the sky, her family chalks it up to a cruel side effect of her medication. But Aza doesn't think this is a hallucination. She can hear someone on the ship calling her name.

Only her best friend, Jason, listens. Jason, who's always been there. Jason, for whom she might have more-than-friendly feelings. But before Aza can consider that thrilling idea, something goes terribly wrong. Aza is lost to our world—and found, by another. Magonia.

Above the clouds, in a land of trading ships, Aza is not the weak and dying thing she was. In Magonia, she can breathe for the first time. Better, she has immense power—and as she navigates her new life, she discovers that war is coming. Magonia and Earth are on the cusp of a reckoning. And in Aza's hands lies the fate of the whole of humanity—including the boy who loves her. Where do her loyalties lie?

Maria Dahvana Headley's soaring YA debut is a fiercely intelligent, multilayered fantasy rich with symbolism and steeped in allegory. Her John Green–meets–Neil Gaiman approach to character development and world building will draw readers of all genres, who will come for the high-concept journey through the sky and stay for the authentic, confused, questioning teen voices. Jason and Aza's fight to find each other somewhere between sky and earth is the perfect anchor for Headley's gorgeous, wildly vivid descriptions of life in Magonia.

Another book – by Cherie Priest! – that I first came across on Edelweiss: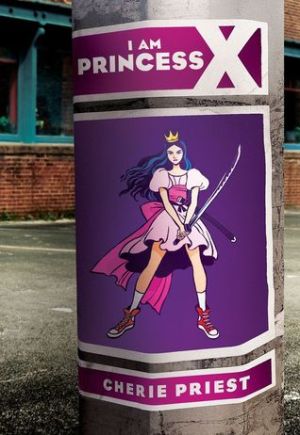 Best friends, big fans, a mysterious webcomic, and a long-lost girl collide in this riveting novel, perfect for fans of both Cory Doctorow and Sarah Dessen, & illustrated throughout with comics.

Once upon a time, two best friends created a princess together. Libby drew the pictures, May wrote the tales, and their heroine, Princess X, slayed all the dragons and scaled all the mountains their imaginations could conjure.
Once upon a few years later, Libby was in the car with her mom, driving across the Ballard Bridge on a rainy night. When the car went over the side, Libby passed away, and Princess X died with her.

Once upon a now: May is sixteen and lonely, wandering the streets of Seattle, when she sees a sticker slapped in a corner window.
Princess X?

When May looks around, she sees the Princess everywhere: Stickers. Patches. Graffiti. There's an entire underground culture, focused around a webcomic at IAmPrincessX.com. The more May explores the webcomic, the more she sees disturbing similarities between Libby's story and Princess X online. And that means that only one person could have started this phenomenon—her best friend, Libby, who lives.

Have you seen the cover for Sarah Mccarry's next book? YOU GUYS, <3 <3 <3: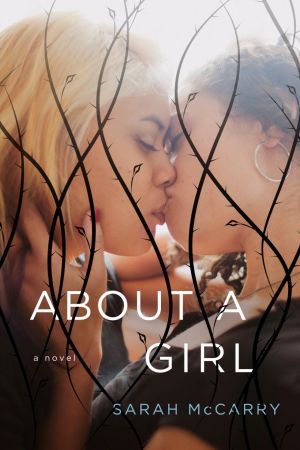 Eighteen-year-old Tally is absolutely sure of everything: her genius, the love of her adoptive family, the loyalty of her best friend, Shane, and her future career as a Nobel prize-winning astronomer.

There's no room in her tidy world for heartbreak or uncertainty–or the charismatic, troubled mother who abandoned her soon after she was born.

And finally, a book that sounds so amazing I can't EVEN: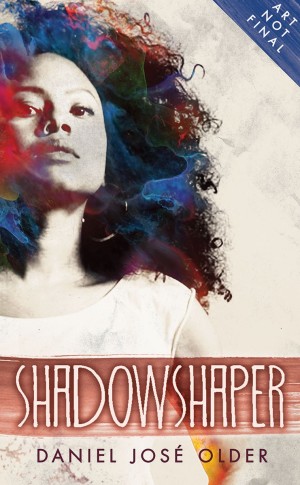 Sierra Santiago was looking forward to a fun summer of making art, hanging out with her friends, and skating around Brooklyn. But then a weird zombie guy crashes the first party of the season. Sierra's near-comatose abuelo begins to say "No importa" over and over. And when the graffiti murals in Bed-Stuy start to weep…. Well, something stranger than the usual New York mayhem is going on.

Sierra soon discovers a supernatural order called the Shadowshapers, who connect with spirits via paintings, music, and stories. Her grandfather once shared the order's secrets with an anthropologist, Dr. Jonathan Wick, who turned the Caribbean magic to his own foul ends. Now Wick wants to become the ultimate Shadowshaper by killing all the others, one by one. With the help of her friends and the hot graffiti artist Robbie, Sierra must dodge Wick's supernatural creations, harness her own Shadowshaping abilities, and save her family's past, present, and future.

On Thea's Radar:
On this edition of Thea's radar – a few books from the Toronto International Book Fair! First up, this manga adaptation of the novel that inspired Edge of Tomorrow (which I enjoyed very much with slight reservations), from the guy behind Death Note (which I also enjoyed very much in both manga and anime form):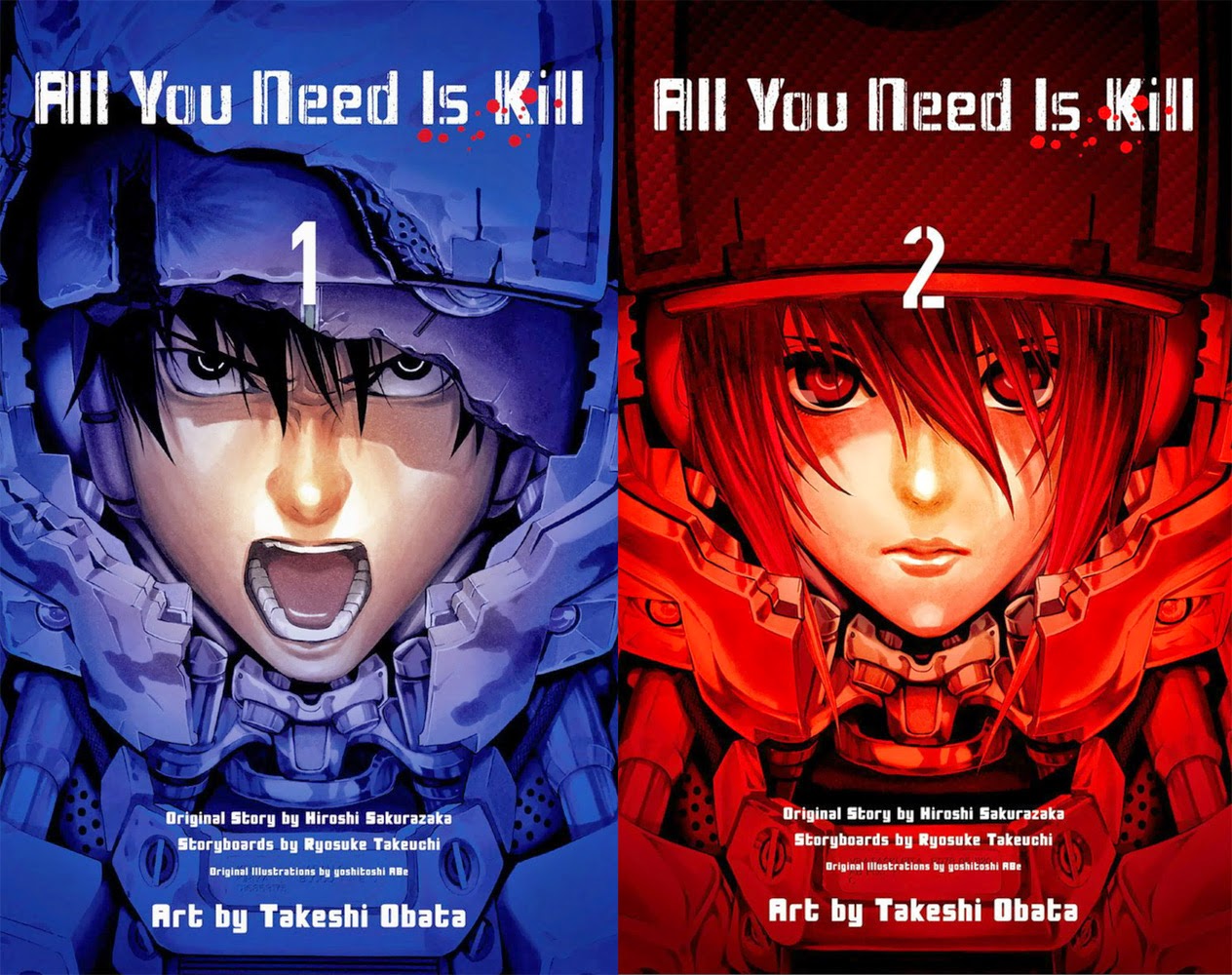 When the alien Mimics invade, Keiji Kiriya is just one of many recruits shoved into a suit of battle armor called a Jacket and sent out to kill. Keiji dies on the battlefield, only to be reborn each morning to fight and die again and again. On his 158th iteration, he gets a message from a mysterious ally–the female soldier known as the Full Metal Bitch. Is she the key to Keiji's escape or his final death?

Next up, this Canadian YA dystopian/post-apoc novel that looks promising, picked up at Indigo books yesterday: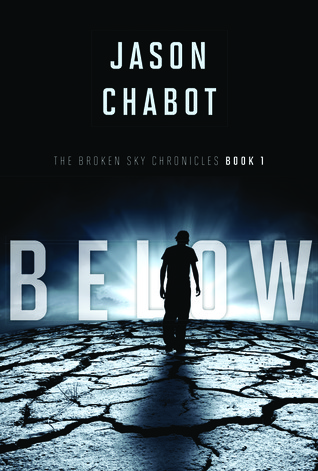 The ground cracked into hundreds of fissures, spreading out like a spider's web. In an instant, the earth around the donkey crumbled, and Elia threw herself at the nearest clothesline. As the squealing animal fell away, swallowed by the mist below, the wind surged to send a sheet billowing within reach.

Swinging in the air from a fistful of fabric, Elia heard a snap above her head and looked up to see the last clothespins spring off.
For a second, she felt as though she was suspended in the fog.
Then she fell.

The first of three volumes in this thrilling series opens on the barren plains of Below, where a teenage boy named Hokk lives in isolation amid the remnants of our modern age.

On the floating islands in the skies of Above, Elia and her family are enslaved in endless drudgery. To Elia, the island's edges are borders no one dares cross until the ritual burial that sends their dead Below. But a natural disaster is rumbling through Above, bringing both worlds-and Hokk and Elia-ever closer, until the day the earth crumbles below Elia's feet and she falls.

When Hokk rescues the girl who miraculously survives plunging into the sea, he realizes she might be the key to finally ending his exile. Both teens are desperate to return to the homes they've lost, and their journey together will propel them across endless plains, shattered cities, mirrored palaces and a centuries-old battle for the very earth and sky around them.

Finally, this anthology of indigenous science fiction stories, picked up at the book fair: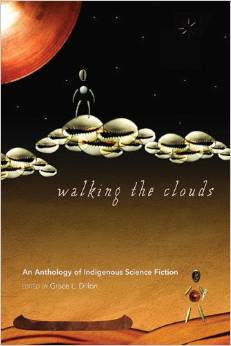 In this first-ever anthology of Indigenous science fiction Grace Dillon collects some of the finest examples of the craft with contributions by Native American, First Nations, Aboriginal Australian, and New Zealand Maori authors. The collection includes seminal authors such as Gerald Vizenor, historically important contributions often categorized as "magical realism" by authors like Leslie Marmon Silko and Sherman Alexie, and authors more recognizable to science fiction fans like William Sanders and Stephen Graham Jones. Dillon's engaging introduction situates the pieces in the larger context of science fiction and its conventions.

Organized by sub-genre, the book starts with Native slipstream, stories infused with time travel, alternate realities and alternative history like Vizenor's "Custer on the Slipstream." Next up are stories about contact with other beings featuring, among others, an excerpt from Gerry William's The Black Ship. Dillon includes stories that highlight Indigenous science like a piece from Archie Weller's Land of the Golden Clouds, asserting that one of the roles of Native science fiction is to disentangle that science from notions of "primitive" knowledge and myth. The fourth section calls out stories of apocalypse like William Sanders' "When This World Is All on Fire" and a piece from Zainab Amadahy's The Moons of Palmares. The anthology closes with examples of biskaabiiyang, or "returning to ourselves," bringing together stories like Eden Robinson's "Terminal Avenue" and a piece from Robert Sullivan's Star Waka.

An essential book for readers and students of both Native literature and science fiction, Walking the Clouds is an invaluable collection. It brings together not only great examples of Native science fiction from an internationally-known cast of authors, but Dillon's insightful scholarship sheds new light on the traditions of imagining an Indigenous future.

Now for something different, book 2 in Mindee Arnett's Avalon series (I need to read book 1 now, they look awesome):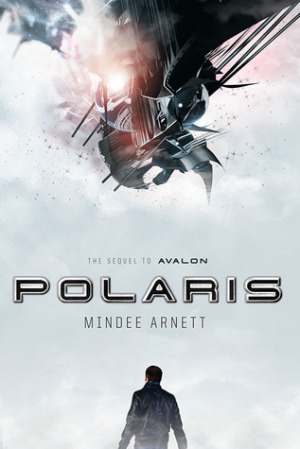 Following the events of Avalon, Jeth Seagrave and his crew are on the run. Jeth is desperate to find the resources and funding he needs to rescue his mother from an ITA's research lab and leave this whole galaxy behind for a new life somewhere else. But the ITA is just as desperate, and soon Jeth finds himself pursued by a mysterious figure hell-bent on capturing Jeth and his crew—dead or alive. In a last-ditch effort to save everyone he holds dear, Jeth enters into a bargain with the last person he ever thought he'd see again: Dax Shepherd, the galaxy's newest and most fearsome crime lord. And he's not the only one: upon arriving back at Peltraz spaceport for the first time since he witnessed the death of his old employer, Jeth discovers Dax has a new partner: Jeth's mother, Marian.

This shocking turn of events is only the first in another breathless, action-packed sci-fi adventure rife with danger, love, and betrayal, as Jeth has to once again ask himself how much he's willing to invest in a morally bankrupt galaxy in the hopes of saving those he cares for.

And last but not least, a science fictional Fast and the Furious? Oookay, you have my attention.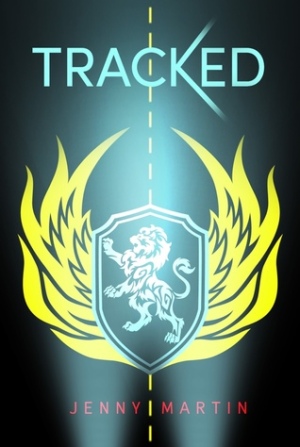 The Fast and the Furious gets a sci-fi twist in this action-packed debut

On corporately controlled Castra, rally racing is a high stakes game that seventeen-year-old Phoebe Van Zant knows all too well. Phee's legendary racer father disappeared mysteriously, but that hasn't stopped her from speeding headlong into trouble. When she and her best friend, Bear, attract the attention of Charles Benroyal, they are blackmailed into racing for Benroyal Corp, a company that represents everything Phee detests. Worse, Phee risks losing Bear as she falls for Cash, her charming new teammate. But when she discovers that Benroyal is controlling more than a corporation, Phee realizes she has a much bigger role in Castra's future than she could ever have imagined. It's up to Phee to take Benroyal down. But even with the help of her team, can a street-rat destroy an empire?

And that's it from us! What books do you have on YOUR radar?