"On The Smugglers' Radar" is a new feature for books that have caught our eye: books we have heard of via other bloggers, directly from publishers, and/or from our regular incursions into the Amazon jungle. Thus, the Smugglers' Radar was born. Because we want far more books than we can possibly buy or review (what else is new?), we thought we would make the Smugglers' Radar into a weekly feature – so YOU can tell us which books you have on your radar as well!
On Ana's Radar:
Sadly, unlike Thea, I've had a hard time finding books for this week's radar. I suppose I can't just have Frances Hardinge's books added to yet another radar can I?
Anyways, the ones I found look really good, like Iron Hearted Violet: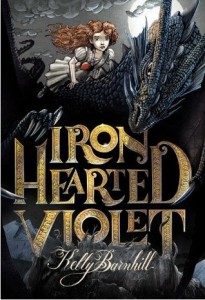 IRON-HEARTED VIOLET is a story of a princess unlike any other. It is a story of the last dragon in existence, deathly afraid of its own reflection. Above all, it is a story about the power of stories, our belief in them, and how one enchanted tale changed
the course of an entire kingdom.

Princess Violet is plain, reckless, and quite possibly too clever for her own good. Particularly when it comes to telling stories. One day she and her best friend, Demetrius, stumble upon a hidden
room and find a peculiar book. A forbidden book. It tells a story of an evil being—called the Nybbas—imprisoned in their world. The story cannot be true—not really. But then the whispers start. Violet and Demetrius, along with an ancient, scarred dragon, may hold the key to the Nybbas's triumph…or its demise. It all depends on how they tell the story. After all, stories make their own rules.

I've already posted about the highly anticipated Splendors and Glooms but this week I received an ARC from the UK publishers and I love this cover SO much I had to post about it again! (Mind you, the book is called Fire Spell in the UK, cut to me thinking OMG ANOTHER Laura Amy Schlitz BOOK only to realise it is the same one. LOL)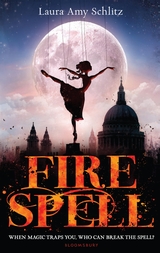 It begins with a girl in London, 1860. Her family is exceptionally wealthy and she is exceptionally lonely. The closest thing to friendship Clara has experienced was a brief encounter with the two ragged children who work with the puppeteer in the park. For her birthday she asks to see them perform in the drawing room, and her father, to her surprise, allows it. The puppeteer, Grisini, kidnaps Clara and uses his sinister powers to imprison her body and mind in the form of a marionette to add to his theatre. His two young assistants realise what has happened, and all three children find themselves caught up in a terrible struggle for supernatural eminence between Grisini and a dying witch of extraordinary power.

A Scifi YA that sounds really fun: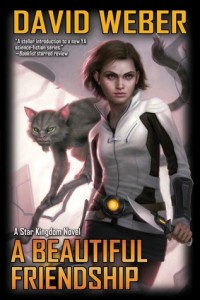 Stephanie Harrington always expected to be a forest ranger on her homeworld of Meyerdahl . . . until her parents relocated to the frontier planet of Sphinx in the far distant Star Kingdom of Manticore. It should have been the perfect new home — a virgin wilderness full of new species of every sort, just waiting to be discovered. But Sphinx is a far more dangerous place than ultra-civilized Meyerdahl, and Stephanie's explorations come to a sudden halt when her parents lay down the law: no trips into the bush without adult supervision!Yet Stephanie is a young woman determined to make discoveries, and the biggest one of all awaits her: an intelligent alien species.The forest-dwelling treecats are small, cute, smart, and have a pronounced taste for celery. And they are also very, very deadly when they or their friends are threatened . . . as Stephanie discovers when she comes face-to-face with Sphinx's most lethal predator after a hang-gliding accident. But her discoveries are only beginning, for the treecats are also telepathic and able to bond with certain humans, and Stephanie's find — and her first-of-its kind bond with the treecat Climbs Quickly — land both of them in a fresh torrent of danger. Galactic-sized wealth is at stake, and Stephanie and the treecats are squarely in the path of highly placed enemies determined to make sure the planet Sphinx remains entirely in human hands, even if that means the extermination of another thinking species.Unfortunately for those enemies, the treecats have saved Stephanie Harrington's life. She owes them . . . and Stephanie is a young woman who stands by her friends.Which means things are about to get very interesting on Sphinx.

Another SciFi title I am really keen to read is Debris Dreams described as a gay YA military sci-fi novel. Yes please.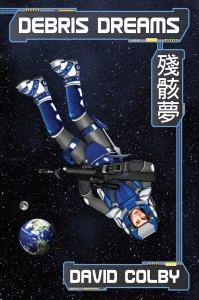 2068
1.5 million kilometers above the surface of the Earth

Drusilla Xao has only seen a tree in movies and vid-games. She has never breathed air that wasn't recycled, re-filtered, and re-used a hundred times over again. She has never set foot on the Earth.

And now she never will.

When a terrorist attack by a radical separatist group on Luna destroys the space elevator that had called so many – including her parents – to live permanently in space, Dru is cut off from any hope of ever reaching Earth and her beloved girlfriend, Sarah. The Chinese-American Alliance declares immediate war on the rebels and conscripts everyone they can get their hands on…including Dru.

Cast adrift, forced to become a soldier, trapped in a nightmare of vacuum and loneliness, Dru's training will help her survive, but only Sarah will be able to bring her home.

And I will end the radar with a Historical novel about Beryl Markham, the first person to fly solo from England to North America. I just love the sound of this one and since it's out already, I will probably be reading it soon: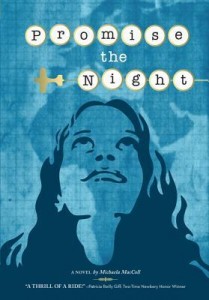 Immediately compelling and action-packed, this carefully researched work of historical fiction introduces young readers to the childhood of the famous yet elusive Beryl Markham, the first person to fly solo from England to North America. As in her debut novel, Prisoners in the Palace, MacColl propels readers into a multilayered story with an unforgettable heroine and evocative language that brings the backdrop of colonial British East Africa to life. A fascinating read for anyone with a thirst for adventure.

On Thea's Radar:
First up, a haunted house story from an author I keep meaning to try.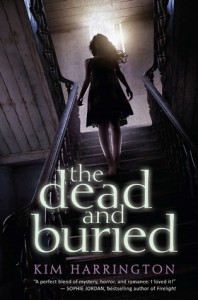 A haunted house, a buried mystery, and a very angry ghost make this one unforgettable thriller.

Jade loves the house she's just moved into with her family. She doesn't even mind being the new girl at the high school: It's a fresh start, and there's that one guy with the dreamy blue eyes. . . .

But then things begin happening. Strange, otherworldly things.

Jade's little brother claims to see a glimmering girl in his room. Jade's jewelry gets moved around, as if by an invisible hand. Kids at school whisper behind her back like they know something she doesn't.

Soon, Jade must face an impossible fact: that her perfect house . . . is haunted.

Haunted by a ghost who's seeking not just vengeance, but the truth. The ghost of a girl who ruled Jade's school — until her untimely death last year. It's up to Jade to put the pieces together before her own life is at stake. As Jade investigates the mystery, she discovers that her new friends in town have more than a few deep, dark secrets.
But is one of them a murderer?

Next, a forthcoming paranormal title – I've been in the mood for a good YA paranormal. Maybe this will fit the bill?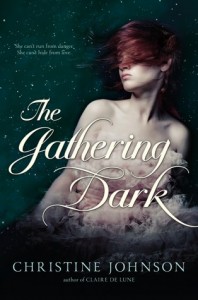 Keira's hallucinating. First it's a door hovering above the road; then it's a tree in her living room. But with her parents fighting and her best friend not speaking to her, Keira can't tell anyone about her breakdown. Until she meets Walker. They have an electric connection—and somehow it's as if he can see the same shadowy images.

The more Keira slowly confides in Walker, the more intense—and frightening—her visions become. Trusting him may be more dangerous than Keira could have ever imagined. Because Walker is not what he appears to be—and neither are her visions.

This book sounds intriguing (though I was not a fan of Sliding Doors, the concept of parallel storylines is very appealing!):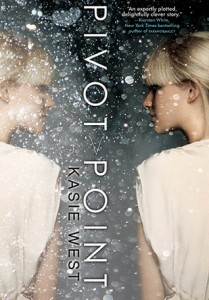 Reminiscent of the movie Sliding Doors, Pivot Point is about a girl who has the power to Search alternate futures. When faced with a life changing decision, she lives out six weeks of two different lives (in alternating chapters), both holding the potential for love and loss, and must ultimately choose which path she is willing to live through.

This next book sounds pretty fantastic – a girl whose gut is always right, and a story about sisters saving themselves and each other? YES PLEASE.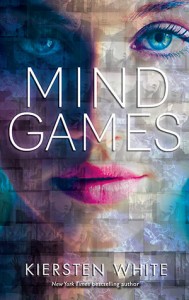 Fia was born with flawless instincts. Her first impulse, her gut feeling, is always exactly right. Her sister, Annie, is blind to the world around her—except when her mind is gripped by strange visions of the future.

Trapped in a school that uses girls with extraordinary powers as tools for corporate espionage, Annie and Fia are forced to choose over and over between using their abilities in twisted, unthinkable ways…or risking each other's lives by refusing to obey.

In a stunning departure from her New York Times bestselling Paranormalcy trilogy, Kiersten White delivers a slick, edgy, heartstoppingly intense psychological thriller about two sisters determined to protect each other—no matter the cost.

Next up, a gorgeous cover and intriguing little short teaser of a blurb for the new Brenna Yovanoff.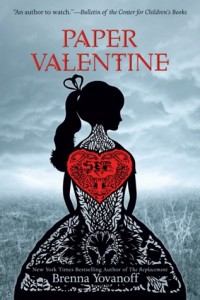 PAPER VALENTINE, in which a girl haunted by the troubled ghost of her best friend finds herself sucked into a darkly mesmerizing string of murders, in which a serial killer who leaves a paper-heart 'valentine' on his victims' bodies draws ever closer.

I truly loved Kat Falls' first novel, Dark Life (although I was not so impressed with the second book in that series). Nonetheless, this new title sounds like it's right up my alley.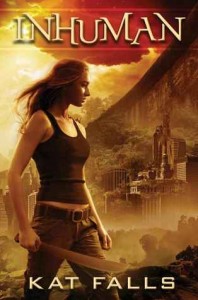 In a world ravaged by mutation, a teenage girl must travel into the forbidden Savage Zone to recover lost artifacts or her father's life is forfeit.

America has been ravaged by a war that has left the eastern half of the country riddled with mutation. Many of the people there exhibit varying degrees of animal traits. Even the plantlife has gone feral.

Crossing from west to east is supposed to be forbidden, but sometimes it's necessary. Some enter the Savage Zone to provide humanitarian relief. Sixteen-year-old Lane's father goes there to retrieve lost artifacts—he is a Fetch. It's a dangerous life, but rewarding—until he's caught.

Desperate to save her father, Lane agrees to complete his latest job. That means leaving behind her life of comfort and risking life and limb—and her very DNA—in the Savage Zone. But she's not alone. In order to complete her objective, Lane strikes a deal with handsome, roguish Rafe. In exchange for his help as a guide, Lane is supposed to sneak him back west. But though Rafe doesn't exhibit any signs of "manimal" mutation, he's hardly civilized . . . and he may not be trustworthy.

Yes, yes I KNOW this is another dystopian speculative fiction YA novel that has a pretty cover, but I AM SO WEAK and such a sucker for these. I want to believe that this book is awesome. Just call me an optimist.
There are no men in Claysoot. There are boys—but every one of them vanishes at midnight on his eighteenth birthday. The ground shakes, the wind howls, a blinding light descends…and he's gone.

They call it the Heist.

Gray Weathersby's eighteenth birthday is mere months away, and he's prepared to meet his fate–until he finds a strange note from his mother and starts to question everything he's been raised to accept: the Council leaders and their obvious secrets. The Heist itself. And what lies beyond the Wall that surrounds Claysoot–a structure that no one can cross and survive.

Climbing the Wall is suicide, but what comes after the Heist could be worse. Should he sit back and wait to be taken–or risk everything on the hope of the other side?

AND last but not least, the new cover for the second book in Zoraida Cordova's inexplicably good Vicious Deep/Mermaid series. I'm very excited.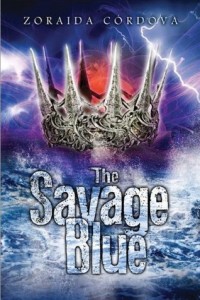 In the quest for the Sea Throne, Tristan has already watched one good friend die. Now he must lead the rest on a dangerous voyage to the infamous port of Tortuga Cove in search of the trident that will make him king. But while Tristan chases his destiny, the dark forces raging against him are getting stronger and the sea witch of his nightmares is getting closer. Battling pirates, sea dragons and mutant creatures of the deep, Tristan needs his friends' support. But they each have their secrets, and a betrayal will force Tristan to choose between loyalty and ambition, friendship and love. In the race for a throne, all's fair in the savage blue.

And that's it from us! What books do you have on YOUR radar?