Old School Wednesdays is a weekly Book Smuggler feature. We came up with the idea towards the end of 2012, when both Ana and Thea were feeling exhausted from the never-ending inundation of New and Shiny (and often over-hyped) books. What better way to snap out of a reading fugue than to take a mini-vacation into the past?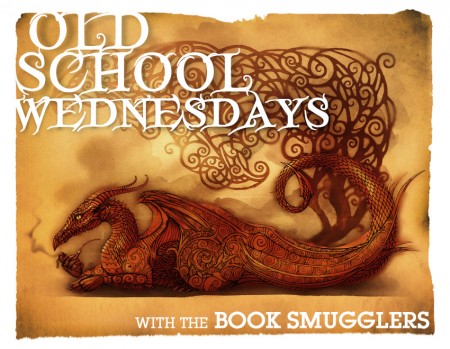 Logo designed by the wonderful KMont
In March 2013, we asked YOU for your favorite old school suggestions – and the response was so overwhelmingly awesome, we decided to compile a goodreads shelf, an ongoing database, AND a monthly readalong/book club.
This month's OSW Readalong pick is Shards of Honor by Lois McMaster Bujold.
We're treating this review as a straight-up, simple review with Ana's and Thea's takes. We'll give our opinions regarding the book, then we'll ask YOU to join in.

Title: Shards of Honor
Author: Lois McMaster Bujold
Genre: Science Fiction
Publisher: Baen
Publication date: First published 1986
Paperback: 331 pages
When Cordelia Naismith and her survey crew are attacked by a renegade group from Barrayar, she is taken prisoner by Aral Vorkosigan, commander of the Barrayan ship that has been taken over by an ambitious and ruthless crew member. Aral and Cordelia survive countless mishaps while their mutual admiration and even stronger feelings emerge. A science fiction romance by a Hugo and Nebula Award winning master. Bujold's SHARDS OF HONOR is the first book in her SF universe to feature the Vorkosigan clan, followed by the Hugo award-winning BARRAYAR. The Nebula award-winning FALLING FREE precedes it by internal chronology in the same future history.
Stand alone or series: Vorkosigan Saga, #1
How did we get this book: Bought
Format (e- or p-): Ebook
Review:
TRIGGER WARNING: Sexual Assault
Ana's Take:
So, this is my first ever encounter with the works of Lois McMaster Bujold and I fear it was probably the wrong place to start. Shards of Honor is, as far as I understand, the author's first book, the one that starts the Vorkosigan Saga even though it takes place before the main character of the series, Miles, is even born ( Shards is the story of how his parents met).
First of all: It is of utmost important to note that, unlike many readers, I have come to read this novel without the strong influence or expectations of having read any of the other (purportedly much better) novels in the series.
Please bear with me as I try to organise my jumbled thoughts on this book.
As for the good: I like this brand of Romantic Military Science Fiction; I was interested in the mix of plotlines that are divided between the conflict and differences of Barrayar and the Beta Colony such as they are and the romance between Barrayar's Aral Vorkosigan and Beta's Cordelia Naismith. I like the two characters' and their slow burning (well, more or less) romance. Above all, I loved the sturdy, practical character of Cordelia who is both the main character and sole viewpoint narrator. It is Cordelia's narrative that kept me going – I liked her voice (even though it made me laugh that she, as well as many characters in the novel, saw her as a more "mature", old character when she is only 34) and her non-frills attitude and enjoyed very much to see her save the day multiple times.
With that said, I was wholly…unmoved by the novel. In a really strange way, it felt longer than it actually was and parts of it were extremely boring even though the high stakes nature of the plot – in fact the transition between the time Cordelia and Aral meet and their next encounter was awkward to the extreme.
I thought at least one plot development to be disturbing and off-putting in its execution: the super prolonged torture, sexual assault that Cordelia suffers in the middle of the novel which serves nothing at all apart from being a lazy way of showing how Horribly Villainous, the villain is. It was a harrowing scene for the main character but which felt weirdly hollow in the development of said character; all the more disturbing was how the aftermath of that attack was explored at length but only when it came to one of her abusers. He himself was also a victim but the fact that he managed to break free of his conditioning ONLY to save the heroine of this novel made me very uneasy. This appeared to me as not only a throwback to Old Skool Bodice-Ripper Romance but also to Old School Science Fiction in which the female characters Suffer Sexual Perils For Being Female.
Finally, we have Aral: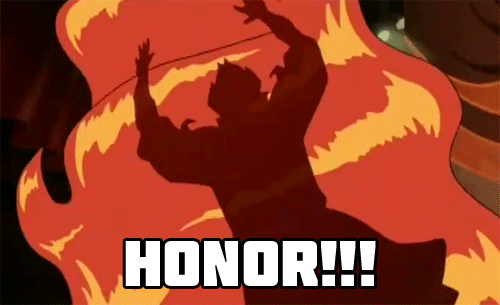 And that is the extent of his character development.
Which brings me to my last point. The romantic relationship and its sudden development required a lot of suspension of disbelief. The plausibility (or lack of) of it plays a huge part because you have to believe that a character like Aral – supposedly this SUPER honoured man with a top level position – would start SHARING SECRETS within a couple of days of meeting an enemy. OK, so we are talking about survival as he and Cordelia are Trekking For Their Lives but still. He asks her to marry him after knowing her for five days and in spite of the fact such a sudden, spur-of-the-moment relationship is against the beliefs of his culture and its social mores. I am all for Love Conquers All but….five days?
Is this the product of its own time? Do the stories in the series get better? Will I read the Miles books? I think so, or else Thea will never forgive me.
And just because I am having fun with gifs today: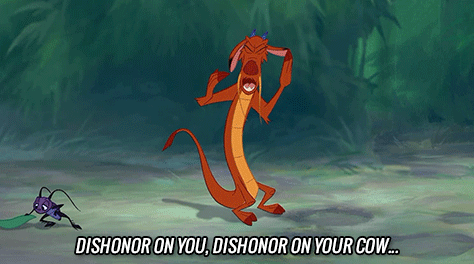 Thea's Take:
You know, rereading books is a funny thing.
I am a huge fan of Miles Vorkosigan. I love his voice, his clever thinking, his father's honor and his mother's wry humor, and his blending of Betan and Barrayan morals. Miles is and I think will always be one of my favorite characters in the canon of science fiction (or even fiction, overall) and I firmly stand by that statement.
That said, when it comes to Shards of Honor… Ana's not wrong. Upon rereading this particular Cordelia adventure – I adore Cordelia, by the way – it doesn't really stand up to the test of time. And a lot of that is because of the shitty sexual assault (which DOES 100% seem like a reflection of this particular era of old school sci fi), and because when i try to approach this book without the inevitability of Miles in my mind, Aral and the romance do fall somewhat… flat.
So let's tackle the latter issue: inevitability. It's hard for me to divorce myself from expectation (of Miles) and focus only on this solo story as it stands on its own. I suspect people who know Miles, who have an understanding of Barrayans and Betans and the nuances of these different societies will be more interested in Shards of Honor than someone coming in fresh. (For background, I started with the Young Miles anthology and worked my way forward through The Mountains of Mourning before going back to read Shards of Honor and Barrayar.) But divorce myself from expectation I must, and through the lens of encountering this world for the first time… yeah, I see where Ana is coming from. Aral is overly preoccupied with HONOR! The romance that unfolds is fast – because the audience already knows it will happen – although I would argue that the building attraction and relationship between Cordelia and Aral is a nice slow burn. I do very much like that both Cordelia and Aral are older protagonists with their own past histories and baggage (er, well, Aral mostly) – and I love that they go across their own cultural and societal norms to be together. Even if it is a little unbelievable.
Mostly, I love Shards of Honor because of Cordelia. She's funny and smart, as well as both empathetic and pragmatic (she has no hesitation or problem firing when she knows she has to fire, for example). There's a particular scene where she and Aral are talking about the nature of command and management and she glibly says that she's able to deal with annoyance better than most, which undoubtedly has helped her own standing as an officer – and that is one of the reasons why she's so damn awesome. I love that Cordelia is the hero of these stories, that her voice is the defining narrative viewpoint for the pre-Miles books, and I know I said I wouldn't do it but you can really see that Miles gets his gumption and cleverness from his awesome mother.
These praises said… there are negatives, too. The sexual assault scene is particularly awful and absolutely reads as old school 'torture the woman in the way evil male villains torture women.' Beyond that, the plot is also weirdly protracted and unfocused – granted, the focus here is on the relationship between the two protagonists, but given how so many of the other stories in Miles' universe have a true central conflict and sense of pacing, I'm surprised at how loose and lacking urgency Shards of Honor is upon rereading.
Ultimately, I'm torn. I always recommend that people start with The Warrior's Apprentice (in Young Miles) or Cordelia's Honor (Shards of Honor and Barrayar) if they prefer a female protagonist but… now I'm rethinking that recommendation. Maybe I need to reread Barrayar to make the final decision.
(P.S. Ana, there WILL be blood if you do not give Miles a try before giving up.)
Rating:
Ana: 5 – Meh
Thea: 6 – Good, but does not hold up on rereading
Old School Wednesdays will take a break in December for Smugglivus! We will be back in January!