"Inspirations and Influences" is a series of articles in which we invite authors to write guest posts talking about their Inspirations and Influences. In this feature, we invite writers to talk about their new books, older titles, and their writing overall.
Today we are hosting Megan Crewe, as part of the Earth & Sky Trilogy Blog Tour!
For centuries they've been studying us like lab rats.
Experimenting with our past.
Rewriting our present.
Our future is in their hands.
How far would you go to stop them?
Please give it up for Megan Crewe, everyone!

Since I've already talked about the most immediate inspirations for EARTH & SKY elsewhere, I thought I'd share some of the science fiction books, movies, and TV shows from my childhood and teens that bits and pieces of the story–along with my general love for all things science fiction-y–can be traced back to.
Going way back to the beginning, the biggest influence on my perspective on science fiction is probably Star Trek. My parents were huge fans, and The Next Generation was one of our "family shows" as I was growing up: a show they, my brother, and I watched together every week. The storylines involving Q, who enjoyed adjusting reality for his own amusement, have a little in common with my alien scientists and their time manipulating experiments, and I can also see hints of the Borg's rigid collectivism in Kemyate society. Possibly the clearest parallel, though, is between EARTH & SKY and the sixth Star Trek movie, The Undiscovered Country, which I saw in theaters when it first came out. The Undiscovered Country is essentially the story of how one alien race (the Klingons) went from being long-time enemies of Earth to forming an alliance. The dynamics of making peace with people you've harmed in the past, the prejudices that must be dealt with, and the variety of reactions to the shifting politics are all elements that echo throughout the Earth & Sky trilogy.
And of course there were the Back to the Future movies, especially the second, which is the one I really got into (I was a little too young for the first when it came out). I assume these need no introduction? Both the first and the second movies tackle concerns about accidental or purposeful changes in the past having negative effects on the present day, a worry also very much on the mind of EARTH & SKY's protagonist. These films were also the first model of open-ended time travel (as opposed to closed loop, where any "changes" made are really just part of the static timeline) that I saw, and no doubt played a role in my development of my own time travel rules.
When I was in my teens, my parents passed on to me a big stack of classic science fiction books that they'd had for years. Among those was Ray Bradbury's THE MARTIAN CHRONICLES, featuring many tales of how similar yet alien peoples encountering one another can get caught up in misunderstandings and hostility–much like my Earthlings and Kemyates. And then there was one that's still a favorite of mine, Walter M. Miller's A CANTICLE FOR LEIBOWITZ, which contains no aliens or time travel and only a brief mention of spaceflight, but its theme about the cyclical nature of history and people's tendency to repeat destructive actions no matter how many chances they have to learn from their mistakes I can see ringing through my entire trilogy.
The funny thing is, I wasn't thinking about any of these stories when I was planning or writing the Earth & Sky books. It's only looking back and considering what I was absorbing as a kid that I noticed how many stories may have influenced the trilogy without my even being aware of it.
Like many authors, Megan Crewe finds writing about herself much more difficult than making things up. A few definite facts: she lives with her husband, son, and three cats in Toronto, Canada (and does on occasion say "eh"), she tutors children and teens with special needs, and she can't look at the night sky without speculating about who else might be out there.

GIVEAWAY DETAILS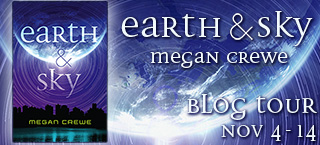 As part of the blog tour, Megan Crewe is hosting a giveaway. You can enter the giveaway here, using the form below or in any of the other blogs participating in the tour. The giveaway is open internationally and the winners will be announced by the author at the end of the tour.
One grand prize winner will receive a Kindle Paperwhite with custom EARTH & SKY cover and preloaded with the ebook, and nine others will receive a signed paperback copy of the book. All winners will also receive an EARTH & SKY swag pack including star candies in Win's favorite Earth flavors, signed bookmark, magnet, and sticker. Good luck!