Today we are most delighted to unveil the cover of Book Smugglers Publishing's fourth short story in our Fairytale Retellings line-up.
Without further ado, BEHOLD! The smugglerific cover!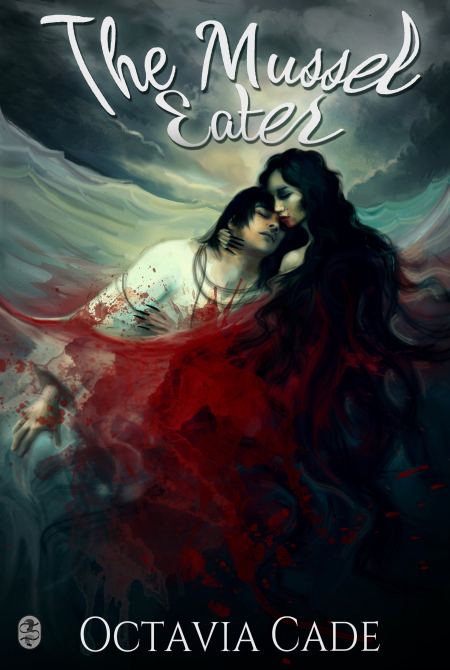 About the Story
"I was curious," she says, when he asks her. She has seen him eyeing her, seen him moving closer, and holds out one of her hands. It is stronger than his, and the nails are pointed. "Are you curious, too?"

Karitoki is fascinated by the Pania, who beckons him with her plump, scaled flesh, her razor-sharp nails, her fish-oil scent.

His Pania, Karitoki thinks, as the two spend more time together by the rock pool. His Pania, he believes, loyal to him just as she is loyal to the lives of the dolphins and whales she guards. His Pania, if only she would eat the delicate mussels he cooks for her, every day, by the sea.

But a Pania never eats cooked food.
A Word From Your Friendly Neighborhood Editors (and Book Smugglers)
Earlier this year, Ana read a fantastic novella called Trading Rosemary – which completely blew her mind. So, when we opened the submission process for these subversive short stories and received a submission from Octavia Cade, the author of said novella, we read it immediately. And it, too, blew us away.
The Mussel Eater is a story of attempted control. It's a story about not fully understanding the other – and not even really trying to understand, really. It is a tale of curiosity, of consumption, of agency, and of horror. We acquired this particular tale because of its splendid and eerie writing, the story's vivid description of food, and because of the way the fable ends. Oh, the ending.
We do like a bloody ending.

About the Author
Octavia Cade has very nearly finished her PhD in science communication at the University of Otago in New Zealand. Her short fiction has appeared in Strange Horizons, Cosmos Magazine and Aurealis, amongst other places. Her most recent novella, Vita Urbis, is also stuffed full of retellings.
About the Artist
Kristina Tsenova was born in 1995 in Bulgaria and is currently a student at Glasgow Caledonian University. Her preferred media is watercolor, acrylic and digital painting. She has had two exhibitions in 2014 and has won approx. 50 art competitions. Apart from traditional art, her interests include cinematography, literature and photography. She is also a hobbyist photographer and makes short movie clips and in the future, she would like to work on varied design projects, concept art and special effects for the movie industry. A great source of inspiration are the movies of Hayao Miyazaki and the genuine art of Pascal Campion. You can find her on deviantart and on facebook.

How to Get the Story
The Mussel Eater will be available from November 18 , 2014. You'll be able to read the short story in full for free here on The Book Smugglers, but we'll also have a DRM-free ebook (EPUB, MOBI, AZK) that contains the story as well as a Q&A and essay from the author, available for purchase on all major ebook retail sites.
Preorder the Ebook Today
Kindle US | Kindle UK | B&N | Google Play | Kobo | Smashwords
Coming Soon
iBooks
Need a copy *right* now? Want to read it *today*? You can buy it directly from us!
And read The Mussel Eater for free online HERE on November 18, 2014.