We are huge fans of Claire Legrand's middle grade novels – The Cavendish Home for Boys and Girls and Year of Shadows were both so excellent – so you can imagine how excited we are for her forthcoming YA debut.
Today, we are THRILLED to host the cover reveal for Winterspell – a dark retelling of The Nutcracker.
Without further ado, behold: the Smugglerific Cover!
THE SMUGGLERIFIC COVER: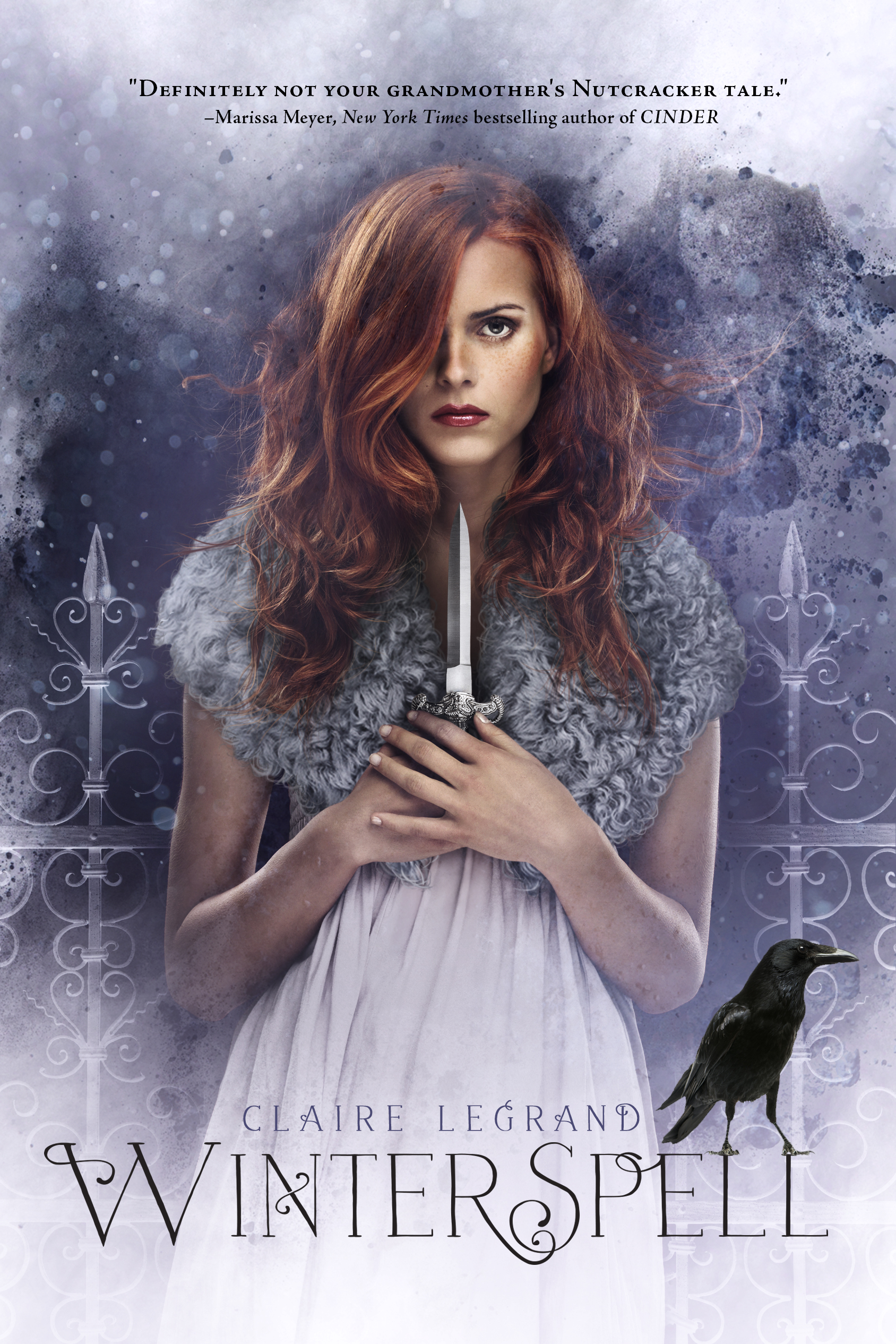 The clock chimes midnight, a curse breaks, and a girl meets a prince . . . but what follows is not all sweetness and sugarplums.

New York City, 1899. Clara Stole, the mayor's ever-proper daughter, leads a double life. Since her mother's murder, she has secretly trained in self-defense with the mysterious Drosselmeyer.

Then, on Christmas Eve, disaster strikes.

Her home is destroyed, her father abducted–by beings distinctly not human. To find him, Clara journeys to the war-ravaged land of Cane. Her only companion is the dethroned prince Nicholas, bound by a wicked curse. If they're to survive, Clara has no choice but to trust him, but his haunted eyes burn with secrets–and a need she can't define. With the dangerous, seductive faery queen Anise hunting them, Clara soon realizes she won't leave Cane unscathed–if she leaves at all.

Inspired by The Nutcracker, Winterspell is a dark, timeless fairy tale about love and war, longing and loneliness, and a girl who must learn to live without fear.
Winterspell comes out on September 30, 2014 from Simon & Schuster Books for Young Readers.
Preorder the book: Amazon | the book depository | indiebound | itunes | books-a-million
Claire Legrand on the Cover:
Hi Smugglers and all,
First of all, many thanks to Thea and Ana for hosting the cover reveal! I can't believe this day is finally here! Winterspell was sold nearly two years ago, so you can imagine how excited I am to be revealing the cover. That means we're almost to the release date of September 30, 2014! I mean, you know, a few months left to go yet, but STILL! Exclamation points!!!
Okay, can we TALK about how gorgeous this cover is?! Art director Lucy Ruth Cummins at Simon & Schuster did such an amazing job. I've basically been staring at it non-stop since I saw the final version last week. What do I love so much about the cover? Read on!
THINGS CLAIRE LOVES ABOUT THE COVER
THE BLURB
The supremely talented Marissa Meyer needs no introduction, but I still need to take a second here and say how much I admire her imagination, her writing, and her kindness. You can only see an excerpt of her blurb on the cover, but here is the full quote:
"What a mesmerizing whirlwind of a story! I was simultaneously horrified and enchanted by the land of Cane, with all its passion and mysteries, magic and mechaniks. Claire Legrand's writing has the grace of a ballet, but this is definitely not your grandmother's Nutcracker tale." – Marissa Meyer, New York Times bestselling author of Cinder
CLARA'S FEROCIOUS EXPRESSION
Just look at her. Girlfriend is FIERCE. There is something so mesmerizing about her. She looks determined, powerful, thoughtful, and even a little bit haunted—for good reason, I might add. This image perfectly captures both sides of Clara—her fragility and her spine of freaking STEEL.
CLARA'S AMAZING HAIR
Maybe this is shallow of me, but I mean, seriously. LOOK AT HER HAIR. It is red and wild and EVERYWHERE. Don't you want to touch it? I do, but the stupid screen keeps getting in the way.
CLARA'S CLOTHES
I don't own any fur, real or faux, but I am so on board with this stole she's wearing. WERQ. And her white slip is so evocative of Clara's iconic nightgown from the Nutcracker ballet that I literally squealed in delight when I saw it. Fashion is an important element of Winterspell, for reasons that will become clear when reading. Imagine the loveliest Nutcracker costumes you've ever seen, add in Alexander McQueen and Marchesa, plus a dash of cyberpunk and another of the Borg from Star Trek, and you'll get a feel for the wardrobe of Winterspell.
DAT DAGGER
One of many Clara owns. And she knows how to use them, thanks to the help of a certain godfather with an eye patch—and her own ferocious determination.
THE WINTRY COLORS
The world of Winterspell is cold and dangerous, bleak yet beautiful, full of towering palaces carved of iron and obsidian, where courtiers lounge in jeweled luxury—and slums where the less fortunate, desperate to impress and clothed in silks obtained through . . . creative means . . . starve in misery. This cover perfectly represents this dichotomy. The iron scrollwork hints at stateliness and elegance, while the deep gray, blue, and purple tones suggest an approaching storm.
THE CROW
This crow has special significance. I don't want to say anything more about it because the birds in Winterspell were such fun to write, and I want you to discover why without any hints from me. But notice how the bird is looking away at something. What might it be gazing at? Eh, eh??

Q&A WITH ZAREEN JAFFERY
EXECUTIVE EDITOR AT SIMON & SCHUSTER BOOKS FOR YOUNG READERS
1. Describe Winterspell in three words.
ZJ: Dark, sweeping, romantic
2. What was your first reaction after reading Winterspell?
ZJ: I felt transported to a beautiful, dangerous world, with its own magic and rules. And I loved how, despite all these differences, the emotional truth of the story—family loyalty, true love, human desires and vulnerabilities—really resonates.
3. Clara is so FIERCE on this cover! Without giving anything away, can you give us some insight about the heroine of Winterspell? What can readers expect?
ZJ: Over the course of the novel, Clara really exemplifies what it means to be brave. She pushes forward despite her fear. She is out of her depth and her comfort zone, in so many ways, and has to learn to allow herself to show vulnerability. It's a compelling transformation!
4. Who is your favorite character in Winterspell? No spoilers, please!
ZJ: I'm going to go with Nicholas. Not just because he's cute. (Though that doesn't hurt!)
5. What can readers of Claire's middle grade books expect from Winterspell? How is it similar? How is it different?
ZJ: Though Winterspell is definitely for more mature audiences, what it shares with her middle grade stories is a strong female heroine with a noble quest. In The Cavendish Home for Boys and Girls, Victoria was investigating her missing best friend. In The Year of Shadows, Olivia was helping the ghosts of Emerson Hall find their anchors. In Winterspell, Clara has her own noble quest. The most notable difference between the middle grade novels and Winterspell are, of course, the kissing scenes! (Note from Claire: Hey-oooooo! And they are bounteous!)

Q&A WITH LUCY RUTH CUMMINS,
ART DIRECTOR AT S&S BOOKS FOR YOUNG READERS
1. Describe Winterspell in three words.
LRC: Page-turning, bad-ass, hot
2. What was your first reaction after reading Winterspell?
LRC: I'd read (and loved) Claire's middle grade, and so I was like "I wonder how this will feel?" And my first reaction was "whoa—girlfrien' knows what she's doing." I was immediately pulled in by the fast pace, action, and…hotness…of this story. I couldn't put it down!
3. When working on the cover, what did you look to for inspiration? Any particular music or images?
LRC: Naturally I couldn't help but dig in to The Nutcracker itself—Tchaikovsky's Sleeping Beauty is one of my all-time faves, but I'd never dove into The Nutcracker (my sister did ballet, I climbed trees). So I watched a lot of what was available on places like YouTube so I could get a sense of the grace of the source material. The cool thing about The Nutcracker is that contrast—I think I had a preconceived notion that it was all just pretty dancing…but it's got such a sinister edge!
My brain sometimes defines worlds based on what I've already known or seen, and I felt distinctly that Clara's New York City was, for me, Gotham circa Batman (1989). Cane was, in its wilderness, Narnia, and its urban center for me was The City of Lost Children. My brain does a lot of borrowing! So all those images were hovering around in the cover-soup.
I knew that Claire and Zareen wanted to convey how self-possessed, brave, and beautiful Clara is, so it was then a matter of creating that vision, and a sense of magic, when it was cover time. And hopefully to bring in some of the mystery and suspense. Oh, and of course I wanted to make sure it was ice cold.
4. Who is your favorite character in Winterspell? No spoilers, please!
LRC: I am pathetically lame in this category, because if someone writes a sensitive, handsome, strong guy who knows how to get things done? I'm a goner. Nicholas for sure.

The Giveaway:
To celebrate the cover reveal, Simon & Schuster is giving away a Winterspell ARC! ARCs are not ready yet, but the winner of this giveaway will get one hot off the presses! This giveaway is INTERNATIONAL. It begins today and will go through Monday, March 10.