Today we are delighted to unveil the cover for Under My Skin by James Dawson!
Without further ado, BEHOLD! The smugglerific cover!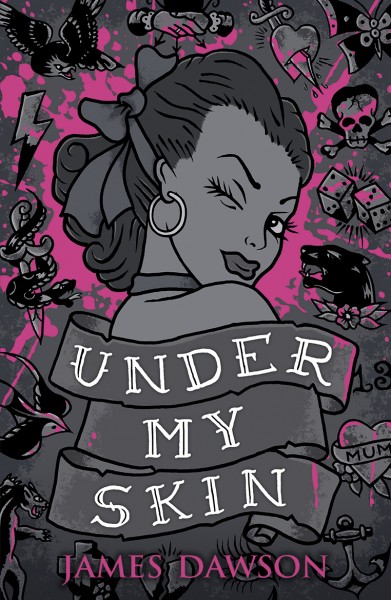 You can see more about creating the cover over at the Hot Key Books Tumblr
About the Book
"Meet Molly Sue. Once she's under your skin there's no getting rid of her…"

Seventeen-year-old Sally Feather is not exactly a rebel. Her super-conservative parents and her treatment at the hands of high school bullies means that Sally's about as shy and retiring as they come – but all that's about to change. Accidentally ending up in the seedier side of town one day, Sally finds herself mysteriously lured to an almost-hidden tattoo parlour – and once inside, Sally is quickly seduced by its charming owner, Rosita, and her talk of how having a secret tattoo can be as empowering as it is thrilling. Almost before she knows what she is doing, Sally selects sexy pin-up Molly Sue, and has her tattooed on her back – hoping that Molly Sue will inspire her to be as confident and popular as she is in her dreams.

But things quickly take a nightmareish turn. Almost immediately, Sally begins to hear voices in her head – or rather, one voice in particular: Molly Sue's. And she has no interest in staying quiet and being a good girl – in fact, she's mighty delighted to have a body to take charge of again. Sally slowly realises that she is unable to control Molly Sue… and before long she's going to find out the hard way what it truly means to have somebody 'under your skin'.

James Dawson on the book:
Sometimes, you don't choose a story, it chooses you. The initial seed of Under My Skin was just how cool it would be to be possessed by one of your tattoos (and I have many). I guess it was an evil genie story in which, Molly Sue, the gorgeous pin up on the cover, offers plain-Jane Sally Feather popularity and beauty…at a cost.
But, quite organically, as I was writing it, Under My Skin evolved into something slightly different. Molly Sue came to represent the darkness in all of us – the Hyde in every Jekyll. I've been published for about three years now and the my outward facing image isn't entirely the 'real me' and nor should it be, you have to keep something for home. I thought about masks, and how all of us, depending on context, wear so many of them.
Young women, in particular I think, are made to wear masks in order to conform to society's expectations of them. Young men are rarely brought up on charges of 'impropriety' in the way that girls are. From primary school, girls drown in a media soup in which women are valued as decoration, while at the same time must not be seen to be sexually available. It's a impossible situation: "Be sexy, don't have sex."
The power struggle between Sally and Molly Sue took on a life of its own as both characters wrestle for one body – Sally desperate to bury her feelings, Molly Sue all Id and desire. It's a very different type of horror for me, a much more insidious one. It's also a story that made me examine my own inner darkness, my own Molly Sue. I'd say it's my most personal novel since Hollow Pike.
Finally, I'd just like to thank Jet Purdie, the cover designer, who hand drew Molly Sue and the tattoo illustrations. I LOVE it and can't wait to hear what you think.

About the Author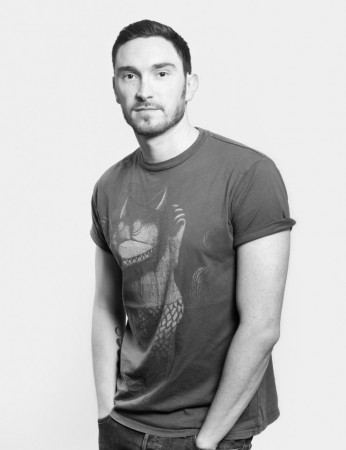 For eight years, James Dawson was a teacher specialising in Personal, Social, Health and Citizenship Education (PSHCE). As well as being a sexpert, his debut, best-selling YA novel HOLLOW PIKE was nominated for the prestigious Queen of Teen prize and was followed with the publication of YA thriller CRUEL SUMMER. James's first non-fiction title BEING A BOY, the ultimate guide to puberty, sex and relationships for young men, was published in Autumn 2013. James is also a Stonewall Schools Role Model, and his guide to being LGBT* – entitled THIS BOOK IS GAY – will be released summer 2014, alongside his first fiction title for Hot Key Books, SAY HER NAME. When he's not writing books to scare teenagers in a variety of ways, James can usually be found listening to pop music and watching DOCTOR WHO and horror movies. He lives and writes in London. Follow James at either www.askjamesdawson.com or at www.jamesdawsonbooks.com or on Twitter: @_jamesdawson

Giveaway Details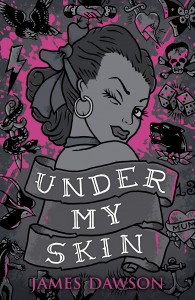 Thanks to the publisher, we have three copies of Under My Skin up for grabs! The sweepstakes will run until Saturday, October 25 at 12:01am EST. To enter, use the form below! Good luck!