In anticipation for the release of the long awaited Elegy Beach, Steven Boyett's much loved fantasy-post-apocalyptic tale Ariel has been re-released. And, after reading and enjoying Ariel, we've decided to hold a giveaway!
More About the Book:
At four-thirty one Saturday afternoon the laws of physics as we know them underwent a change. Electronic devices, cars, industries stopped. The lights went out. Any technology more complicated than a lever or pulley simply wouldn't work. A new set of rules took its place—laws that could only be called magic. Ninety-nine percent of humanity has simply vanished. Cities lie abandoned. Supernatural creatures wander the silenced achievements of a halted civilization.

Pete Garey has survived the Change and its ensuing chaos. He wanders the southeastern United States, scavenging, lying low. Learning. One day he makes an unexpected friend: a smartassed unicorn with serious attitude. Pete names her Ariel and teaches her how to talk, how to read, and how to survive in a world in which a unicorn horn has become a highly prized commodity.

When they learn that there is a price quite literally on Ariel's head, the two unlikely companions set out from Atlanta to Manhattan to confront the sorcerer who wants her horn. And so begins a haunting, epic, and surprisingly funny journey through the remnants of a halted civilization in a desolated world.
Book Website (including chapter excerpts, audio excerpts, interactive maps, forums, and author info): www.arielbook.com
About the Author:
Steven R. Boyett has written novels, short stories, comic books, feature films, essays, and reviews. As a DJ he has played clubs in Los Angeles, San Francisco, Las Vegas, and Reno, as well as at Burning Man. He produces three of the world's most popular music podcasts (Podrunner, Podrunner: Intervals, and Groovelectric), and was among the first people to make a living in that medium.
As owner of Sneaker Press Boyett published poetry chapbooks by Carrie Etter and the late Nancy Lambert. He has also been a martial-arts instructor, paper marbler, advertising copywriter, editor, typesetter, and proofreader. He designs websites, plays the didgeridoo, and composes electronic music. He lives in Los Angeles with his wife, composer Maureen Halderson, and their two parrots.
GIVEAWAY DETAILS:
We are offering up TWO prize packs today, which each include an autographed copy of Ariel along with bookmarks, book fliers, and a signed copy of author Steven Boyett's live DJ set from WorldCon. To enter, all you have to do is leave a comment here, naming your favorite post-apocalypse book/movie/comic/whatever.
The contest is open to residents of the US and Canada, and will run until Saturday September 26th at 11:59pm (pacific). One comment per person, please! Multiple entries will be disqualified. Good luck!
**********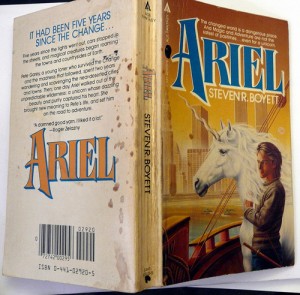 Little Brother author Cory Doctorow's ganky copy of Ariel
Also, while you're at it – you can sign up for ANOTHER chance to win a brand spankin' new autographed copy of Ariel over at author Steven Boyett's blog. He's currently running a contest, calling for the rattiest, water-damaged, duct-taped, broken copies of Ariel. The person with the gankiest copy will win! The contest has been extended until September 25! You can find out the entry details HERE.