Today's guest is Grady Hendrix, author of the upcoming horror novel Horrorstör – an Ikearific haunted superstore novel in a catalog-looking package (you might remember we hosted the cover reveal a few months back). Yes, you read that sentence correctly. As we're huge fans of horror (well, Thea is), and naturally are delighted to have Grady over to talk about his 5 mind-blowing horror novels.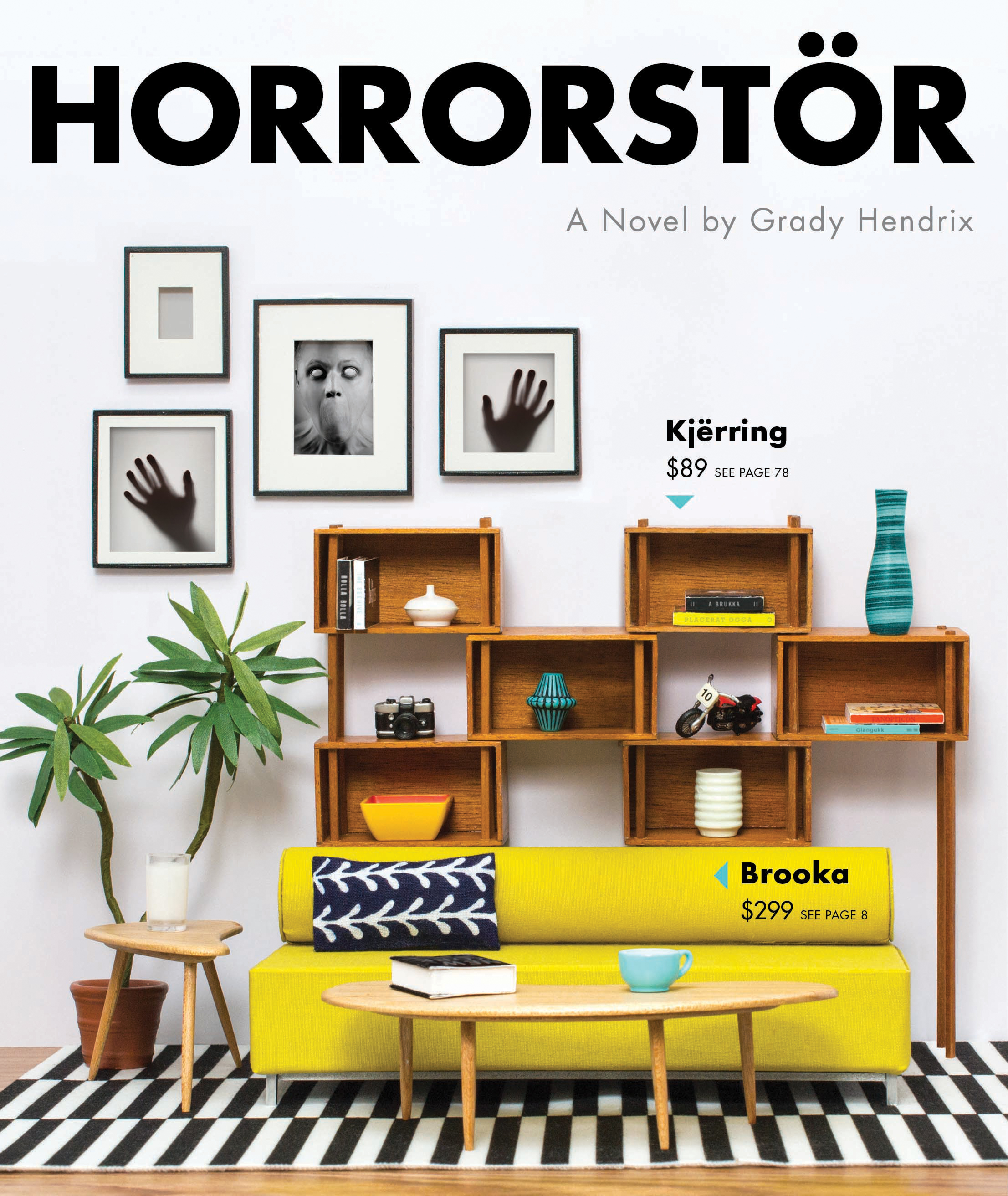 Without further ado, please give it up for Grady, folks!

The great thing about books is that there are way too many of them. Want something new to read? Some quick digging will pull up half a dozen books you've never heard of before. So here are five horror novels that I love, and am absolutely baffled everyone isn't forced to read in high school.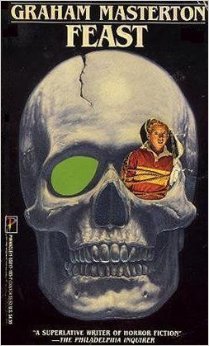 FEAST (Graham Masterton, 1988) – sometimes you want to drink a fine wine, and sometimes you want to chug Night Train until you set your clothes on fire and dance naked in the street. Thanks to Graham Masterton, that type of psychotic freak-out can now be enjoyed in book form. Feast tells the story of a crummy food critic, Charlie, on a roadtrip with his estranged teenage son, Martin. When he comes across an exclusive French restaurant in the middle of nowhere Charlie gets obsessed with scoring a reservation, so obsessed that he hardly notices when Martin goes missing. Trust me when I tell you that Charlie's discovery that Martin has joined a Christian cult who consider self-cannibalization to be the ultimate expression of faith is just the tip of the freaky iceberg. By the time you close the covers dogs have exploded, fingers have been lightly grilled and eaten, a killer dwarf has attacked, and things have gotten so messy that Jesus Christ himself has had to get involved. If you feel like books too often stick to the middle of the road, here's a novel that's veering up on the sidewalk and running over pedestrians.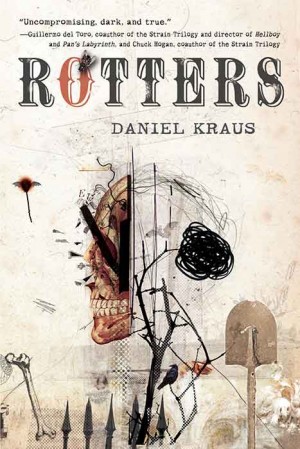 ROTTERS (Daniel Kraus, 2011) – a gigantic poke in the eye to everything that is good and true, Rotters is a squalid molotov cocktail lobbed into the YA aisle of your local bookstore. When Joey's mom dies he's immediately shipped off to live with his dad who lives in a filthy shack on the edge of a boring town. _Joey doesn't fit in at his new school, he doesn't get along with his dad, blah blah blah. Then he discovers that his dad earns a living digging up graves and yanking gold teeth out of human skulls. Repulsed and fascinated, Joey learns the trade and father and son bond over their mutual love for corpse wrangling. Featuring a thousand new words for "decay," and written in the poetry of putrefaction, Rotters is disgusting (to the point where I had to skim) and educational (if you would like to dig up corpses and steal their rings). It's a book that is counter-cultural in the literal sense of the word: a total, double-barreled rejection of every single mainstream value.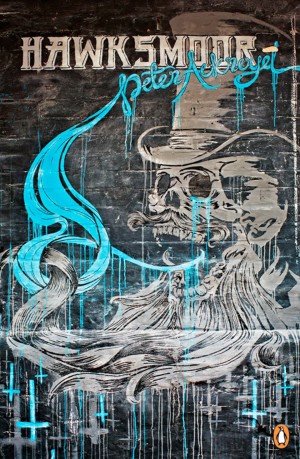 HAWKSMOOR (Peter Ackroyd, 1985) – years before Alan Moore wrote From Hell, Peter Ackroyd laid the groundwork with Hawksmoor, a beautifully dense hallucination of a book. It slithers back and forth in time between 17th Century architect Nicholas Dyer (a thinly veiled Nicholas Hawksmoor) building his six London churches, and 20th century homicide detective Nicholas Hawksmoor investigating a series of murders in same. Dyer believes in terror and horror and builds his churches as gigantic tuning forks reverberating with occult energies. Hawksmoor believes in logic, and reason, and the scientific method. Guess who wins? Written half in baroque 17th century English and half in plodding 20th century realism, it was the first book I ever read that was beyond me. I was fourteen when I found a copy and after a decade spent reading the approved squeaky clean children's books of the time, reading the opening lines of Hawksmoor was like getting stoned on words. "And so let us beginne; and, as the Fabrick takes its Shape in front of you, alwaies keep the Structure intirely in Mind as you inscribe it." A gothic vapor seeped from those sentences and made everything else I read feel like a pale shadow of life.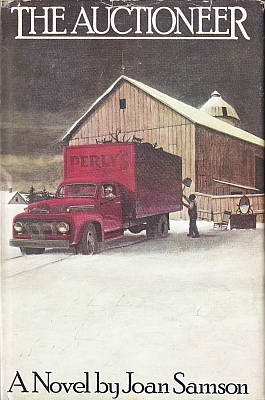 THE AUCTIONEER (Joan Samson, 1975) – if Cormac McCarthy wrote Stephen King's Needful Things, you'd have The Auctioneer. A cold, flinty book about cold, flinty farmers in Harlowe, New Hampshire, it feels like a parable from a lost Gospel. John Moore scrapes out a living on the same farm his family's always lived on, but when Perly Dunsmore moves to town and encourages the one-man police department to hold an auction, they come asking for any old thing he has lying around. He gives them some useless wagon wheels to raffle off, and next week they're back for more items for yet another auction, then another, and another, and another, until the Moore farm is stripped bare. Turns out Dunsmoore's got the whole town up for auction, from its buildings to its children, and before long it's all on fire and Moore has lost his soul. From its understated opening to its orgiastic lynch mob ending, this book never sets a foot wrong, and it's as hard and unforgiving as a mouthful of rocks.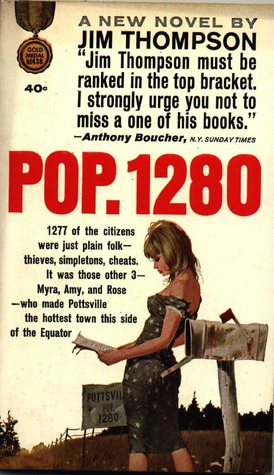 POP 1280 (Jim Thompson, 1964) – there's a fine line between horror and noir, and it's a line that Jim Thompson shoots in the back of the head, wraps in a carpet, drags to a vacant lot, and sets on fire then says, "Line? What line? I don't know any line." If Ruth Rendell's harder-edged pseudonym, Barbara Vine, had an insane American uncle, then that uncle would have a restraining order out against Jim Thompson who is the man behind some of the most delightfully unclean books ever written. From a chapter told in alternating lines, each from a different half of the narrator's bifurcated brain as he castrates himself on a broken window (A Hell of a Woman) to a bank robbery that darkens from Richard Stark heist thriller to Shirley Jackson ghost story (The Getaway), Thompson has written some of the scariest prose in American literature. My favorite, though, has to be Pop. 1280 if only for its narrator, Nick Corey. A smalltown sheriff who is so spineless and folksy that even his own wife finds him insufferable, Nick likes nothing more than tucking into "a meal of maybe half a dozen pork chops and a few fried eggs and a pan of hot biscuits with grits and gravy" then moseying around town, where no one has any respect for him. Suddenly, out of nowhere, he murders two citizens in cold blood. Turns out, Nick's been killing people for years, and he manages to "aw, shucks" himself out of trouble every time. It's that moment, about 40 pages in, when the reader realizes they're trapped inside the brain of a cold-blooded psychopath and from there until the end of the book it's an express train ride to Hell.

About the Author:
Grady Hendrix is a writer and journalist and one of the founders of the New York Asian Film Festival. A former film critic for the New York Sun, Grady has written for Slate, the Village Voice, Time Out New York, Playboy, and Variety.
You can read about Grady on his website or follow him on Twitter or Facebook.
The Blog Tour
Want more Horrorstör in your life? Make sure to check out the other stops on the tour!
9/17: The Book Smugglers – Five Horror Novels That Will Make Your Head Spin
9/18: Quirk Books Blog – Five Forgotten Horror Novelists You Need to Discover
9/19: My Bookish Ways – Are Ghosts Really Real?
9/22: LitReactor – The Joy of Horror Novelizations
9/23: Publishing Crawl – What Watching Hong Kong Horror Movies Taught Me About Writing
9/24: Forces of Geek – You Don't Know These Ten Horror Movies, But They Will Melt Your Face
9/26: Cuddlebuggery – Favorite Fictional Places
9/29: Bound by Words: A Playlist for Writing
9/30: That's Normal: Supernatural Smackdown: Difference Between Real & Fictional Hauntings
And stick around as later we review the book!