"Inspirations and Influences" is a new series of articles in which we invite authors to write guest posts talking about their…well, Inspirations and Influences. The cool thing is that the writers are given free reign so they can go wild and write about anything they want. It can be about their new book, series or about their career as a whole.
Today's guest is debut author Carolyn Crane, whose Urban Fantasy novel Mind Games hit shelves yesterday! The book, about a hypochondriac named Justine who ends up using her mental neurosis to rehabilitate bad dudes as a member of the psychological hit squad called "The Disillusionists" is one of the very best new Urban Fantasy novels both Thea and Ana have read, period. And seeing as author Carolyn Crane is no stranger to blogging or The Book Smugglers, we simply HAD to have her over to celebrate her book release.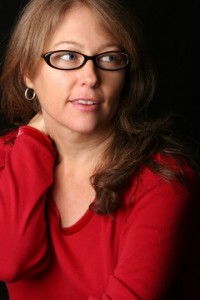 Ladies and gents, please give it up for the incredibly talented Carolyn Crane!

Musicals vs. obliviousness
Thanks to Thea and Ana for letting me do this "inspirations and influences" guest post! Okay, I wanted to write this post about musicals, because they are really inspiring to me in a conceptual way.
Because you know what I love in musicals? When a character I maybe don't "get" or haven't been thinking much about sings a song that reveals what is on her mind or in her heart, and it surprises me. Uh! I just love when that happens. And suddenly I understand their emotions and dreams and fears, and their whole worldview in a new way.
Partly I think it's because as a young adult, I was actually pretty oblivious to the people around me on a certain level—well up through my 20's, in fact, I was oblivious and flighty, and I think I can still fall into that. Oblivious is a horrible thing for a human being to be, and it is a horrible thing for a writer to be, too.
So musicals are kind of my anti-obliviousness inspiration. Characters in books generally don't sing, but every character (or RL person) would presumably have an emotional point-of-view song they could sing at any time, and that is something I think about a lot.
Sometimes when I'm working on a scene that is hard, I think, what if it was a musical, and all the action would stop right now, and every character would sing a song about what is on their mind or in their heart? Even if I don't use what I decide about every character's song in every scene, I feel like it's important to have.
A few examples:
From Grease! Rizzo, a semi-major character, is this brash, bossy, bad girl type who acts like she doesn't care about anything, even the rumors she might be pregnant. "There are worse things I could do" reveals her vulnerability, and also her integrity. I find it a such a heartbreaking example of the inner life of somebody who isn't immediately likeable. Musicals inspire me to remember that even a villain has a song.
[LINK: HERE]
From "Hair" I used to work at this retro import store and we played the soundtrack from Hair ALL the time. LOL. In this song, I love how proud this guy is of his hair, and how it symbolizes so much for him about who he is. The writerly idea I get from this aspect of musicals is that, in real life or in books, there is always something a character is proud of or really invested in, like a pair of boots or a jacket or a car or hair. Something that says who they are. Even though other people might think it's dumb.
[Link: HERE]
"Once More with Feeling" Of course this discussion could not be complete without a bow down to the master, Joss Whedon, who actually did stop his own storyline to let the characters sing for an episode, and all these really cool secrets came out. The Buffy musical is a total masterpiece in every way. One of the quieter songs I really just love is "Standing in your way," which is the one Buffy's mentor, Giles, sings. I'd started not seeing him by this point in the series – he seemed static, and on his way out of the cast, but here, he sings this whole song where he reveals how he feels that he has failed Buffy, and he has his own whole perspective on her that was so heartbreaking. And, as an extra treat, the prettiest song of the musical. This won't last long on YouTube.
[Link: HERE]
From "Jesus Christ Superstar" – My husband grew up with this soundtrack being played in his home all the time. We recently got it, and I really like how they take the story of Jesus and break it into all these perspectives. I love this part where prostitute Mary Magdalene, the ultimate discarded character, played here by Yvonne Ellman, is wrestling with profound issues and unsure how to cope with Jesus. OMG, this soundtrack is so 1970s. This and Hair.
[Link: HERE]
Anyway, it's not like I listen to musicals while I write, but they are super inspirational. Everybody has something to say, even if they are minor characters and don't get to say it. Also, everybody wants to be loved. The idea of musicals help me keep all this in mind.

Carolyn Crane has long been fascinated by hidden worlds—the wiry insides of old gadgets, the strange workings of secret societies, the mysteries of people's minds and hearts.
She's into that as a reader and a writer, too. Plotty puzzles. Psychological intrigue. Concealed realms.
The trilogy that begins with Mind Games takes place in a shadowy and fantastical Milwaukee/Chicago, a place of many secrets. (She grew up in suburbs of both cities, leaving a trail of dismantled princess phones behind her.)
Today she lives in Minneapolis with her husband and two daring cats. She spent years as a waitress and shop clerk before moving to ad agencies and the freelance writing life. She graduated from the University of Minnesota, and when she's not writing novels or working her day job, she can be found reading in bed, running, helping animals, or eating Mexican food.
You can find Carolyn online at her website, or her wicked cool blog, The Thrillionth Page.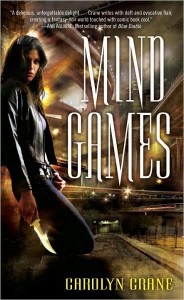 Thank you CJ! And make sure to stick around as later in the day we review and discuss Mind Games.