Today we are super delighted to unveil the cover for A Hero at End of the World, Erin Claiborne's debut novel. The book comes out on November 11 2014 and it's the first release from a new publishing venture called Big Bang Press, dedicated to publish original fiction by emerging talent from the fan writing community. A Hero at End of the World has already earned a starred review from Kirkus! But enough from us.
Behold: the Smugglerific Cover!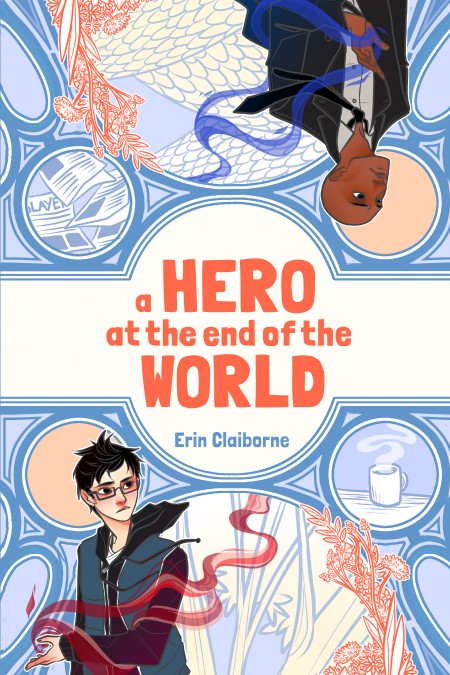 A riff on "Chosen One" narratives that evokes Harry Potter, the Percy Jackson series and Buffy the Vampire Slayer, A Hero at the End of the World will appeal to all readers of modern fantasy adventures.

Seventeen-year-old Ewan Mao has spent his whole life preparing for his destiny: defeating the evil tyrant who's been terrorizing Britain for as long as he can remember. But Ewan never dreamed that when the time came, his best friend Oliver Abrams would fulfill the prophecy instead.

Soon the life he imagined for himself crumbles, and adulthood finds Ewan living at home and working a minimumwage job while Oliver becomes a national hero, working at the Serious Magical Crimes Agency. But the two friends are unwillingly reunited when a strange magical cult targets Ewan in a plot to end the world as we know it.

Erin Claiborne on the book:
I'm a longtime fan of both YA and fantasy, particularly the stories where a young adult discovers that he or she has a destiny to vanquish an evil force — and especially if they're reluctant to do it. I can tell you exactly which character got me started down this path, and her name is Buffy Summers. There was always something wonderful about the idea that the universe had chosen
you, and only you, to do something special. A Hero at the End of the World takes its plot from this trope, with a twist that I secretly always wanted to read: a Chosen One narrative in which the prophecy is wrong and the characters have to decide how they want their story to end.
But A Hero at the End of the World is not just about saving the world. It's about two best friends whose jealousy drove them apart and who now have to to choose whether or not to repair their broken relationship; it's about characters who have to take the steps to create their own destinies, as scary as that is.
The World of A Hero at the End of the World: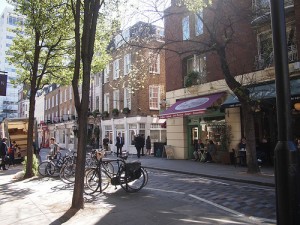 A Hero at the End of the World is set in London, where I live, because I'm unimaginative that way. Just kidding. Mostly.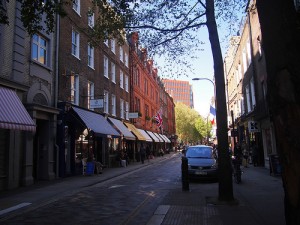 It's set here because I wanted to write about a place that I love and to make my setting as vivid as possible? there are things that I've changed because of the magical setting (such as obviously there are only a few teetering skyscrapers in the real London, Crystal Palace was burned down forever ago, London isn't full of magical animals, etc), but I still wanted it to have that realistic feel.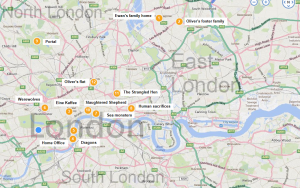 Morgan Leigh Davies, editor-in-chief, Big Bang Press::
I knew within reading the first few pages of A Hero at the End of the World that we had to publish it: vivid, subversive, and darkly funny, it evoked so many of the books I loved as a kid while also being unlike any Young Adult novel I'd ever read.
The more I've worked on the book, the more I've fallen in love with the rich world Erin has created and her slightly (or notsoslightly) misguided cast of characters. Her novel is sharper, funnier, and more moving than I could ever have anticipated when I was reading those first few pages. It's been an Incredible privilege to work on the book and I can't wait for the rest of the world to get a chance to read it.
We were also all thrilled to have a cover and interior art from Jade Liebes. I'd been a huge fan of Jade's work for some time and thought she would be Perfect for this book in particular. I'm also really pleased that we were able to commission an original illustration instead of using stock photos, particularly since the finished product wound up being so beautiful and distinctive. It also, crucially, foregrounds the novel's two protagonists without masking their ethnicities. It's a great reflection of Erin's book—and eyecatching, to boot.

The Giveaway
To celebrate the cover reveal, we are giving away one copy of A Hero at the End of the World! This giveaway is open to EVERYBODY ANYWHERE, and will run until Sunday, September 20 at 12:01am EST. To enter, use the form below!