Old School Wednesdays is a weekly Book Smuggler feature. We came up with the idea towards the end of 2012, when both Ana and Thea were feeling exhausted from the never-ending inundation of New and Shiny (and often over-hyped) books. What better way to snap out of a reading fugue than to take a mini-vacation into the past?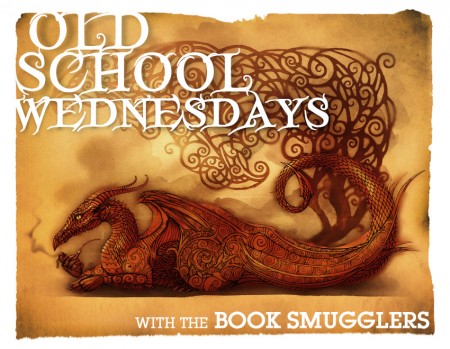 Logo designed by the wonderful KMont
This week, Thea tackles YA science fiction novel from the 70s, The Far Side of Evil by Sylvia Engdahl. (Yes, we know it's Thursday but LIFE HAPPENS GUYS!)

Author: Sylvia Engdahl
Genre: Science Fiction, Young Adult
Publisher: Atheneum (original) / Firebird (reissue)
Publication date: 1971 (original) / 2003 (reissue)
Paperback: 324 Pages
Elana, newly graduated from the Federation Anthropological Service Academy, is sent immediately into danger on the planet Toris-a world poised on the brink of nuclear war. She is ordered to merely observe, and must not reveal her alien origin or interfere with the planet's natural course of evolution. But how can she stand by and watch? Her fellow agent, Randil, is not properly trained to work in the field, and his compassion for the Torisians may lead him to intervene. Yet his very actions may bring about the holocaust that he is so desperately trying to prevent. Elana must make a crucial decision: side with a renegade agent, or stop him at any cost. . . .
Standalone or series: Book 2 in the Elana series, but can be read as a standalone novel
How did I get this book: Bought
Format (e- or p-): Print
Review:
In the future, the most evolved enclaves of humanity have conquered interstellar space travel and mastered psychic and telekinetic abilities. These humans have established a benevolent Federation with the express task of monitoring, studying, and helping fledgling human societies adapt and survive. Only the smartest, most empathetic, and most talented applicants graduate from the Federation Academy, and of those graduates, only the brightest are assigned field missions to other worlds.
Elana has just graduated from the Academy at the top of her class and has dramatic experience in the field under her belt – but nothing can prepare her for her new assignment. One of a small independent team, Elena is asked to volunteer for a mission of almost unprecedented danger: to help prevent and collect data on a Critical Stage world (that is, a planet that is on the brink of tearing itself apart). On the remote world of Toris, a planet that has no knowledge of other life in the universe, humans have unlocked the power of the nuclear bomb, and possess the power to annihilate life. Elana's task is simple: observe and try to deter the cataclysm, but at all costs she must NOT reveal that she is an alien from a much farther evolved society. Elana is determined to do her best to help the people of Toris survive or die trying – but things are further complicated by fellow Federation observer, Randil. Lacking Elana's training and practical experience, Randil falls in love with a Torian and breaks the cardinal rule of the Federation by intervening in the planet's affairs – with the most dire consequences. Because of Randil's good-intentioned interference, Toris is even closer to self-annihilation – and it's up to Elana to pull the civilization back from the brink of extinction.
Well, wow. I'm not quite sure what I was expecting when I started The Far Side of Evil; I certainly wasn't expecting this politically charged potent allegory about humanity's future. The Far Side of Evil is a fascinating read and the perfect kind of Old School Wednesday SFF novel because it is so clearly a product of its time. Written a couple of short years after the landing of Apollo 11 on the moon (which just celebrated its 45th anniversary!), during the high-stakes tension of the Cold War, it's very easy to see Engdahl's influences in writing this book. The fact that the book is ultimately optimistic about humanity's future, its potential and place in the universe is all the more poignant when viewed through this specific historical lens.
In other words: I liked this book very much.
Although the novel is, as mentioned above, clearly a product of its time, it's still an important book (not to mention an eerily applicable one) for readers today. In Engdahl's fictional world of Toris, the dominant government of Ceres is fearful and paranoid, eager to violence and acts of self-interest in order to secure power. When presented with alien technology to afford them an edge – intended to help the less advanced humans colonize nearby planets in their solar system – instead of using it for a constructive purpose, the government aims to use it as a war device to solidify power on Toris. The book asks provoking questions about weapons of mass destruction and the nature of leadership and rebellion – themes that are certainly as important in the current global sociopolitical environment as they were during the Cold War.
Oh, and it's a pretty solid work of fiction, too. Lest you start to think that this is a dry political allegory without any SFF skill, please allow me to dispel that illusion! The Far Side of Evil is a very readable science fiction novel for young adults, that includes a hell of a main character in Elana – empathetic, driven by a sense of responsibility and morality, but willing to bend the rules in order to achieve her goals. And, like Elana, Randil is incredibly idealistic and naive – it's easy to understand the emotions that drive his disastrous actions (all born of the best intentions, naturally), which makes him all the more relatable and powerful as a character. While there isn't much depth given to any other characters (I wish there was a little more to "Youngling" Kari and more humanization to the Neo-Statists), overall, Engdahl does a strong job of creating sympathetic figures to tell her tale.
Granted, while there are many great things about The Far Side of Evil, there are downfalls as well. The novel tends towards the heavy handed at times (particularly with regard to its Message), and obviously if you don't agree with the book's politics, you're probably not going to be a huge fan. There's one other topic that the novel addresses that isn't necessarily a negative thing, but dates the book in some ways: the vital importance of an overarching Space Program for the betterment of humanity. While it's interesting to think of this particular facet of the book in the context of the time the novel was written, it's also slightly saddening because, well, we haven't really made any huge developments in space exploration as a global community. (That said, the author has written a great afterword to the recent 2003 revision of the text that is absolutely worth reading – included below!)
Overall, though, The Far Side of Evil is a thought-provoking, wonderful book and one that I would happily recommend. I'm certainly going to try more of Sylvia Engdahl's work for future OSW reads!
Notable Quotes/Parts: From the author's 2003 afterword:
The Far Side of Evil was first published in 1971, during the era of the Apollo moon landings. At that time, I believed Earth would soon be safely out of the Critical Stage. It didn't occur to me that a planetary civilization, having once developed a capability for space travel, might cut back its thrust into space as ours has done. And so in this edition I have altered some of the wording to make plain that it is the ongoing colonization of space, not merely the invention of spaceships, that is needed to ensure the survival of a "human" species (ours, or any other that may exist elsewhere).

People I've talked to have frequently been surprised to learn how seriously I myself take the ideas I expressed in this novel; they've assumed its premise was a mere plot device. In fact, the vital importance of expanding Earth's civilization into space has been my deepest conviction for nearly fifty years. My opinions on this subject are discussed at my Web site, www.sylviaengdahl.com, and I hope readers who want more information about them will look for it there.
You can read the full afterword online HERE.
Rating: 7 – Very Good
Reading Next: The Woman in the Wall by Patrice Kindl
Buy the Book:
(click on the links to purchase)