Old School Wednesdays is a weekly Book Smuggler feature. We came up with the idea towards the end of 2012, when both Ana and Thea were feeling exhausted from the never-ending inundation of New and Shiny (and often over-hyped) books. What better way to snap out of a reading fugue than to take a mini-vacation into the past?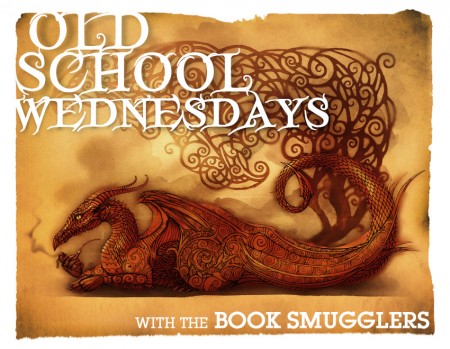 Logo designed by the wonderful KMont
Today, Ana reviews The True Meaning of Smekday by Adam Rex!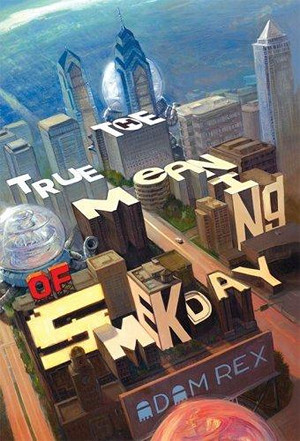 Title: The True Meaning of Smekday
Author: Adam Rex
Genre: Science Fiction, Middle Grade
Publisher: Disney
Publication Date: October 2007
Hardcover: 423 Pages
It all starts with a school essay.

When twelve-year-old Gratuity ("Tip") Tucci is assigned to write five pages on "The True Meaning of Smekday" for the National Time Capsule contest, she's not sure where to begin. When her mom started telling everyone about the messages aliens were sending through a mole on the back of her neck? Maybe on Christmas Eve, when huge, bizarre spaceships descended on the Earth and the aliens called Boov abducted her mother? Or when the Boov declared Earth a colony, renamed it "Smekland" (in honor of glorious Captain Smek), and forced all Americans to relocate to Florida via rocketpod?

In any case, Gratuity's story is much, much bigger than the assignment. It involves her unlikely friendship with a renegade Boov mechanic named J.Lo.; a futile journey south to find Gratuity's mother at the Happy Mouse Kingdom; a cross-country road trip in a hovercar called Slushious; and an outrageous plan to save the Earth from yet another alien invasion.
Fully illustrated with "photos," drawings, newspaper clippings, and comics sequences, this is a hilarious, perceptive, genre-bending novel by a remarkable new talent.
Stand alone or series: Stand alone but a sequel will be published this year
How did I get this book: Bought
Format (e- or p-): eBook
Why did I read this book: I've had this book on my TBR pile for AAAAAAAAGES after buying it following several rave reviews and recommendations. When I learned about the upcoming sequel AND a movie in the works, I decided it was finally time to read it.
Review:
"What is the Smekday holiday? How has it changed in the year since the aliens left? You may use your own personal experiences from the alien invasion to make your points. Feel free to draw pictures or include photographs."
Ostensibly starting out as a school assignment for the National Time Capsule contest, The True Meaning of Smekday morphs into something else altogether as 11-year-old Gratuity "Tip" Tucci takes hold of a narrative that not once, but twice, attempts to recount and interpret the events immediately preceding and following the alien invasion that literally reshaped the USA.
Gratuity was already in dire straits by the time the Boov decided that – following the failed attempts to maintain a good relationship between humans and new alien overlords – all Americans should relocate to Florida, a newly-created reservation given to them in perpetuity. Her mother had been gone (possibly abducted) since the day before the aliens landed on Earth (Smekday!) and now Gratuity decides to drive all the day to Florida on her own (well, with her cat Pig). On the way, she ends up meeting a renegade Boov called J-Lo who might have single-handedly caused an even bigger disaster for Earth Smekland. The two strike an uneasy truce as they drive together cross-country to find Gratuity's mother. And to save the world.
The True Meaning of Smekday is equal parts essay and journal, it has drawings ("photos") as well as comics sequences in addition to the prose bits. It's pretty cool in the way that the story is not only a brilliant mixture of road trip and budding friendship between a human and an alien (as well as their "plan" to prevent a second alien invasion from happening) but also a moving portrayal of a mother-daughter relationship, a hilarious romp following a girl and her new Alien best friend and an astute, spot-on commentary on colonialism and racism.
Reading The True Meaning of Smekday is like coming home to a nice cup of tea on a winter day. It's comfortable – not only for its sense familiarity but because it's just like the type of Science Fiction I like to read. That type that provokes and pokes and invites discussion at the same time that it provides a huge amount of entertainment value. In many ways I was reminded of Terry Pratchett's books with their mixture of humour and thought-provoking themes.
So inasmuch as the story is funny and sweet, it also provides an astute look at alien colonialism that works in a stark mirror image to the US's own internal struggles. This is done by exploring the protagonist's own biracial background (half-black, half Italian) for example, or the official processes dealing with relocation that mimic in many ways what happened to Native Americans. I love that one of the main secondary characters is a Native American and his is one of the strongest voices in the book in the way that he reveals and calls out institutionalised racism.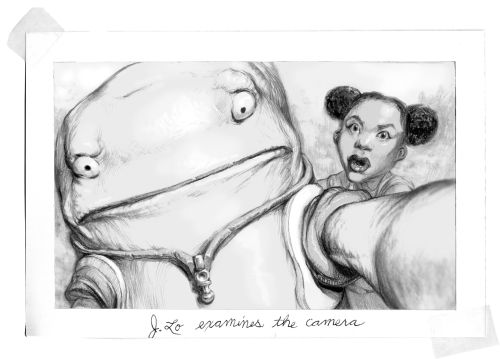 Beyond questions of race, I also liked the way the book deals with gender especially considering how this is a book intended for children. The Boov are a non-binary people and this is remarked several times in the book. There is also an examination of gender roles: on her journey, Gratuity encounters groups of boys who endeavour to tell her very quickly that they have no place for her. Thankfully, she has no time but such foolishness.
I'd also like to point out how awesome it is that the protagonist of this book is a young, biracial (half-black, half Italian), girl who saves the world from not one but two alien invasions because of her resourcefulness.
Having said that, I wish the book was a little bit more cohesive. Unfortunately the middle sags a little and the latter part of the story could have been a lot shorter.
Further, if the book is great at subtly and astutely poking at race relations in the US, unfortunately it is a lot more heavy-handed when remarking and observing aspects of American culture when it comes to food (a lot of fat shaming) and TV (oh, get thee away from me, "TV-is-bad-for-you" crap).
Those criticisms aside, this is a very good Science Fiction novel. Reading this after reading the excellent Mars Evacuees last week was a great idea.
Notable quotes/parts:
For you time capsule types, MoPo was something called a convenience store, as in, "The soda is conveniently located right next to the donuts and lottery tickets." People who want to understand better how the human race was conquered so easily need to study those stores. Almost everything inside was filled with sugar, cheese, or weight-loss tips.

It was dark inside, but I expected that. Pig followed me to the door, which opened with a jingle, and into the empty store. The shelves were nearly bare, probably looted, except for some moldy bread and yogurt health snacks called NutriZone Extreme FitnessPlus Blaster Bars with Calcium. There was also a bag and a few tins of cat food, which was nice. I sat on the cold linoleum floor and ate one of the pink health bars, and Pig had a tin of "Sea Captain's Entree".

"I don't think we're going to make it to Florida," I said.

"Mao?"

"Florida. That's where we're going. Big state, full of oranges."

Pig went back to her food, and I took another bite of what I was beginning to think was just a big eraser.

"Maybe we can stay here. We're pretty far outside the city. The Boov might not even notice."

"Mao."

"Sure we could. We could live in someone's house. Or a hotel. And the town's probably full of canned food.

"Mao mao?"

"Fine. You're so smart, give me one reason why it wouldn't work."

"Mao."

"Oh, you say that about everything."

Pig purred and settled down for a nap. I leaned back against an ATM and shut my eyes against the setting sun. I don't remember falling asleep, but it was dark outside when I woke with a loaf of bread under my head and heard the jingle of the front door.

I gasped for breath and scampered under a shelf. Too late, I remembered Pig, who was nowhere to be seen. Something moved through the vacant store, its footsteps like a drum roll.

Go away, go away, I chanted in my head at what I was sure was a Boov. It skibbered past my row of shelves, and I got a look at its cluster of tiny elephant legs, clad in a light blue rubber suit. Boov. Probably sent to find me.
Rating: 7 – Very Good
Reading Next: The Waiting Stars by Aliette de Bodard
Buy the Book:
(click on the links to purchase)