Ana and Thea here, fresh from a weekend of intense weekend of brainstorming and planning (and eating, drinking & geeking). We have some exciting news: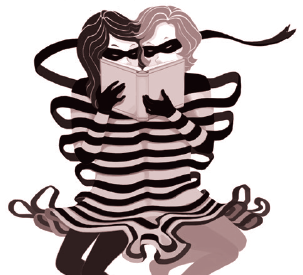 For the past six years we have been reading, commenting on, and sharing our thoughts about stories. After the amazing experience of curating Speculative Fiction 2013, we Book Smugglers want to continue to find and publish the best and brightest voices in SFF. This time, we're looking for original short stories from all around the world. Our goal is to publish at least three short stories every year, unified by a central theme (that will change each year). Each short story will be accompanied by one original piece of artwork from an artist commissioned by us separately.
In 2014, we are looking for subversive fairy tale retellings.
These retellings need not be reimaginings of Hans Christian Andersen, the Brothers Grimm, or Charles Perrault (although we love these fables and are happy to read and consider any retellings); we want a broader pool of stories, traditions, and canons to choose from.
What We're Looking For:
DIVERSITY. We want to read and publish short stories that reflect the diverse world we live in, about and from traditionally underrepresented perspectives.
Middle Grade, Young Adult, and Adult audience submissions are welcome. Good speculative fiction is ageless!
Creativity & Subversion. We love subversive stories. We want you to challenge the status quo with your characters, story telling technique, and themes.
Guidelines for Submission: (check out our official page here)
We are looking for original speculative fiction, between 1,500 and 17,500 words long.
These SFF offerings must be previously unpublished; we do not accept simultaneous submissions.
Profanity, sex, and other explicit situations are fine as long as they fit within the context of the story.
Submissions are open now, and will be open through July 31, 2014.
Payment and Terms:
We are funding this ourselves because we are passionate about finding new and diverse voices in SFF. We will be paying $0.05 per word up to $500 (although we welcome stories from a minimum of 1,500 words and up to a maximum of 17,500 words long).
We plan on publishing these short stories for free in their entirety on thebooksmugglers.com. We also plan on selling these stories in ebook and limited print editions at a 50% net royalty, with possible inclusion in future anthologies (royalty to be negotiated). We ask for exclusive rights for a year, and non-exclusive rights following that.
How to Submit:
Submissions should be emailed to submissions@thebooksmugglers.com.
Please attach your full story as a document (.doc, .docx, .rtf). Please do not send your story as text in the body of an email.
A cover letter is not strictly necessary but welcome, and we would love to learn a little bit about you and the inspiration behind your work (or anything else you think is relevant to your story submission).
We will reply to all authors who have submitted work with our decision by August 15, 2014.
We are happy to answer any of your questions – leave a comment or email us (contact@thebooksmugglers.com), and we'll get back to you as soon as possible.
And… that's it! We hope to be reading your excellent short stories very soon.