Today our guest is Kate Milford, author of wonderful historical MG/YA fiction, steeped in folklore and a dash of horror. We're thrilled to have Kate over to talk about her books and novellas – in particular, to talk about her second crowdfunded storytelling effort, Bluecrowne!
Please give a warm welcome to Kate, folks!

The Book Smugglers: First and foremost, thanks so much for taking the time to answer our questions! You're the author of traditionally published books, The Boneshaker and The Broken Lands, but you've also self-published (and crowdfunded) novellas set in the same world. Can you tell us a bit about the Arcana Project, and why you've decided to go the kickstarter and self-published route?
Kate: First and foremost, thank you for having me! The Arcana Project is a series of standalone tales set in the world of The Boneshaker. Each installment has a new cover by Andrea Offermann, who did the art for The Boneshaker and The Broken Lands; each is available as an ebook as well as a paperback printed at McNally Jackson Books on their Espresso Book Machine; and each has a digital special edition illustrated by young reader artists who are paid for the work they create. The Kairos Mechanism came out alongside The Broken Lands in 2012; Bluecrowne comes out at the end of April, assuming all goes well with its Kickstarter campaign, which runs through April 25th. Andrea and I also have plans to release The Raconteur's Commonplace Book, which is a book of folklore referenced in Greenglass House, this fall.
I love my publishers, but there are limits to what they're game for, and publishing a new short novel any time I feel like adding a little to this world that's essentially like a sandbox for me to play in sort of falls outside those limits. But as a reader, when I really fall in love with a book and the world in which its set, with its particular mythology and history and geography, I always want more. I love when there's extra content out there to explore, and I love when I find hidden clues and references throughout an author's work. I wanted to do something like that, and I wanted the extra content to be in the form of complete stories. So: self-pub. But I don't personally enjoy reading ebooks myself; I'm a book collector (or maybe hoarder). So I wanted there to be a really beautiful paperback edition, something that bookstores might be willing to carry. Then McNally Jackson, the bookstore where I work, got an Espresso Book Machine. It's not cheap to print with, but it has the benefit of bringing profit to my favorite independent bookstore (which was my favorite independent bookstore even before I started working there). Also, it prints absolutely gorgeous paperbacks while you stand there and watch. So this suddenly was not an enterprise I had the money to finance myself. Therefore: Kickstarter. Once I came to peace with that, I decided to just go for broke and up the budget in order to raise funds to pay young artists to illustrate a special edition, which turned out to be (I think) one of the most special things about the Arcana Project books.
And Kickstarter has some really cool benefits. The level of interaction between backers and creators is, I think, really inspiring and motivational. Plus, you get to create all these really neat rewards for folks who back your projects. This time around, one of the artists from The Illustrated Kairos Mechanism created a series of absolutely beautiful character portraits for rewards, for instance. My father-in-law in Missouri handmade a collection of pens and pencils from exotic woods, which I paired with a bunch of notebooks I found in an old stationery shop in Chinatown in San Francisco. Then of course, there are signed books and prints, too. I have so much fun coming up with rewards, and it's extra fun since my friends and family helped me put them together.
The Book Smugglers:Tell us about your new novella, Bluecrowne. What can fans of your prior books expect? And what can readers new to your writing expect?
Kate: Those who've read my previous books will recognize several characters: Trigemine, Liao, Christopher Swifte, and Simon Coffrett, and will learn a little bit more about Arcane and Jack and his quest for a hell on Earth. Those who haven't will be introduced to a world which is peopled by uncanny roamers and creatures of folklore, in which crossroads are places of power and time is navigated with a kind of mathematics called chronometrical trigonometry. In this book we have two young protagonists who've grown up on a letter-of-marque (a private ship of war) but must now contend with life ashore, and two itinerant peddlers in search of items of great power who can't afford to fail in their mission, even if it means resorting to kidnapping and murder. And it's worth mentioning again that Bluecrowne is a stand-alone novel, so while there are special treats in there for readers who know this world a little already, newcomers will be just fine if this is their first visit there.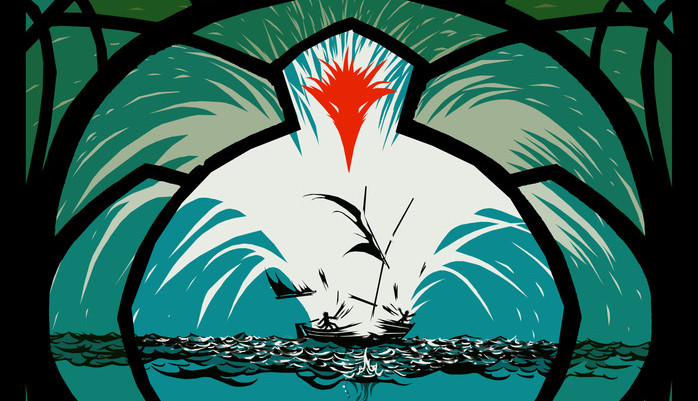 The Book Smugglers: You also have some forthcoming novels on the horizon (Greenglass House this year, and The Left-Handed Fate next year) which share some characters and are possibly set in the same world as your other works. Tell us a bit about this world – do you envision that all of your writing will be tied together in some way to this same universe?
Kate: Well, not all of it. I do have two projects on back burners right now that are definitely set in entirely new worlds. But I love this world, the world of The Boneshaker, and the more I figure out its history and the more I fall in love with the people inhabiting it, the more stories I come up with that are set there. Plus, there's one big tale I want to tell before I leave it behind, which is the conflict alluded to in The Boneshaker and The Broken Lands: what happens when Jack, who was turned away from both Heaven and Hell and now walks the world looking for a place to build his own Hell on Earth, decides that Arcane, Missouri, is the perfect place? But neither Greenglass House nor The Left-Handed Fate are specifically tied to that story. Greenglass House is something else entirely, a sort of quiet mystery that has more to do with family and identity than saving the world; and while The Left-Handed Fate shares at least one character with The Broken Lands, it's the tale of something arguably even stranger than Jack's search for a place to call home.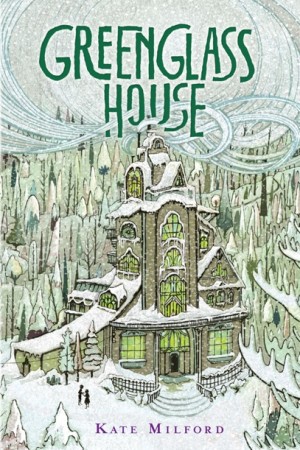 I think this is one of the reasons the self-pub project appeals to me so much—there are so many stories I want to tell of this world. Plus I keep hearing from readers who want more of Jake Limberleg, for example, or to know what the deal with Simon Coffrett is. These smaller books are a way for me to keep us all happy. (Except about Simon—unless you figure it out on your own, I'm not saying until that big Natalie/Jack story happens. But Bluecrowne will give you a few more clues.)
The Book Smugglers: Your writing is very detailed and appears to involve a lot of historical research! What kind of research did you do for Bluecrowne, if any?
Kate: I love research! I love everything about it, and when I don't know what's going to happen next in a story, seven or eight times out of ten, going back to my research gives me the pieces I'm missing.
I did have to do some studying for Bluecrowne, although I planned the writing of it for a time when I'd done nearly all of the necessary research for other books: fireworks, alchemy, and Chinese mythology for The Broken Lands, and nautical stuff circa 1812 for The Left-Handed Fate. I did have to brush up on all of it, though, because I don't retain things all that well for that long. Plus, of course, there were certain things that popped up while writing Bluecrowne that I hadn't had to know for the earlier books. An example of that is the name Xiaoming. Readers of The Broken Lands will recognize it as the stage name Liao gave his adopted niece Jin, and in Bluecrowne we learn where that name came from. Now, I knew where I'd found the name and what my source claimed it meant, but I had to follow the name back further and read up in more depth on the original Xiaoming whose name I had borrowed than had been necessary for TBL. Stuff like that pops up. This is why we allow me to buy research books in my household. I go back to them again and again, and more and more I find that when I need to know something, I often have exactly the book I need already. I was also really fortunate in that a friend referred me to a gent named David Antscherl who is not only an author in his own right, but also a nautical historian, so that helped a ton. Thanks to David I can tell you that Andrea created specifically a sixteen-foot clinker-built cutter with a dipping lug sail for the cover illustration, and I also avoided using the term "clipper" about 30 years too early (I had trusted too far in a source that seemed to be using it as early as about 1815).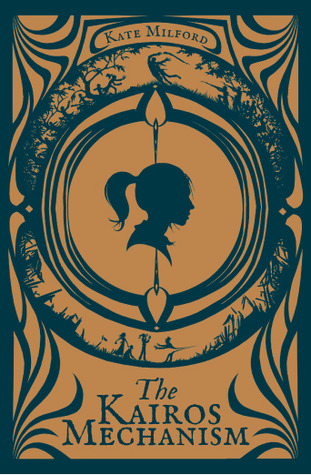 The Book Smugglers: Your novels and novellas are gorgeously illustrated – by professional artists and fan artists alike. What role do these illustrations play in your storytelling? What inspired you to involve fan art in your self-published work?
Kate: I can tell you exactly where that seed was planted. We were planning the cover reveal for The Broken Lands, and I think I had just decided to leap into this project with The Kairos Mechanism, but hadn't really started writing it. For the cover reveal, I posted an excerpt with the first appearance of High Walker on my website and invited readers to illustrate him. Two artists who later also worked on The Kairos Mechanism sent pictures of Walker, and I was so struck by how different each was from the other's, and from Andrea's. All different, but all wonderful, and all catching different pieces of this creature that had been living in my mind for so long. And I'd been trying to figure out what I was sort of thinking was the missing piece to the Arcana Project, something that would really make it special and set it apart from other self-pub projects. Once the idea of doing a reader-illustrated edition took hold, it just made so much sense. What better way to directly involve readers than to have them illustrate the book?
Another reason I love this part of the project is that I wish I were more visually artistic. I'm not. So I live vicariously a little bit through all these illustrators. But I don't know if it actually affects my storytelling—I always try to be visual when I write, but there's really no way of knowing when I'm writing something whether that scene will turn out to be the chosen moment that gets brought to life. There's no way to know how much illustration, if any, I'll get in a book when I sign the contract. So I just try and write scenes visually enough that readers will be able to see them whether there's an illustration or not.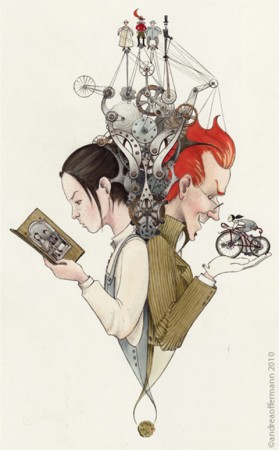 The Book Smugglers: You're being chased by malevolent forces and need to get outta dodge. QUICK! What five books do you bring with you?
Kate: Oh, man. I'm going to try and go with my gut here: The Dark is Rising (Susan Cooper) and The Westing Game (Ellen Raskin) because they're my favorites; a big anthology of ETA Hoffmann or a big anthology of Ambrose Bierce, whichever I got my hands on first; Pynchon's Mason and Dixon in the hopes that I might finally finish it; and some giant history tome I haven't read—maybe Ecstatic Nation by Brenda Wineapple, because it's sitting at the top of my TBR pile right now for my next project.
The Book Smugglers: We Book Smugglers are faced with constant threats and criticisms from our significant others concerning the sheer volume of books we purchase and read—hence, we have resorted to "smuggling books" home to escape scrutinizing eyes. Have you ever had to smuggle books?
Kate: Dear God, yes. Really I think my husband is more amused by my efforts to disguise how many books I bring home than actually fooled by them, but absolutely I've tried to smuggle books before. I really try and restrict my purchases to items I plan to use for projects I'm actively working on, and I do almost no buying of books for pleasure reading, because I have so little time for it. I did finally buy (and ADORE) both of Sheila Turnage's Tupelo Landing books just recently, though. I read them to my son during feedings, and boy, are they wonderful. Because of them I volunteered for baby bedtime duty for like three weeks straight. But smuggled home or not, I definitely have a book-acquisition problem. At this point, my time working at the bookstore basically pays for the books I buy there; I'm not sure I take anything home at the end of the week.
The Book Smugglers: Thank you, Kate!

About the Author:
Kate is the author of THE BONESHAKER, THE BROKEN LANDS, THE KAIROS MECHANISM, and the forthcoming BLUECROWNE (Spring 2014), GREENGLASS HOUSE (August 2014), and THE LEFT-HANDED FATE (Fall 2015).
Originally from Annapolis, MD, Kate now lives in Brooklyn, NY with her husband Nathan and their dogs, Ed and Sprocket. She has written for stage and screen and is a frequent travel columnist for the Nagspeake Board of Tourism and Culture.
For more about Kate, make sure to check out her website, and follow her on twitter (@KateMilford) and on tumblr.
The Giveaway:
Courtesy of McNally Jackson Books, we've got a prize pack of The Boneshaker, The Broken Lands and The Kairos Mechanism up for grabs! The giveaway will run until Sunday, April 27 at 12:01am EST. To enter, use the form below! Good luck!
And make sure to check out Kate's kickstarter page for Bluecrowne + our review of the novella later today!