"On The Smugglers' Radar" is a feature for books that have caught our eye: books we have heard of via other bloggers, directly from publishers, and/or from our regular incursions into the Amazon jungle. Thus, the Smugglers' Radar was born. Because we want far more books than we can possibly buy or review (what else is new?), we thought we would make the Smugglers' Radar into a weekly feature – so YOU can tell us which books you have on your radar as well!
On Ana's Radar:
Like usual, I found interesting things on Netgalley this week. First up, a book about a scholar lady who wants to find the Amazons: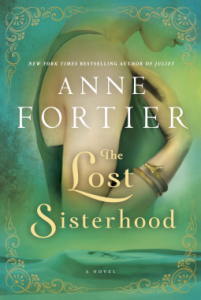 From the author of the New York Times bestseller Juliet comes a mesmerizing novel about a young scholar who risks her reputation—and her life—on a thrilling journey to prove that the legendary warrior women known as the Amazons actually existed.

Oxford lecturer Diana Morgan is an expert on Greek mythology. Her obsession with the Amazons started in childhood when her eccentric grandmother claimed to be one herself—before vanishing without a trace. Diana's colleagues shake their heads at her Amazon fixation. But then a mysterious, well-financed foundation makes Diana an offer she cannot refuse.

Traveling to North Africa, Diana teams up with Nick Barran, an enigmatic Middle Eastern guide, and begins deciphering an unusual inscription on the wall of a recently unearthed temple. There she discovers the name of the first Amazon queen, Myrina, who crossed the Mediterranean in a heroic attempt to liberate her kidnapped sisters from Greek pirates, only to become embroiled in the most famous conflict of the ancient world—the Trojan War. Taking their cue from the inscription, Diana and Nick set out to find the fabled treasure that Myrina and her Amazon sisters salvaged from the embattled city of Troy so long ago. Diana doesn't know the nature of the treasure, but she does know that someone is shadowing her, and that Nick has a sinister agenda of his own. With danger lurking at every turn, and unsure of whom to trust, Diana finds herself on a daring and dangerous quest for truth that will forever change her world.

Sweeping from England to North Africa to Greece and the ruins of ancient Troy, and navigating between present and past, The Lost Sisterhood is a breathtaking, passionate adventure of two women on parallel journeys, separated by time, who must fight to keep the lives and legacy of the Amazons from being lost forever.

The next book has me absolutely salivating. It's historical, WWI, about ladies and compared to The Guernsey Literary and Potato Peel Pie Society. GIVE IT TO MEEEEE.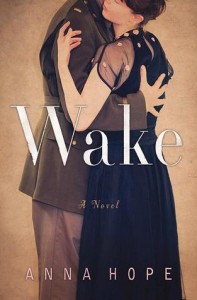 A brilliant debut for readers of The Guernsey Literary and Potato Peel Pie Society, in which three women must deal with the aftershocks of WWI and its impact on the men in their lives-a son, a brother and a lover. Their tragic connection is slowly revealed as the book unfolds.

Wake: 1) Emerge or cause to emerge from sleep 2) Ritual for the dead 3) Consequence or aftermath.

Hettie, a dance instructress at the Palais, lives at home with her mother and her brother, mute and lost after his return from the war. One night, at work, she meets a wealthy, educated man and has reason to think he is as smitten with her as she is with him. Still there is something distracted about him, something she cannot reach…Evelyn works at the Pensions Exchange through which thousands of men have claimed benefits from wounds or debilitating distress. Embittered by her own loss, more and more estranged from her posh parents, she looks for solace in her adored brother who has not been the same since he returned from the front…Ada is beset by visions of her son on every street, convinced he is still alive. Helpless, her loving husband of 25 years has withdrawn from her. Then one day a young man appears at her door with notions to peddle, like hundreds of out of work veterans. But when he shows signs of being seriously disturbed-she recognizes the symptoms of "shell shock"-and utters the name of her son she is jolted to the core…

The lives of these three women are braided together, their stories gathering tremendous power as the ties that bind them become clear, and the body of the unknown soldier moves closer and closer to its final resting place.

Another book from Netgalley – this one from an author whose previous book was a mixed bag for me but with prose that thoroughly impressed so I am going to give this new one a try: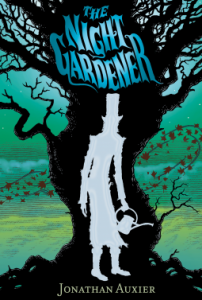 This much-anticipated follow-up to Jonathan Auxier's exceptional debut, Peter Nimble and His Fantastic Eyes, is a Victorian ghost story with shades of Washington Irving and Henry James.

More than just a spooky tale, it's also a moral fable about human greed and the power of storytelling.

The Night Gardener follows two abandoned Irish siblings who travel to work as servants at a creepy, crumbling English manor house. But the house and its family are not quite what they seem. Soon the children are confronted by a mysterious spectre and an ancient curse that threatens their very lives. With Auxier's exquisite command of language, The Night Gardener is a mesmerizing read and a classic in the making.

It's ALA Awards season! There's lots of books I haven't read from their lists but the next two are the ones I am stocked to read soon. Fat Angie is one of the winners of the 2014 Stonewall Children's and Young Adult Literature Award: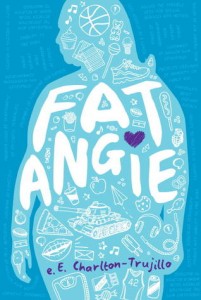 Her sister was captured in Iraq, she's the resident laughingstock at school, and her therapist tells her to count instead of eat. Can a daring new girl in her life really change anything?

Angie is broken — by her can't-be-bothered mother, by her high-school tormenters, and by being the only one who thinks her varsity-athlete-turned-war-hero sister is still alive. Hiding under a mountain of junk food hasn't kept the pain (or the shouts of "crazy mad cow!") away. Having failed to kill herself — in front of a gym full of kids — she's back at high school just trying to make it through each day. That is, until the arrival of KC Romance, the kind of girl who doesn't exist in Dryfalls, Ohio. A girl who is one hundred and ninety-nine percent wow! A girl who never sees her as Fat Angie, and who knows too well that the package doesn't always match what's inside. With an offbeat sensibility, mean girls to rival a horror classic, and characters both outrageous and touching, this darkly comic anti-romantic romance will appeal to anyone who likes entertaining and meaningful fiction.

It has been awarded the Stonewall Book Award-Mike Morgan and Larry Romans Children's & Young Adult Literature Award for 2014.

The other one is the Belpré Author Award winner: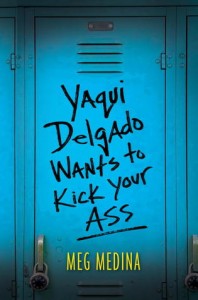 In Meg Medina's compelling new novel, a Latina teen is targeted by a bully at her new school — and must discover resources she never knew she had.

One morning before school, some girl tells Piddy Sanchez that Yaqui Delgado hates her and wants to kick her ass. Piddy doesn't even know who Yaqui is, never mind what she's done to piss her off. Word is that Yaqui thinks Piddy is stuck-up, shakes her stuff when she walks, and isn't Latin enough with her white skin, good grades, and no accent. And Yaqui isn't kidding around, so Piddy better watch her back. At first Piddy is more concerned with trying to find out more about the father she's never met and how to balance honors courses with her weekend job at the neighborhood hair salon. But as the harassment escalates, avoiding Yaqui and her gang starts to take over Piddy's life. Is there any way for Piddy to survive without closing herself off or running away? In an all-too-realistic novel, Meg Medina portrays a sympathetic heroine who is forced to decide who she really is.

On Thea's Radar:
First up on my list is a new novel from Daryl Gregory (whose books I have read, to mixed result, in the past). I'm intrigued: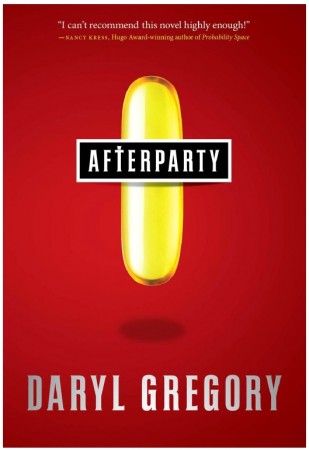 It begins in Toronto, in the years after the smart drug revolution. Any high school student with a chemjet and internet connection can download recipes and print drugs, or invent them. A seventeen-year-old street girl finds God through a new brain-altering drug called Numinous, used as a sacrament by a new Church that preys on the underclass. But she is arrested and put into detention, and without the drug, commits suicide.

Lyda Rose, another patient in that detention facility, has a dark secret: she was one of the original scientists who developed the drug. With the help of an ex-government agent and an imaginary, drug-induced doctor, Lyda sets out to find the other three survivors of the five who made the Numinous in a quest to set things right.

A mind-bending and violent chase across Canada and the US, Daryl Gregory's Afterparty is a marvelous mix of William Gibson's Neuromancer, Philip K. Dick's Ubik, and perhaps a bit of Peter Watts's Starfish: a last chance to save civilization, or die trying.

This next novel sounds a little traditional, a little safe, but I'm starting to see some excitement and good reviews – naturally, I need to give it a try.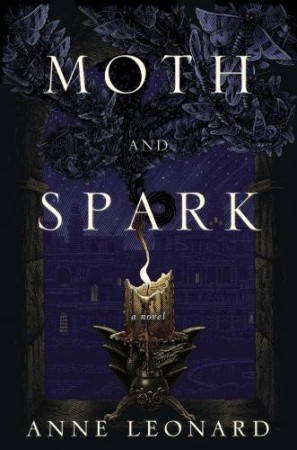 A prince with a quest. A commoner with mysterious powers. And dragons that demand to be freed—at any cost.

Prince Corin has been chosen to free the dragons from their bondage to the Empire, but dragons aren't big on directions. They have given him some of their power, but none of their knowledge. No one, not the dragons nor their riders, is even sure what keeps the dragons in the Empire's control.

Tam, sensible daughter of a well-respected doctor, had no idea before she arrived in the capital that she is a Seer, gifted with visions. When the two run into each other (quite literally) in the library, sparks fly and Corin impulsively asks Tam to dinner. But it's not all happily ever after. Never mind that the prince isn't allowed to marry a commoner: war is coming to Caithen.

Torn between Corin's quest to free the dragons and his duty to his country, the lovers must both figure out how to master their powers in order to save Caithen. With a little help from a village of secret wizards and a rogue dragonrider, they just might pull it off.

And then I stumbled across this GORGEOUS UK cover at Hodderscape and immediately thought: WANT. NEED. NOW. This book sounds fantastic – is it May yet?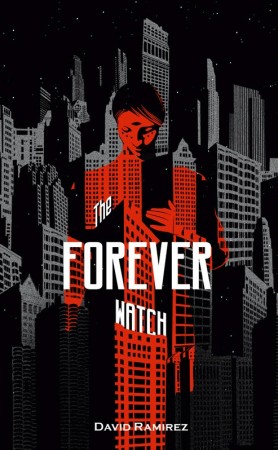 The Noah: a city-sized ship, half-way through an eight hundred year voyage to another planet. In a world where deeds, and even thoughts, cannot be kept secret, a man is murdered; his body so ruined that his identity must be established from DNA evidence. Within hours, all trace of the crime is swept away, hidden as though it never happened.

Hana Dempsey, a mid-level bureaucrat genetically modified to use the Noah's telepathic internet, begins to investigate. Her search for the truth will uncover the impossible: a serial killer who has been operating on board for a lifetime… if not longer.

The title for this book is what caught my eye – Far Rockaway! Where my train ends! Obviously, marked it for the radar: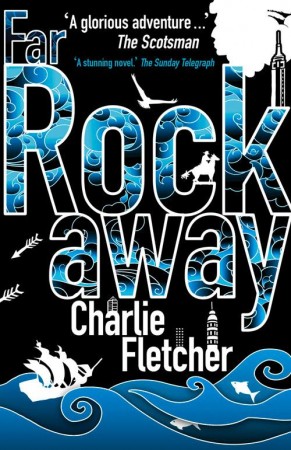 Cat is knocked down by a speeding fire truck in Central Manhattan. She wakes in a world made from all the books her grandfather used to read to her, peopled by some of the most memorable heroes of classic adventure fiction, brought vividly to life. She doesn't know how she's going to survive, let alone get home, but she does know one thing: Real girls rescue themselves.

And finally, this old school cover caught my eye – turns out it's for an upcoming (contemporary-ish?) fantasy novel.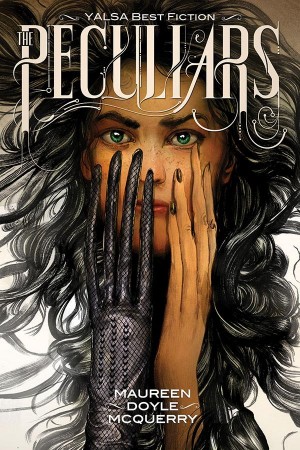 On her 18th birthday, Lena Mattacascar decides to search for her father, who disappeared into the northern wilderness of Scree when Lena was young. Scree is inhabited by Peculiars, people whose unusual characteristics make them unacceptable to modern society. Lena wonders if her father is the source of her own extraordinary characteristics and if she, too, is Peculiar. On the train north, she meets Jimson Quiggley, a young librarian who is traveling to a town on the edge of Scree to work in the home and library of the inventor Mr. Beasley. The train is soon boarded by a handsome young marshal, Thomas Saltre, who learns who Lena's father is and convinces her to spy on Mr. Beasley and the strange folk who disappear into his home, called Zephyr House. Eventually, though, Lena must venture into the wilds of Scree and confront her deepest fears.

And that's it from us! What books do you have on YOUR radar?