Welcome to Smugglivus 2013! Throughout this month, we will have daily guests – authors and bloggers alike – looking back at their favorite reads of 2013, and looking forward to events and upcoming books in 2014.
Who: Renay, a Strange Horizons columnist and one of three writers of the excellent Lady Business, a space dedicated to critique (of books, TV, Movies, Fandom, etc) from a feminist perspective.

Renay is this year's last Smugglivus Guest Blogger, please give her a warm welcome!

When I was asked to write for Smugglivus this year, I struggled to decide what to share. I could have spoken about my favorite media, but I was already doing that elsewhere, and this late in the game, to-read and to-watch lists are likely already spiraling out of control for most of us. Who's added at least 10 items from previous Smugglivus guests in the last few weeks?
ALL OF US.
Part of why I write reviews, essays, and criticism is largely community-based. It's having a clubhouse with friends. We can hang around together in the communal space we've built and chat and share and trade recommendations and create things we want to see and build our own narratives. Given that I love communities and projects, I thought it would be neat to talk about my favorite projects, essays, events, and commentary that went down in my corner of fandom in 2013.
The Hugo Awards
This happens every year; I talked about it for the last Smugglivus. The Hugo Awards are a popular award given to professionals and fans across multiple categories by members of the World Science Fiction Convention. More information is available at the official site.
My participation in the Hugos in 2013 was even more fun than 2012 because I managed to convince some friends to get involved with me. We traded recommendations, we talked about what we wanted to make the finalist lists, my to-read and to-watch list exploded with back list recommendations, and we turned into happy, flailing nerds during the nomination period. Although the Hugos are an integral part of Worldcon (hosted in London this year!), conventions are prohibitively expensive for me, so participating in the Hugos with my friends made me feel pretty warm and fuzzy. I was able to be involved with part of the community regardless of my attendance. It was awesome watching people championing things they loved and starting conversations about media we might not have even discussed had we not been given the opportunity to do it in the context of the awards.
The Hugos are open to all science fiction and fantasy fans. This year, Supporting Membership is more accessible than ever, at $40 (USD). Nominations will be open from now until March 2014, but to nominate you have to join by January 31st. If there's fiction, visual media, or people that did great work in 2013 that should be recognized, Hugo nomination time is a great chance to talk about them, not only because someone else might choose to check them out and nominate them, but because someone else might not know about them and might choose to pick them up — I discovered one of my favorite new authors, Seanan McGuire, via The Hugo Awards. These things can happen!
There's already a huge resource for professional and fan art as well as a thread for folks who are eligible to boost their signal, hosted by John Scalzi at Whatever. He'll be opening a general recommendation thread later, so watch out for that. 😀
This year, I have seduced even more of my non-blogging friends into my Hugo adventures. We have an awesome spreadsheet to keep track of recommendations (it's open to editing by everyone, so please feel free to drop your favorites in!). I'm super excited to see what ends up on the ballot given that the Worldcon will be held in London later this year, outside the U.S. It will be the my first non-U.S. Worldcon since I got intimately involved and I'm super intrigued to see how that changes the tone of The Hugo Awards.
(HINT: our very own Book Smugglers are eligible in Best Fanzine category! ~temptation~).
If you love recommendations, voting on things, rending fabric, the tears of your enemies, crying, reading and watching lots of media in a short time span, looming deadlines, and building a piece of SF fannish history, the Hugo Awards just might be for you! 🙂
Speculative Fiction 2012
Last year, Jurassic London released a collection of essays that were posted online in 2012, Speculative Fiction 2012: The Best Online Reviews, Essays And Commentary. I only recently bought myself a hard copy of the book, and it's lovely. I'm a little biased, of course, seeing as how I'm in it, but it speaks to the power of our community, that Justin and Jared could dream up this idea, execute it, and offer it as an actual physical object. It's super cool, and I highly recommend it.
(And also, it's eligible for a Hugo Award in Best Related Work. Just in case my first section convinced you to get involved. :D)
Women in Science Fiction and Fantasy Month 2013
Much was said about gender in 2013, but my favorite activity was Women in Science Fiction and Fantasy Month, hosted by Kristen of Fantasy Cafe. It was huge in scope and infinitely entertaining (also very dangerous for the TBR pile). There were excellent essays and tons of great commentary. It's all available via Fantasy Cafe's April 2013 Archives. We also collected approximately 2,000 recommendations for books by women, far beyond the response we expected, which is why the list is not yet out almost a year later (soon! soon!). The whole event was fun, and I am hopeful that Kristen will repeat the project for 2014. 🙂
(Although if she lets me collect recommendations ever again, we're using ISBN numbers. ISBN NUMBERS OR DEATH.)
Orlando Jones
If you don't believe Orlando Jones counts as a event, allow me to share with you the gift of Orlando Jones/Fandom ship, launched 2013. From his antics on Twitter to his joyful embracing of the Sleepy Hollow fandom and fandom culture on his social media accounts to his delightful poking of Supernatural fandom, this is a man who knows how to engage his fanbase respectfully and with an eye toward learning from them and understanding why they do what they do. Following along with him as he's cheered on fan creators, supported our endeavors, and taken the time to explore what it means to be a fan has been illuminating and heartwarming. Sleepy Hollow is a wonderful show which I love, but probably what I will remember about it long after it's gone is how wonderful and kind the creative team behind the show was to the people who loved it.
You can follow Orlando Jones on Twitter and Tumblr for more adventures and shenanigans. He's hilarious. 😀
Welcome to Night Vale Twitter account
Lastly, Welcome to Night Vale is a creepy, weirdly wonderful podcast framed as a radio show from the small Southwestern desert town of Night Vale. The host of the show is Cecil Baldwin, and it's hard to listen and not feel the same affection for the community that he has. It's also difficult to resist the super cute romance between Cecil and the scientist with the fantastic hair, Carlos. Welcome to Night Vale exploded in 2013. Predictably, given my luck, I can't really listen to it with any regularity without falling asleep, because Cecil's voice is like being injected with liquid Unisom (it's really effective, and a little weird…are there subliminal messages going on here?), but I keep up via various fan transcriptions (for various values of keep up — I'm two months behind right now! NO SPOILERS!), and I really love the weather, which features a different song each week. I highly recommend the first three episodes of the podcast to see if it's your kind of thing, which is available on iTunes for free.
My favorite thing about Welcome to Night Vale is their Twitter account, which succeeds in being creepy, heartbreaking, but often extremely thoughtful: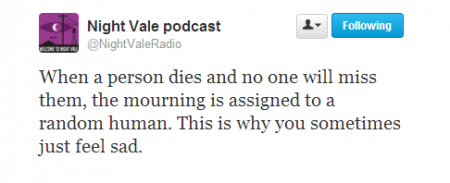 Thanks, Renay. We guess it's we start listening to the Night Vale Podcast…