Welcome to Smugglivus 2013! Throughout this month, we will have daily guests – authors and bloggers alike – looking back at their favorite reads of 2013, and looking forward to events and upcoming books in 2014.
Who: Speculative Fiction writer Jacqueline Koyanagi, author of Ascension one of Ana's Notable Reads of 2013. From her official bio because it is pretty awesome: Her stories feature queer women of color, folks with disabilities, neuroatypical characters, and diverse relationship styles, because she grew tired of not seeing enough of herself and the people she loves reflected in genre fiction.
Please welcome Jacqueline, folks!

My top read of the year was a piece of nonfiction about fiction: Jeff VanderMeer's Wonderbook, a collaboration with artist Jeremy Zerfoss.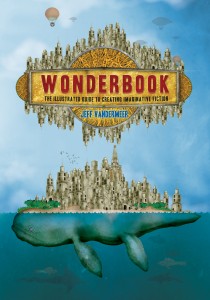 I'd been looking forward to it ever since I first caught wind of its development, so when I spotted it at a table at MileHiCon, I grabbed it and clutched it to my chest and paid for it immediately. Few things make me as happy as a brand new, much-anticipated book.
I have a thing for beautiful books, you see, and this one is by far one of the prettiest, weirdest books I've ever had the pleasure of reading. It certainly serves its purpose: the art and page designs capture the imagination in a series of visual delights and distractions that serve to enhance the written content. I'd read a couple of pages and have to put the book down to go work on something of my own thanks to the wild trip that is Wonderbook feeding my creativity in ways I hadn't expected.
Wonderbook is more of an imaginative experience than a standard writing how-to guide. I'm grateful for that; there are plenty of excellent straightforward books on developing and strengthening writing skills. This is geared toward folks who want to let their gloriously monstrous imaginations out to play on the page; it offers excellent tips on how to do that while still managing to shape those wild creatures into story.
Best of all, the book is filled with recurring characters who guide you through the content. I especially loved the concept of the book's disruption dragons, whose purpose is to question the points of the main text.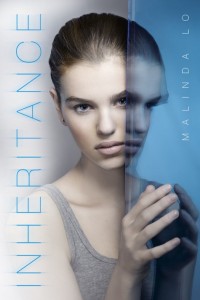 I had the pleasure of meeting fellow queer writer Malinda Lo at a signing in Denver, where I picked up her latest novel, Inheritance, the sequel to her YA SF novel, Adaptation. Malinda made it clear that the X-Files inspired and influenced these books, and when you throw a bisexual protagonist into the mix, how could I possibly resist?
I can't share much detail about Inheritance itself because it relies on knowledge of Adaptation; the second book picks up only minutes after the end of the first. What I can say is that the duology tackles complex issues about sexual orientation, the social implications of deciding whether to come out as a bisexual person in a heterosexual relationship, and what it means to know another person.
My personal bias: feature non-monogamy positively in a book, and I'm going to be excited. I don't want to spoil the story for anyone, so I won't go into detail, but I did have to mention polyamory's inclusion because it delighted me so much. Malinda does a great job of introducing the idea of non-monogamy in a way that makes sense. I have been waiting for this to show up in a YA novel.
As for the plot, I've had a soft spot for fringe theories and conspiracies most of my life. I see them as part of our modern mythos, so they fascinate me even while I remain utterly agnostic as to where truth lies. It's obvious Malinda did her research when writing these books; I could pick up on names, ideas, and theories that were plucked right out of modern conspiracy theories and I loved it, from the black triangles to Project Blue Base. Mulder and Scully would have had a field day with the Imria and CASS.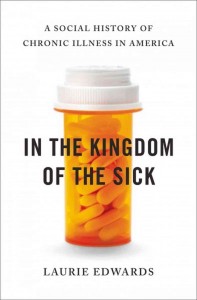 Another piece of nonfiction from this year stands out in my mind: In the Kingdom of the Sick: A Social History of Chronic Illness in America, by Laurie Edwards. Being chronically ill in the United States myself, I found this history illuminated in this book to be both informative and infuriating. Most days I'm in physical pain. Most days I'm fatigued–think less "I've worked hard all day and now I'm tired," and more "I have the flu and I'm so fatigued that the idea of running errands is laughable." Most days I deal with brain fog, which is exactly what it sounds like: a haze that descends over your consciousness, forcing you to don a headlamp and blare a fog horn to find your way to coherence.
The author is chronically ill as well. Edwards illuminates some of what it can be like to have a chronic illness; I could see myself in this book. Not only in my symptoms, but in my struggle to carve out a place for myself in a society that fails to adequately support people with disabilities. Edwards features the stories of many people with chronic illnesses and place those stories within historical and social contexts.
What struck me the most is how accurately Edwards describes the reality of chronic pain and how that influences a person's ability to participate in normative society. She captured the horrifying reality of how pain is often framed: invisible illnesses can't possibly be that bad by virtue of being invisible, and if you're in that much pain, you need to do something about it, bootstrap yourself up to good health:
"It's an untenable situation: patients are considered lazy or indulgent if they remain housebound, but should they manage some activity or productivity, then their pain can't be as severe and exhausting as they claim. Here again we see the contradiction so common in the social history of disease: the absence of outward physical manifestations of illness somehow negates the actual experience of having it."
In a culture where being in a state of good health is (mistakenly) conceptualized as a moral imperative, a book like this is sorely needed. I can't recommend it enough.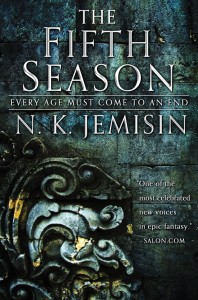 What am I looking forward to in 2014? More than anything else, Radiance by Catherynne Valente, the novel inspired by her beautiful short story, "The Radiant Car Thy Sparrows Drew". I'm also very excited about Jeff VanderMeer's Annihilation and N.K. Jemisin's The Fifth Season. A year where three of my favorite authors have new novels coming out has to be a good one indeed.

Cheers, Jacqueline!