"On The Smugglers' Radar" is a feature for books that have caught our eye: books we have heard of via other bloggers, directly from publishers, and/or from our regular incursions into the Amazon jungle. Thus, the Smugglers' Radar was born. Because we want far more books than we can possibly buy or review (what else is new?), we thought we would make the Smugglers' Radar into a weekly feature – so YOU can tell us which books you have on your radar as well!
On Ana's Radar:
Zeta Elliott has a companion novel to Ship of Souls coming out soon. I can't wait to read it.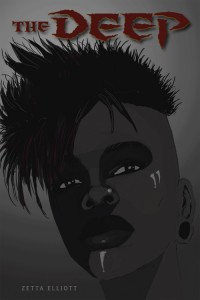 THE DEEP plunges readers into a dangerous, underground world policed by members of The League, a secret group of women and men who use their intuitive abilities to detect energy surges far below the earth's surface. In the deep, ancient sources of malevolent energy are bubbling up through the bedrock, and only members of The League know how to detect and seal the leaks that allow evil to enter the world.

Nyla Evans knows nothing about the war being waged beneath the city. It has been almost a year since she moved from Ramstein Air Base in Germany to Brooklyn, and Nyla is still searching for a way to belong. It doesn't help that she has started to hallucinate while walking the city streets, but things get even stranger when a man named Osiris approaches her and offers to introduce Nyla to others who have similar "gifts." When Nyla refuses, her friend D is kidnapped and held in the deep until Nyla agrees to let Osiris guide her underground. There, miles beneath Brooklyn, Nyla meets Lada—the mother who abandoned her a decade ago.

Furious that Nyla is being recruited by The League, Lada tries to prevent her daughter from following in her footsteps. But Nyla feels at home in the deep and her training begins at an accelerated pace when The League discovers an earthquake will soon hit Brooklyn, releasing unprecedented levels of malevolent energy into the city.

Garth Nix's upcoming (out next week!) book sounds SO AMAZING, I MUST HAVE IT: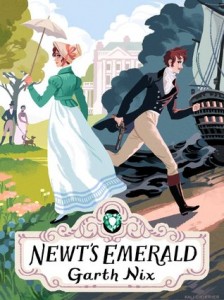 After the Newington Emerald is stolen at the height of a conjured storm, eighteen year-old Lady Truthful Newington goes to London to search for the magical heirloom of her house. But as no well-bred young lady can hunt the metropolis for a stolen jewel, she has to disguise herself as a man, and is soon caught up in a dangerous adventure where she must risk her life, her reputation… and her heart.

Balancing twin roles as a young lady coming out in her first season and as an intrepid young man up against an evil sorceress isn't easy, but Truthful has to manage it. Her father's life and even the fate of England may depend upon her recovering the Newington Emerald!

I really liked this review written by Stefan Raets of The Red: First Light at Tor.com. Added the book to my wish list: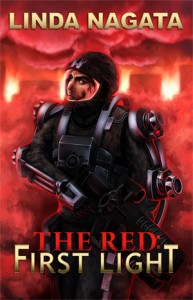 "There Needs To Be A War Going On Somewhere"

Lieutenant James Shelley commands a high-tech squad of soldiers in a rural district within the African Sahel. They hunt insurgents each night on a harrowing patrol, guided by three simple goals: protect civilians, kill the enemy, and stay alive—because in a for-profit war manufactured by the defense industry there can be no cause worth dying for. To keep his soldiers safe, Shelley uses every high-tech asset available to him—but his best weapon is a flawless sense of imminent danger…as if God is with him, whispering warnings in his ear.

A story about Chernobyl that sounds really interesting. It has an amazing cover that I am not quite sure fits the topic: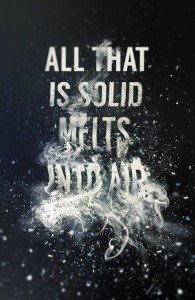 Under a crimson dawn sky, Artyom Telvatnikov stands in a field of cows, his fingertips glistening with warm blood that streams from their ears.

It is April 1986, and ten miles away, above the Chernobyl Nuclear Power Plant, clusters of sparks fill the air, inflaming the final years of the Soviet Union, inciting its citizens to actions of brutality, mystery and terrible beauty. Grigory, a surgeon working in the wake of the disaster, in a place where all natural order has been distorted, is forced to question everything he has known. In Moscow, his estranged wife, Maria, a former dissident, struggles to free herself from the constraints imposed upon her by the state. Her nephew Yevgeni is a nine-year-old piano prodigy whose sense of rhythm is rapidly eroding.

In All That Is Solid Melts into Air, Darragh McKeon blends an array of these and other characters into a strikingly visceral portrait of a place and a people in the midst of terrifying change.

On Thea's Radar:
I am so excited that 2013 is almost over – because now my radar can start focusing on 2014 full force. This first book is actually a little bit of a cheat – I work for Workman Publishing (of which Algonquin Young Readers is a part) during my day job. That disclosure made, when I first heard of this book I was instantly smitten – a delightful middle grade dystopian novel? Heck yes.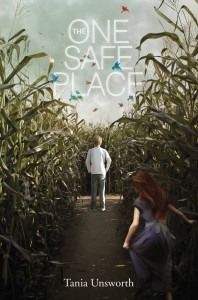 In this near-future dystopia with echoes of "The Giver" and "Among the Hidden," Tania Unsworth has created an unsettling page-turner fast-paced, smooth, filled with dread that s wholly satisfying and startlingly original.

Devin doesn t remember life before the world got hot; he has grown up farming the scorched earth with his grandfather in their remote valley. When his grandfather dies, Devin heads for the city. Once there, among the stark glass buildings, he finds scores of children, just like him, living alone on the streets. They tell him rumors of a place for abandoned children, with unlimited food and toys and the hope of finding a new family. But only the luckiest get there.

An act of kindness earns Devin an invitation to the home, but it s soon clear that it s no paradise. As Devin investigates the intimidating administrator and the zombie-like sickness that afflicts some children, he discovers the home s horrific true mission. The only real hope is escape, but the place is as secure as a fortress.

Fans of dystopian fiction and spine-chilling adventure will devour "The One Safe Place"; its haunting themes will resonate long after readers have turned the final page.

Speaking of dystopian post-apocalyptic novels, there's this one forthcoming from Amy Plum which sounds like it could be good: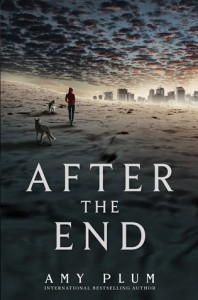 She's searching for answers to her past. They're hunting her to save their future.

World War III has left the world ravaged by nuclear radiation. A lucky few escaped to the Alaskan wilderness. They've survived for the last thirty years by living off the land, being one with nature, and hiding from whoever else might still be out there.

At least, this is what Juneau has been told her entire life.

When Juneau returns from a hunting trip to discover that everyone in her clan has vanished, she sets off to find them. Leaving the boundaries of their land for the very first time, she learns something horrifying: There never was a war. Cities were never destroyed. The world is intact. Everything was a lie.

Now Juneau is adrift in a modern-day world she never knew existed. But while she's trying to find a way to rescue her friends and family, someone else is looking for her. Someone who knows the extraordinary truth about the secrets of her past.

Ilsa J. Bick has a new novel coming out, being billed as a cross between Memento and Inception? Sold.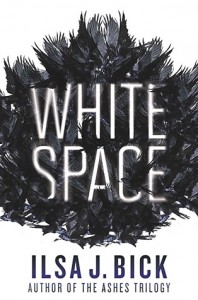 From Ilsa J. Bick-the critically acclaimed author of The Ashes Trilogy-comes the first title in a two-book, young adult series about blurred reality in the tradition of Memento and Inception, where characters in a story find that a deadly and horrifying world exists in the space between the written lines.

A new novel from Ilsa J. Bick, the critically acclaimed author of The Ashes trilogy, combines elements of thriller, horror, and speculative fiction into a heart-racing story that will leave readers eager to turn the page.

I had a mixed but overall positive reaction to the first book in this series, What We Saw At Night and I think I will give this second novel a try.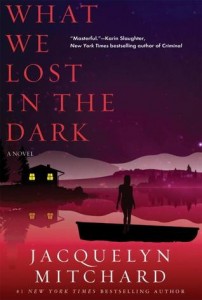 Allie Kim's fatal allergy to sunlight, XP, still confines her to the night. Now that she's lost her best friend Juliet to an apparent suicide, the night has never felt darker—even with Rob at her side.

Allie knows why Juliet killed herself: to escape the clutches of Garrett Tabor, whom the trio saw committing an unspeakable crime. Garrett is untouchable; The Tabors founded the world-famous XP clinic that keeps Allie and Rob alive and their small Minnesota town on the map.

Allie can't rest until Garrett is brought to justice. But her obsession jeopardizes everything she holds dear. Not even Parkour can distract her; nothing reminds her more that Juliet is gone. When Rob introduces Allie to the wildly dangerous sport of nighttime deep diving, Allie assumes he's only trying to derail her investigation… until they uncover the horror terrible secret Garrett Tabor has hidden under Lake Superior.

Guardians of borders between the muggles and the wizards? YES PLEASE.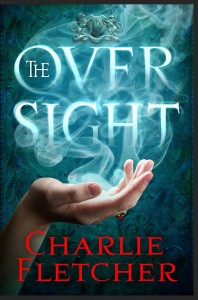 A wildly original and hugely entertaining new fantasy series for a generation that has grown up with Harry Potter and Neil Gaiman.

"The end always happens faster than you think."

Once there were hundreds of members of the Oversight, the brave souls who guard the borders between the mundane and the magic. Now there are only five.

When a vagabond brings a screaming girl to the Oversight's London headquarters, she could answer their hopes for new recruit, or she could be the instrument of their downfall.

Alien invaders, etc. Yes.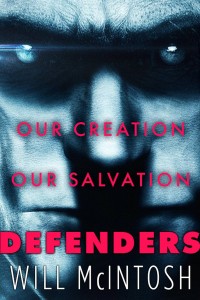 Fast-paced and thought-provoking, a dazzling novel of alien invasion from one of the brightest new talents in SF.

When Earth is invaded by telepathic aliens, humanity responds by creating the defenders. They are the perfect warriors–seventeen feet tall, knowing and loving nothing but war, their minds closed to the aliens. The question is, what do you do with millions of genetically-engineered warriors once the war is won?

A novel of power, alliances, violence, redemption, sacrifice, and yearning for connection, DEFENDERS presents a revolutionary story of invasion, occupation, and resistance.

And that's it from us! What books do you have on YOUR radar?