"On The Smugglers' Radar" is a feature for books that have caught our eye: books we have heard of via other bloggers, directly from pubmorelishers, and/or from our regular incursions into the Amazon jungle. Thus, the Smugglers' Radar was born. Because we want far more books than we can possibly buy or review (what else is new?), we thought we would make the Smugglers' Radar into a weekly feature – so YOU can tell us which books you have on your radar as well!
On Ana's Radar:
I really enjoyed Laura Lam's Pantomime (in spite of serious misgivings) and can't wait to read the sequel: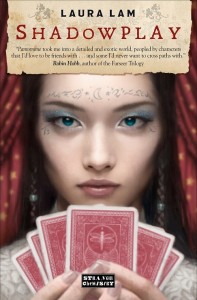 The circus lies behind Micah Grey in dust and ashes.

He and the white clown, Drystan, take refuge with the once-great magician, Jasper Maske. When Maske agrees to teach them his trade, his embittered rival challenges them to a duel which could decide all of their fates. People also hunt both Micah and the person he was before the circus–the runaway daughter of a noble family. And Micah discovers there is magic and power in the world, far beyond the card tricks and illusions he's perfecting…

A tale of phantom wings, a clockwork hand, and the delicate unfurling of new love, Shadowplay continues Micah Grey's extraordinary journey.

I recently received a review copy of this amazing-sounding book for 2014 (UK):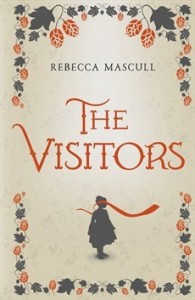 Imagine if you couldn't see
couldn't hear
couldn't speak…
Then one day somebody took your hand and opened up the world to you.

Adeliza Golding is a deafblind girl, born in late Victorian England on her father's hop farm. Unable to interact with her loving family, she exists in a world of darkness and confusion; her only communication is with the ghosts she speaks to in her head, who she has christened the Visitors. One day she runs out into the fields and a young hop-picker, Lottie, grabs her hand and starts drawing shapes in it. Finally Liza can communicate.

Her friendship with her teacher and with Lottie's beloved brother Caleb leads her from the hop gardens and oyster beds of Kent to the dusty veldt of South Africa and the Boer War, and ultimately to the truth about the Visitors.

Rebecca Mascull's first novel is the tale of a wonderful friendship, but it is also a thrilling adventure, a heartbreaking love story and a compelling ghost story.

Another 2014 UK release is this Horror story from James Dawson (I still need to read Cruel Summer!)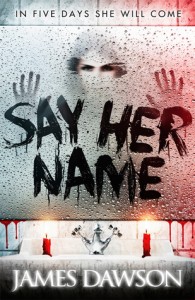 Roberta 'Bobbie' Rowe is not the kind of person who believes in ghosts. A Halloween dare at her ridiculously spooky boarding school is no big deal, especially when her best friend Naya and cute local boy Caine agree to join in too. They are ordered to summon the legendary ghost of 'Bloody Mary': say her name five times in front of a candlelit mirror, and she shall appear… But, surprise surprise, nothing happens. Or does it?

Next morning, Bobbie finds a message on her bathroom mirror… five days… but what does it mean? And who left it there? Things get increasingly weird and more terrifying for Bobbie and Naya, until it becomes all too clear that Bloody Mary was indeed called from the afterlife that night, and she is definitely not a friendly ghost. Bobbie, Naya and Caine are now in a race against time before their five days are up and Mary comes for them, as she has come for countless others before… A truly spine-chilling yet witty horror from shortlisted 'Queen of Teen' author James Dawson.

I recently read and loved She Walks in Darkness by Evangeline Walton and saw that another of her books will be re-released, doesn't the cover look SCARY?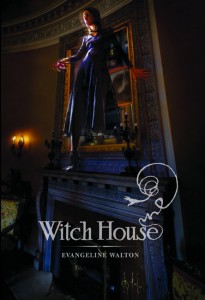 Jackie Morse Kessler has a new book coming out next year. I think it sounds good:
Five years ago, the young witch Bromwyn refused a gift from the powerful fairy king.

Tonight, on Midsummer, that decision comes back to haunt her. When her best friend Rusty picks the wrong pocket, he and Bromwyn are all that stand between their village and the rampaging fairies who have pushed through the World Door. If they cannot outwit the fairy king and queen before the World Door closes at sunrise, the friends will lose everything — their village, Bromwyn's magic, and Rusty's life.

So Kelly at Stacked wrote this really interesting piece about weeding a library's collection and mentioned this absolutely awesome-sounding book:
Sixteen-year-old Kayla, a ballet dancer with very large breasts, and her sister Paterson, an artist, are both helped and hindered by classmates as they confront sexism, conformity, and censorship at their high school for the arts while still managing to maintain their sense of humor.
and the cover: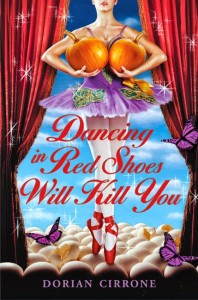 This has "Ana" written all over it!

On Thea's Radar:
First up on my radar is a book I received in the mail this week – sounds like a perfect Thea book: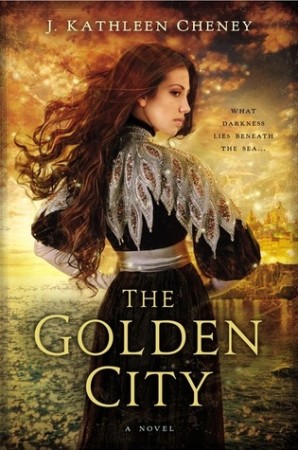 For two years, Oriana Paredes has been a spy among the social elite of the Golden City, reporting back to her people, the sereia, sea folk banned from the city's shores….

When her employer and only confidante decides to elope, Oriana agrees to accompany her to Paris. But before they can depart, the two women are abducted and left to drown. Trapped beneath the waves, Oriana's heritage allows her to survive while she is forced to watch her only friend die.

Vowing vengeance, Oriana crosses paths with Duilio Ferreira—a police consultant who has been investigating the disappearance of a string of servants from the city's wealthiest homes. Duilio also has a secret: He is a seer and his gifts have led him to Oriana.

Bound by their secrets, not trusting each other completely yet having no choice but to work together, Oriana and Duilio must expose a twisted plot of magic so dark that it could cause the very fabric of history to come undone….

Last week, as you may know, dear Ana-banana came over to visit New York last weekend for Comic Con (it was a blast). What you might not know, is that she came bearing a whole bunch of gifts, including this next book (which could be good… or terrible):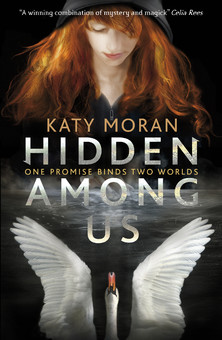 When Lissy meets a mysterious and strangely beautiful boy on her way to Hopesay Edge, she is deeply unsettled by their encounter.

She discovers that the boy, Larkspur, is a member of the Hidden, an ancient group of elven people, whose secrets lie buried at Hopesay Reach. Before long, Lissy and her brother Rafe find themselves caught by a powerful magic and fighting to escape a bargain that can never be broken.

Next up, the second book in J. Barton Mitchell's alien invasion series (the followup to last year's Midnight City):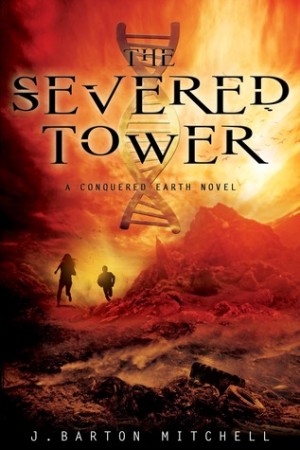 Holt, Mira, and Max have fled Midnight City with Zoey after watching her repel an entire Assembly army. Zoey's powers are unlocked, but who and what she is remains a mystery. All she knows is that she must reach the Severed Tower, an infamous location in the middle of the world's most dangerous landscape: The Strange Lands, a place where the laws of physics have completely broken down. But the closer they get to the Tower, the more precarious things become. The Assembly has pursued Zoey into the Strange Lands. Among them is a new group, their walkers and machines strangely bereft of any color, stripped to bare metal, and whose agenda seems to differ from the rest. To make matters worse, the group hunting Holt are here, too, led by a dangerous and beautiful pirate named Ravan. So is Mira's first love, Benjamin Aubertine, whose singular ambition to reach the Tower threatens to get them all killed.

Then there's the Strange Lands themselves. They have inexplicably begun to grow, spreading outwards, becoming more powerful. Somehow, it all seems tied to Zoey herself, and the closer she gets to the Tower, the weaker she becomes.

I also received this book in the mail recently and am excited to get started on the series (book 1 is… somewhere on my TBR. I think.)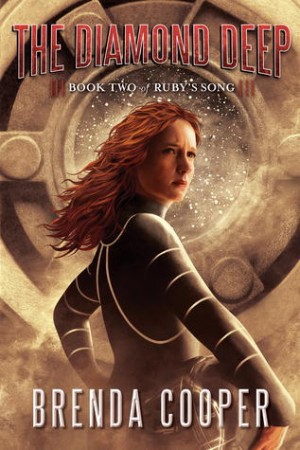 What if a woman as strong and as complex as Eva Perón began her life as a robot repair assistant threatened by a powerful peacekeeping force that wants to take all she has from her?

The discovery ship, Creative Fire, is on its way home from a multi-generational journey. But home is nothing like the crew expected. They have been gone for generations, and the system they return to is home to technologies and riches beyond their wildest dreams. But they are immediately oppressed and relegated to the lowest status imaginable, barely able to interact with the technologies and people of the star station where they dock, the Diamond Deep.

Ruby Martin and her partner, Joel North, must find a way to learn what they need to know and to become more than they have ever been if they are to find a way to save their people.

I spied this book on NetGalley and immediately requested it: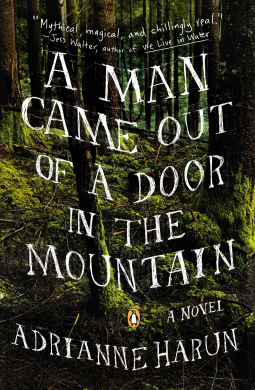 In an isolated town of British Columbia, young girls, mostly native, begin to vanish from the sides of a notorious highway, the Highway of Tears.

Leo Kreutzer and four friends are barely touched by these disappearances—until a series of mysterious and troublesome outsiders arrive on the mountain. Then it seems as if the devil himself has appeared among them. A MAN CAME OUT OF A DOOR IN THE MOUNTAIN (Penguin Books; On-Sale: 2/25/14; 978-0-670-78610-7; $16.00) is a seductive and chilling debut novel about what happens to Leo and his group of friends when evil—both human and otherwise—walks right through their town.

Leo and his friends are engulfed in their final days of summer as kids, trying to hold onto what innocence they have left in this poor, hardscrabble logging town in remote British Columbia. A series of dark strangers arrive on the mountain: Kevin Seven beguiles shy Ursie with his fantastical card tricks; bone-white Hana Swann befriends Jackie, and bewitches Brian with ideas of revenge against the tyrannical local drug dealer and neighborhood torturer. As you follow Leo, his friends and their families throughout the novel, you will become entranced, waiting to see just what evil the devil will sow.

And that's it from us! What books are on YOUR radar?