Author: Susan Beth Pfeffer
Genre: Dystopia, Post-Apocalypse, Science Fiction, Young Adult
Publisher: HMH Books for Young Readers
Publication Date: August 2013
Hardcover: 304 Pages
The eagerly awaited addition to the series begun with the New York Times best-seller Life As We Knew It, in which a meteor knocks the moon off its orbit and the world changes forever.

It's been more than two years since Jon Evans and his family left Pennsylvania, hoping to find a safe place to live, yet Jon remains haunted by the deaths of those he loved. His prowess on a soccer field has guaranteed him a home in a well-protected enclave. But Jon is painfully aware that a missed goal, a careless word, even falling in love, can put his life and the lives of his mother, his sister Miranda, and her husband, Alex, in jeopardy. Can Jon risk doing what is right in a world gone so terribly wrong?
Stand alone or series: Book 4 in the Moon Crush/Last Survivors/Life As We Knew It series
How did I get this book: ARC from the publisher (at BEA)
Format (e- or p-): Print
Why did I read this book: Life As We Knew It and This World We Live In are two of my all-time favorite apocalypse novels – bleak, harrowing, but with an undeniable thread of hope. I was disappointed with book 3, This World We Live In, but hopeful that The Shade of the Moon would get our characters back on track…
Review:
Let me preface this review by saying this: I've read three books about the apocalypse this week. One is set hundreds of years after an asteroid annihilates Earth (Starglass by Phoebe North), one is set six months before an extinction-event sized asteroid hits earth (The Last Policeman by Ben H. Winters), and, finally, this one, set four years after an asteroid has crashed into the moon, changing it's orbit such that it is much closer to the Earth. One of these books was good, one was superb, and one was very bad indeed.
Unfortunately, The Shade of the Moon is the very bad book.
Back to the review now:
It is four years after the unthinkable has happened, and civilization as it used to exist came crashing down. An asteroid collides into the moon's surface, pushing its orbit closer to the Earth and unleashing catastrophe in its wake. Tsunamis, earthquakes, volcanic eruptions come first, followed by dramatic climate change, starvation, and global pandemics. In the four years since those early terrible days, humanity has rearranged itself into a new type of order – the rich, powerful, and lucky make their way into enclaves, where they are given food, electricity, air filters, education, and a chance at a real future. Everyone else, however, is left outside the enclaves, struggling to find ways to work, eat, and survive day to day.
Jon Evans is one of the very lucky – thanks to a pass given to him by chance and the sacrifices of his family, Jon becomes a "claver" in the enclave of Sexton. With his stepmother Lisa and half-brother Gabe, Jon has lived his last four years in relative luxury – going to school every day, working hard at his soccer game, eating fresh vegetables and square meals. Meanwhile, his mother, sister Miranda and brother-in-law Alex are "grubs" stuck outside the enclave in the equivalent of a shantytown – working hard labor jobs in order to survive. As tensions mount between the clavers and the grubs, Jon finds himself caught in the middle, torn between loyalty to his family, and a chance at the good life in the enclaves.
I'm flummoxed when it comes to this fourth installment in the Last Survivors/Moon Crush/LAWKI series. I love dark books, including gritty "realistic" reads. I appreciate it when authors craft unlikable main characters, and challenge preconceived notions of "good" and "bad" – especially in YA speculative fiction. What I do not love, however, are books that are gratuitous or hateful for the sake of shock value; I am not a fan of "darkness" without purpose. I do not appreciate it when a would-be rapist main character does not learn from his actions and is painted in a sympathetic light to readers. I do not like any of these things in any arena; it is all the more disheartening to read when it happens in a series I used to love.
I will lay it out simply: The Shade of the Moon left a bad taste in my mouth.
This is a book about a spoiled, entitled, and wholly un-likable main character. Jon's family – including the two main characters we've met and loved in the first books of the series – has sacrificed everything to give this young man a chance at a normal, healthy life. In return, Jon is a bigoted asshole, more concerned about his own well-being than helping his family. He's too important for his stepmother and his toddler half-brother; he hides behind excuses and is content to go with the flow instead of taking a stand.
On the one hand, I appreciate Susan Beth Pfeffer's creation of such an utterly shitty character – that takes guts, and I'm not opposed to unlikable protagonists. That said, what kills me about Jon is how he is painted in a sympathetic light to the readers.
SPOILERS AND TRIGGER WARNING FOR RAPE (as well as liberal amounts of CAPS LOCKING and swearing) FOLLOW:
On top of all his other wonderful qualities, Jon is also a would-be/almost rapist. You see, there's some major retroactive storytelling that happens in The Shade of the Moon – right before Julie's death (thanks to the tornado and her ensuing paralysis), it turns out that Jon tries to force himself on Julie. You see, Jon is nearly 15 years old at this point, and he thinks that he is in love with Julie, and he tells her he loves her, which, in Jon's head, should make Julie HIS. When Julie resists, he doesn't stop and continues to force himself – his thirty pounds of extra weight and extra height – on the smaller, younger (13!!!!) girl. Julie miraculously fights him, and gets away – but terrified, she runs outside of the barn in which they are holed up, as she'd rather throw herself into the path of a tornado than be raped by her so-called friend. And this is Jon's thought process as he recounts this:
He thought about that day harder than he ever had before. Yes, he'd wanted Julie. He was a teenage boy and she was a teenage girl, and that was the nature of things. If Julie hadn't been so religious, or more to the point, if she hadn't been so scared of Alex, who was so religious, she would have had no reservations about making love. It had been their last chance, probably the last time they'd ever see each other.

Jon knew now he'd pushed too hard, and he understood why Julie had panicked. But panic was an irrational response. Julie knew him and loved him and should have understood that he would never hurt her. But her fear of Alex was stronger than her love of Jon.
Now, if this was merely an insight into Jon's mindset, leading to some kind of challenge to this utterly fucked up way of justifying his actions, that's one thing.
But… it's not. Jon's bullshit rationalizations – well, it was HER fault for being too religious and scared, I wouldn't have hurt her, silly irrational girl – are never challenged. In realtime during the book, Jon meets and falls in love with a new girl named Sarah (after a chapter, mind you) who also loves him back. Apparently. And Jon tries to push Sarah away to save her from another enclave boy's rage by telling Sarah the story of Julie and PRETENDING TO WANT TO RAPE SARAH so she leaves him… BUT THEN Sarah learns that he didn't REALLY rape Julie and he was just pretending to try to rape Sarah for her own protection (*CUE VOMIT*) and just like that, Sarah is all back in Jon's arms and in love.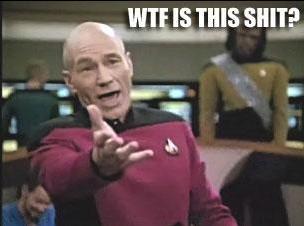 Need I say more? OK, why don't I touch on the treatment of the other female characters. There's Miranda, the protagonist from book 1, who is given a minor role here and basically is defined as Pregnant Mother (she's also 19-21 TOPS at this point). Girls are routinely raped by the "claver" boys (apparently). One of the domestic workers in the main character's house at one point goes up to Jon's room, calls him "Mr. Jon" and says she wants to show her appreciation in a special way, if you catch my drift.
ARE. YOU. FUCKING. KIDDING. ME.
There's also the gratuitous murder of Miranda and Jon's mother – whom we've also loved over the course of the series – in the worst possible way. The suicide of Jon's stepmother. The repeated allusions to further rapes and murders of women. There's the unbelievable worldbuilding, the laughable rapey "romance."
ALL of this is to say… what is the fucking point? There is so much death, so much bleakness without purpose, such shitty treatment of characters or continuity with the early books, that I can't even express my disappointment and outrage.
There is nothing that can redeem this book or this series for me, and unfortunately, knowing how poorly Miranda and Alex are treated in these subsequent books has tainted my love of the first two novels. And… that's all I have to say about that. I will not be back for any future books in this series.
Notable Quotes/Parts: You can read an excerpt of the first 12 pages of the book HERE.
Rating: 2 – Terrible
Reading Next: The Last Policeman by Ben H. Winters