"On The Smugglers' Radar" is a feature for books that have caught our eye: books we have heard of via other bloggers, directly from publishers, and/or from our regular incursions into the Amazon jungle. Thus, the Smugglers' Radar was born. Because we want far more books than we can possibly buy or review (what else is new?), we thought we would make the Smugglers' Radar into a weekly feature – so YOU can tell us which books you have on your radar as well!
On Ana's Radar:
We got an email this week about this coming book from SF Said with art by Dave McKean and it sounds so brilliant: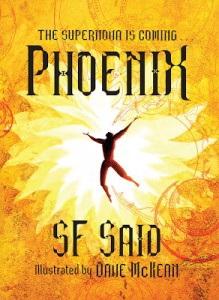 THE SUPERNOVA IS COMING . . . ONE BOY ALONE CAN SAVE THE GALAXY!

Lucky thinks he's an ordinary Human boy. But one night, he dreams that the stars are singing – and wakes to find an uncontrollable power rising inside him.

Now he's on the run, racing through space, searching for answers. In a galaxy at war, where Humans and Aliens are deadly enemies, the only people who can help him are an Alien starship crew – and an Alien warrior girl, with neon needles in her hair.

Together, they must find a way to save the galaxy. For Lucky is not the only one in danger. His destiny and the fate of the universe are connected in the most explosive way . . .

I got this book in the mail this week and it looks amazing. It's a translated work, set in the 30s. I am practically drooling: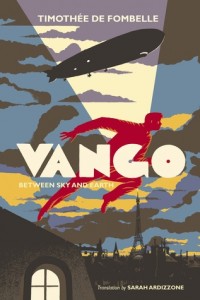 A gripping mystery-adventure set in the 1930s interwar period about a character desperately searching for his identity.

Raised by a strange nanny in Sicily, Vango grows up with one friend, a priest Zefiro, who lives in a monastery hidden from sight. On reaching adulthood, Vango decides to follow in Zefiro's steps, but at the moment he is taking his holy orders at Notre Dame in Paris, he is falsely accused of a crime and has to go on the run. This is a breathless and highly cinematic story that follows Vango traveling by Zeppelin across Europe from Stromboli to Nazi Germany, from Scotland to the Soviet Union, climbing the rooftops of Paris, crossing the paths of arms traffickers, crooked policemen, Russian spies and even Stalin.

The Other Ana has been my most constant source of awesome MG books. Needless to say, after she reviewed Binny for Short by Hilary McKay last week I had to put it on my radar immediately (who am I kidding, I am reading this next).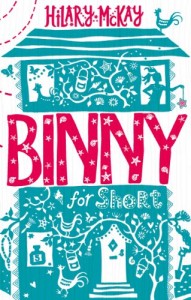 When she was eight, Binny's life was perfect: She had her father's wonderful stories and Max, the best dog ever. But after her father's sudden death, money is tight, and Aunty Violet decides to give Max away—he is just too big for their cramped new life. Binny knows she can't get her dad back, but she never stops missing Max, or trying to find him. Then, when she's eleven, everything changes again.

Aunty Violet has died, and left Binny and her family an old house in a seaside town. Binny is faced with a new crush, a new frenemy, and…a ghost? It seems Aunty Violet may not have completely departed. It's odd being haunted by her aunt, but there is also the warmth of a busy and loving mother, a musical older sister, and a hilarious little brother, who is busy with his experiments. And his wetsuit. And his chickens.

Given our very successful Non-Fiction Dare last week, I am going to start adding non-fiction books to my radar as well. This one I heard about when the author was interviewed on the Daily Show last week.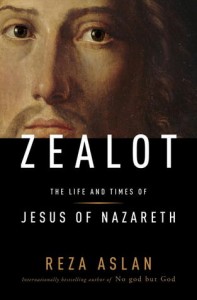 From the internationally bestselling author of No god but God comes a fascinating, provocative, and meticulously researched biography that challenges long-held assumptions about the man we know as Jesus of Nazareth.

Two thousand years ago, an itinerant Jewish preacher and miracle worker walked across the Galilee, gathering followers to establish what he called the "Kingdom of God." The revolutionary movement he launched was so threatening to the established order that he was captured, tortured, and executed as a state criminal.

Within decades after his shameful death, his followers would call him God.

Sifting through centuries of mythmaking, Reza Aslan sheds new light on one of history's most influential and enigmatic characters by examining Jesus through the lens of the tumultuous era in which he lived: first-century Palestine, an age awash in apocalyptic fervor. Scores of Jewish prophets, preachers, and would-be messiahs wandered through the Holy Land, bearing messages from God. This was the age of zealotry—a fervent nationalism that made resistance to the Roman occupation a sacred duty incumbent on all Jews. And few figures better exemplified this principle than the charismatic Galilean who defied both the imperial authorities and their allies in the Jewish religious hierarchy.

Balancing the Jesus of the Gospels against the historical sources, Aslan describes a man full of conviction and passion, yet rife with contradiction; a man of peace who exhorted his followers to arm themselves with swords; an exorcist and faith healer who urged his disciples to keep his identity a secret; and ultimately the seditious "King of the Jews" whose promise of liberation from Rome went unfulfilled in his brief lifetime. Aslan explores the reasons why the early Christian church preferred to promulgate an image of Jesus as a peaceful spiritual teacher rather than a politically conscious revolutionary. And he grapples with the riddle of how Jesus understood himself, the mystery that is at the heart of all subsequent claims about his divinity.

Zealot yields a fresh perspective on one of the greatest stories ever told even as it affirms the radical and transformative nature of Jesus of Nazareth's life and mission. The result is a thought-provoking, elegantly written biography with the pulse of a fast-paced novel: a singularly brilliant portrait of a man, a time, and the birth of a religion.

On Thea's Radar:
Recently, I've had a very good stroke of luck with unsolicited review copies – each of these next books I've received in the mail. First up, the new solo book from Kami Garcia (which came with a bag of salt – for protection! – in the mail):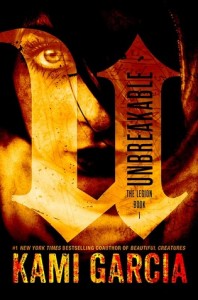 Supernatural meets The Da Vinci Code in this action-packed paranormal thriller, the first book in a new series from New York Times bestselling author Kami Garcia.

I never believed in ghosts. Until one tried to kill me.

When Kennedy Waters finds her mother dead, her world begins to unravel. She doesn't know that paranormal forces in a much darker world are the ones pulling the strings. Not until identical twins Jared and Lukas Lockhart break into Kennedy's room and destroy a dangerous spirit sent to kill her. The brothers reveal that her mother was part of an ancient secret society responsible for protecting the world from a vengeful demon — a society whose five members were all murdered on the same night.

Now Kennedy has to take her mother's place in the Legion if she wants to uncover the truth and stay alive. Along with new Legion members Priest and Alara, the teens race to find the only weapon that might be able to destroy the demon — battling the deadly spirits he controls every step of the way.

Suspense, romance, and the paranormal meet in this chilling urban fantasy, the first book in a new series from Kami Garcia, bestselling coauthor of the Beautiful Creatures novels.

Next up is an interesting double-sided tête-bêche book, Project Caine (for Young Adults) and Caine's Blood (for adults). I'm intrigued. (These books sound like they could be brilliant…or terrible.)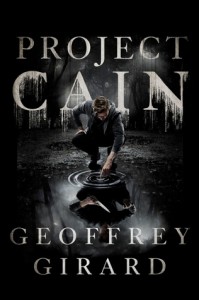 Fifteen-year-old Jeff Jacobson had never heard of Jeffrey Dahmer, the infamous serial killer who brutally murdered seventeen people more than twenty years ago. But Jeff's life changes forever when the man he'd thought was his father hands him a government file telling him he was constructed in a laboratory only seven years ago, part of a top-secret government cloning experiment called 'Project CAIN'.

There, he was created entirely from Jeffrey Dahmer's DNA. There are others like Jeff—those genetically engineered directly from the most notorious murderers of all time: The Son of Sam, The Boston Strangler, Ted Bundy . . . even other Jeffrey Dahmer clones. Some raised, like Jeff, in caring family environments; others within homes that mimicked the horrific early lives of the men they were created from.

When the most dangerous boys are set free by the geneticist who created them, the summer of killing begins. Worse, these same teens now hold a secret weapon even more dangerous than the terrible evil they carry within. Only Jeff can help track the clones down before it's too late. But will he catch the 'monsters' before becoming one himself?

And here's the other half: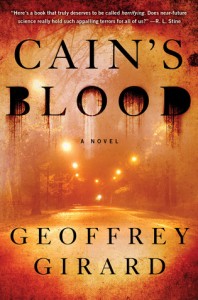 Ten Bundy. The Son of Sam. The Boston Strangler. Albert Fish. Henry Lee Lucas.

The DNA of the world's most notorious serial killers has been cloned by the U.S. Department of Defense to develop a new breed of bioweapon. Now in Phase Three, the program includes dozens of young men who have no clue as to their evil heritage. Playing a twisted game of nature vs. nurture, scientists raise some of the clones with loving families and others in abusive circumstances. But everything changes when the most dangerous boys are set free by their creator. A man with demons of his own, former black ops soldier Shawn Castillo is hot on their trail. But Castillo didn't count on the quiet young man he finds hiding in an abandoned house—a boy who has just learned he is the clone of Jeffrey Dahmer. As Jeffrey and Castillo race across the country on the trail of the rampaging teens, Castillo must protect the boy who is the embodiment of his biggest fears—and who may also be his last hope. Melding all-too-plausible science and ripped from- the-headlines horror, Cain's Blood is a stunning debut about the potential for good and evil in us all.

Next up is the first book in a new urban fantasy series that looks promising: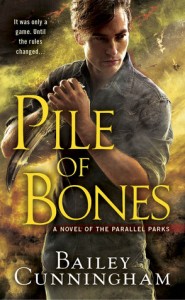 In one world, they're ordinary university students. In another world, they are a company of heroes in a place of magic and myth called Anfractus?…

The Cree called the area Oscana, "pile of bones," a fertile hunting ground where game abounded. The white settlers changed that to Wascana. And centuries later, it became Wascana Park, a wooded retreat in the midst of the urban sprawl of Regina.

For a select few, who stay in the park until midnight, the land reverts into a magical kingdom, populated by heroes and monsters. They become warriors, bards, archers, gladiators. In the city called Anfractus, they live out a real-life role playing game.

All harmless fun—until they find themselves in the middle of an assassination plot which threatens to upset the balance of everything. Politics are changing, and old borders are about to disappear. The magic of Anfractus is bleeding into the real world—an incursion far more dangerous than the students suspect. Only they know what is happening—and only they can stop it…

Then there is this forthcoming fantasy novel that promises to tell a new story of the origins of Atlantis…
From T.A. Barron, the New York Times bestselling author of the Merlin Saga, comes a new fantasy world about the origins of Atlantis, perfect for fans of The Lord of the Rings, Eragon, The Beyonders and Percy Jackson and the Olympians.

In a magical land called Ellegandia, a young boy named Promi scrapes by, stealing pies, cakes and sweets to survive. But little does he know that his country is a pawn in an ages-old war between good and evil, battled both in the spirit realm and in the human world. Harboring secrets of his own, Promi teams up with a courageous girl named Atlanta and the two vow to save their land—and each other—no matter the cost. But their vow has greater repercussions than they ever could imagine—in fact, it may just bring about the creation of Atlantis, an island cut off from the rest of the world, where magic reigns supreme.

With his trademark action, adventure, and poignancy,master of fantasy, T.A. Barron explores a new mythology—the origin of the legendary isle of Atlantis. This book is perfect for fans of Rick Riordan, Brandon Mull, Christopher Paolini and, of course, T. A. Barron's Merlin Saga.

I think, though, of all the books I've received over the past week or so, this is the book for which I am the most excited: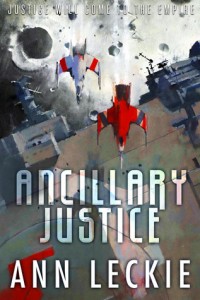 On a remote, icy planet, the soldier known as Breq is drawing closer to completing her quest.

Breq is both more than she seems and less than she was. Years ago, she was the Justice of Toren–a colossal starship with an artificial intelligence linking thousands of corpse soldiers in the service of the Radch, the empire that conquered the galaxy.

An act of treachery has ripped it all away, leaving her with only one fragile human body. And only one purpose–to revenge herself on Anaander Mianaai, many-bodied, near-immortal Lord of the Radch.

And that's it from us! What books do you have on YOUR radar?