The Middle Grade Review Bonanza is a new feature of 2-3 mini-reviews for short (typically 250 pages or less) MG books we both really wanted to read. It's a new Regular Thing (and we'd love to hear your thoughts and recommendations for future entries).
I've had David Almond's books on my radar for a while now. Then I saw his talk during this year's Cambridge Word Festival and it was amazing: he was very knowledgeable and extremely inspiring . I proceeded to buy most of his books but haven't had a chance to actually read them until this week when I realised it was about time for another Middle Grade Bonanza. Two birds, one stone, etc.
I started with his most recent release in the USA, worked my way back to his first collaboration with the talented David McKean and finally, read his latest release in the UK (also in collaboration with McKean).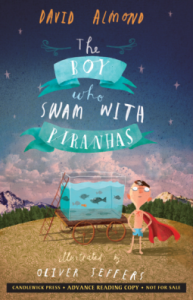 A boy escapes home to seek his own way in the world in a whimsical new outing by the award-winning David Almond, illustrated by Oliver Jeffers.

Stanley Potts's uncle Ernie has developed an over-the-top fascination with canning fish in the house, and life at 69 Fish Quay Lane has turned barmy. But there's darkness in the madness, and when Uncle Ernie's obsession takes an unexpectedly cruel turn, Stan has no choice but to leave. As he journeys away from the life he's always known, he mingles with a carnival full of eccentric characters and meets the legendary Pancho Pirelli, the man who swims in a tank full of perilous piranhas. Will Stan be bold enough to dive in the churning waters himself and choose his own destiny?
The Boy Who Swam with Piranhas (Walker Books, 2012/ Candlewick, 2013) follows the amazing story of one orphaned boy called Stanley Potts – born for greatness! It starts with the closure of Simpson's Shipyard and the ensuing economical calamity that befalls all of its former employees, including Stanley's Uncle Ernie. Desperate to find a way to make money and support his family, Uncle Ernie starts a fishy business. Literally: from his small home in Fish Quay Lane, he starts canning fish (Pott's Spectacular Sardines is only one of his new produce). Stanley has to quit school and work every day for a living – he finds it all incredibly hard, but he does love his uncle and aunt and he knows (hopes) they mean well.
Then his birthday comes and he gets a surprise day off to go about doing fun stuff. He finds a travelling carnival and is entranced by the Hook-A-Duck stall and its amazing prize: a goldfish with every attempt. He goes back home with nothing less than 13 amazingly beautiful goldfish.
Then the unthinkable happens when Uncle Ernie sees the potential in this new variety of fish. His dark actions propel Stanley to run away from home and join the travelling carnival. This is where he finds out about his Destiny when he meets the infamous Pancho Pirelli – the man who swims with piranhas.
The Boy Who Swam with Piranhas was a delectable introduction to this author's work. Starting with the omniscient narrator who frequently interrupts the story to interact with the reader and the myriad of themes that can be found in the story, this is a little book with a lot to offer. Thematically speaking, The Boy Who Swam with Piranhas is about feeling like you don't have any control of your life when you are child, and trying to find a way to take charge. For Stanley it is about confronting his fears, allowing for his inner fish to swim freely (it makes sense if you read the book, I swear). But it's also about the power of friendships and of stories, about creating them and believing in both. I am by no means a Roald Dhal expert but this book reminded me a lot of that mixture of darkness, outlandish comedy and underlying hope (with a dash of magical realism) to be found in some of his books. There is also the whole basic issue of a dire economic situation that could potentially drive people to desperate actions. The illustrations by Oliver Jeffers are adorable and complement the work perfectly.
On the downside, some of the characters were nothing but caricatures (Gypsy Rose?) and especially the dastardly villains could have done with a bit more of complexity.
Still, with a sweet kid like Stanley Potts and quotes like these, it was quite a done deal that I'd enjoy this book like I did:
And oh, we go so high we see the whole world itself. Just look at that great and gorgeous sphere of light and dark . See how it turns, how day gives way to night and night to day . See how the seas shine blue beneath the sun and glow darkly beneath the moon. Imagine the people and the stories that can be found upon that sphere. Imagine the lives and the deaths and the loves and the dreams and the troubles and the heroes and the villains that exist down there. Imagine the story after story after story that can be found and told.
Rating: 7 – Very Good

Mysterious and utterly mesmerizing, this graphic-novel-within-a-novel
pairs the extraordinary prose of David Almond with the visual genius of
Dave McKean.

Blue Baker is writing a story — not all that stuff about wizards and fairies and happily ever after — a real story, about blood and guts and adventures, because that's what life's really like. At least it is for Blue, since his dad died and Hopper, the town bully, started knocking him and the other kids around. But Blue's story has a life of its own — weird and wild and magic and dark — and when the savage pays a nighttime visit to Hopper, Blue starts to wonder where he ends and his creation begins.
The Savage (Walker Books, 2008 / Candlewick, 2008) is about a young boy named Blue Baker who tells us about a story he was writing. It's a story about a story that tells a story in itself, and these multiple layers are beautifully recreated in the narrative which is a graphic novel within a novel – layers: this book has them.
Blue writes about writing The Savage when he was younger and his spelling was terrible and he wrote the words as they sound. It was an exercise the school counsellor suggested after his father's death and at a moment of great need. Blue is a good boy, one of the nice ones (he likes to say), well-behaved and well-loved. But he is also the victim of bullying. The Savage on the other hand, is dangerous and violent and alone and miserable. And then one day, he comes to life.
It is interesting that I chose two of Almond's books that – as different as they seem to be at first glance – are so similar in terms of themes. From feeling out of control and trying to come up with a coping mechanism to the importance of stories and how they come to life in weird ways.
The Savage is as dark and disturbing as The Boy Who Swam With Piranhas is funny. It has a mystery at its centre – one that revels in the connection between creator and creature (with a side of unreliable narrative – or is it).
One of the big things about it, is of course the topic of bullying and I honestly don't know how I feel about the way the bullying was dealt in the end with violence.
I do completely sympathise with Blue and his frustration at hearing over and over again that he should just get on with it, that he should see that the bully only feels inferior and this is his way of coping – which, fair enough. But how does that help the bullied in any way, shape or form?
So this is thoughtful and weird as well as slightly uncomfortable and brilliantly illustrated by the Awesome David McKean.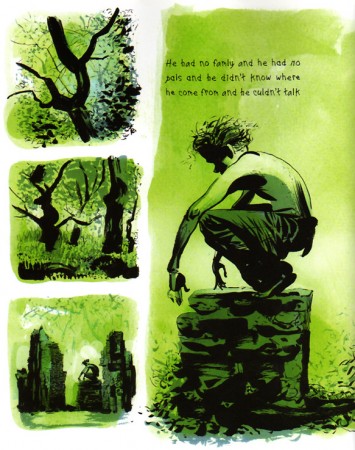 Rating: 7 – Very Good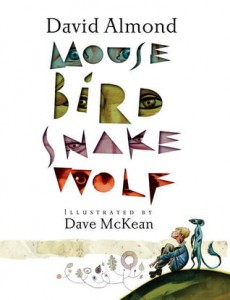 The imagination of three children takes on unexpected life in a creation tale from the dream team of David Almond and Dave McKean.

The gods have created a world that is safe and calm and rather wonderful. They have built mountains, forests, and seas and filled the world with animals, people, and unnamed beasts. Now their days are fat with long naps in the clouds, mutual admiration, and tea and cake. But their world has gaps in it filled with emptiness, gaps that intrigue Harry, Sue, and little Ben until they begin to see what might fill them. One by one the children conjure, from twigs and leaves and stones, a mousy thing, a chirpy thing, and a twisty legless thing. But as the children's ideas grow bolder, the power of their visions proves greater and more dangerous than they, or the gods, could ever have imagined. Is it possible to unmake what's been made?
The gods have created the world and everything in it but they are now tired and just want to sleep and drink tea. But there are gaps in the world, where things have been left undone.
Three children – Harry, Sue and Ben – are playing in the fields one day when they notice this emptiness and decide to fill them with the objects of their own creation. First they think up a mouse (who looks like a "mousy thing"). hen, a bird and a snake. Lastly, they think of something truly huge: a wolf.
Mouse Bird Snake Wolf (Walker Books, 2013 / Candlewick, 2013) is the pièce de résistance. As much as I really enjoyed the first two books there was something utterly unique as well as unsettling about this last one and I loved it SO MUCH. It's a creation story, a folk tale that progresses in a crescendo, there is a certain feel of rhythm here.
It is in the dealing with their last creation – the wolf – that the children are confronted with destruction, death and regret. But can they undone what they have done? And if yes, won't they always carry those creations (or actions; or memories ) with them?
It is super interesting to see how the gods look like sketches in comparison to the beautifully rendered drawings of the children themselves. It isn't much of a stretch to interpret this as an essential part of the storytelling (who are the creators?) and to think about religion and faith while doing that. Just like the other two books, storytelling and design and creativity are huge factors in Mouse Bird Snake Wolf and this story pulls no punches. It is as beautiful as it is disquieting (in a good way).
I will let the art speak for itself: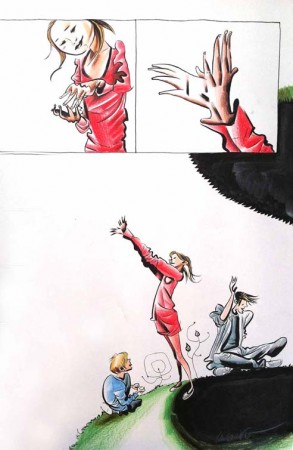 Rating: 8 – Excellent
Buy the Books:
(click on the links to purchase)
The Boy Who Sawm With Piranhas
Ebook available for kindle UK
The Savage
Mouse Bird Snake Wolf