As you probably know by now, Old School Wednesdays is a new weekly Book Smuggler feature. We came up with the idea towards the end of 2012, when we were feeling exhausted from the never-ending inundation of New and Shiny (and often over-hyped) books. What better way to snap out of a reading fugue than to take a mini-vacation into the past, right?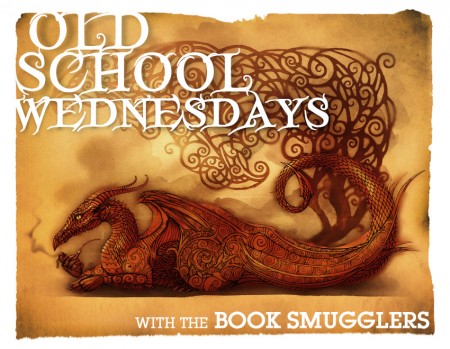 Logo designed by the wonderful KMont
We asked YOU for your favorite old school suggestions – and the response was so overwhelmingly awesome, we decided to compile a goodreads shelf, an ongoing database, AND a monthly readalong/book club. (Note that we've removed books that we have already read, or that we selfishly want to review as solos on Wednesday!)
June Readalong:
We've officially finished our May Readalong of The Naming by Alison Croggon, and now it is time for us to open up the poll for June! The June Readalong will take place on June 26.
You can vote on which title you'd like to read by using the poll in our sidebar, or following the titles below. Every month, we'll select 4 titles at random from the OSW suggestions database. We'll also include the one title from the previous month's poll – the runner up with the second most votes (last month, that title was Tuck Everlasting by Natalie Babbitt). Without further ado, here are the new crop of 5 titles for voting!
Tuck Everlasting by Natalie Babbitt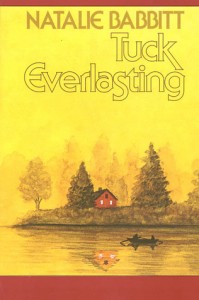 Doomed to – or blessed with – eternal life after drinking from a magic spring, the Tuck family wanders about trying to live as inconspicuously and comfortably as they can. When ten-year-old Winnie Foster stumbles on their secret, the Tucks take her home and explain why living forever at one age is less a blessing that it might seem. Complications arise when Winnie is followed by a stranger who wants to market the spring water for a fortune.
Angel with the Sword (Merovingen Nights #0) by C.J. Cherryh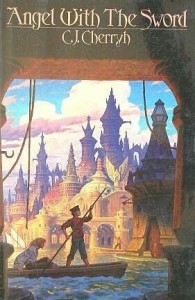 In Merovingen, a watery canal-laced city, much like Earth's Venice, society is segregated along class lines between the lower and upper cities. Against her better judgment, Altair Jones, 17, rescues an unconscious man from a canal near her poleboat. She is fascinated by Mondragon's good looks and elegant ways and begins to fall in love with him. Even though she knows there is no future for a water rat like herself with such a man, she decides to watch over him and rescue him from his enemies; enemies who turn out to be the most powerful people in the upper city…
Sword Dancer (Tiger and Del #1) by Jennifer Roberson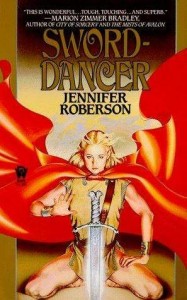 Tiger and Del–he a sword-dancer of the South, she of the North, each privy to a private kind of magic. Together they dared the dangers of the deadly Punja, the Southron desert, on a quest to rescue Del's brother, kidnapped by slavers long ago. Together they risked bloodthirsty beasts and wizard's spells on this mission from which only the bravest, most skillful, and lucky had even the remotest hope of returning alive….
The Case of the Missing Marquess (Enola Holmes Mysteries #1) by Nancy Springer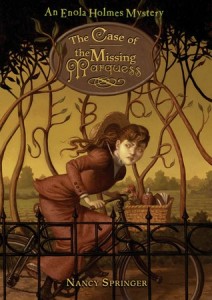 When Enola Holmes, the much younger sister of detective Sherlock Holmes, discovers her mother has disappeared—on her 14th birthday nonetheless—she knows she alone can find her. Disguising herself as a grieving widow, Enola sets out to the heart of London to uncover her mother's whereabouts—but not even the last name Holmes can prepare her for what awaits. Suddenly involved in the kidnapping of the young Marquess of Basilwether, Enola must escape murderous villains, free the spoiled Marquess, and perhaps hardest of all, elude her shrewd older brother—all while collecting clues to her mother's disappearance!

A remarkable debut of a new mystery series by two-time Edgar Awardwinning author Nancy Springer.
Beggars in Spain (Sleepless Trilogy #1) by Nancy Kress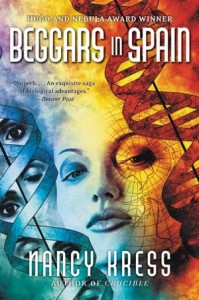 In this future, some people need no sleep at all. Leisha Camden was genetically modified at birth to require no sleep, and her normal twin Alice is the control. Problems and envy between the sisters mirror those in the larger world, as society struggles to adjust to a growing pool of people who not only have 30 percent more time to work and study than normal humans, but are also highly intelligent and in perfect health.

The Sleepless gradually outgrow their welcome on Earth, and their children escape to an orbiting space station to set up their own society. But Leisha and a few others remain behind, preaching acceptance for all humans, Sleepless and Sleeper alike. With the conspiracy and revenge that unwinds, the world needs a little preaching on tolerance.
[poll id="4″]
Get voting! And we hope you will join us on June 26.
Ongoing Suggestions:
Got a suggestion? Have an amazing book, published at least five years ago, that you would love to nominate for the OSW monthly readalong? Speak up and submit your favorites! (If you have problems with the form below, you can also access it HERE.)
Thanks everyone! Let us know if you have any other comments, suggestions, or ideas. We cannot wait to see which title wins the vote, and for our first-ever Old School Wednesday Readalong!