Today we are pleased to be running a giveaway of the two books – Deadweather and Sunrise & New Lands – in the The Chronicles of Egg series by Geoff Rodkey.
ABOUT THE BOOKS:
Deadweather and Sunrise (May 2012, Putnam Juvenile)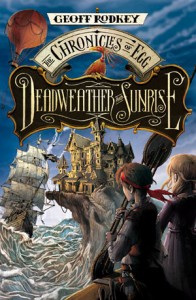 It's tough to be thirteen, especially when somebody's trying to kill you.

Not that Egg's life was ever easy, growing up on sweaty, pirate-infested Deadweather Island with no company except an incompetent tutor and a pair of unusually violent siblings who hate his guts.

But when Egg's father hustles their family off on a mysterious errand to fabulously wealthy Sunrise Island, then disappears with the siblings in a freak accident, Egg finds himself a long-term guest at the mansion of the glamorous Pembroke family and their beautiful, sharp-tongued daughter Millicent. Finally, life seems perfect.

Until someone tries to throw him off a cliff.

Suddenly, Egg's running for his life in a bewildering world of cutthroat pirates, villainous businessmen, and strange Native legends. The only people who can help him sort out the mystery of why he's been marked for death are Millicent and a one-handed, possibly deranged cabin boy.

Come along for the ride. You'll be glad you did.
New Lands (May 2013, Putnam Juvenile)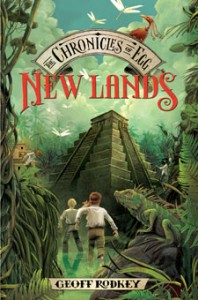 After a narrow escape from Deadweather Island, Egg and his slightly deranged partner Guts head for the remote New Lands. They're in search of the lost Okalu tribe, who hold the key to the mysterious treasure map that Egg can't decipher.

But the ruthless Roger Pembroke is hard on Egg's trail, and the New Lands are full of new enemies — against which our heroes only weapons are their brains, their courage…and the two dozen swear words Guts just memorized in the local tongue.

They're going to need help.

But who can they trust?

Is Kira, the beautiful and heavily armed Okalu refugee, their ally…or their enemy? Is Pembroke's daughter Millicent on Egg's side…or her father's? Why on earth is the notorious pirate Burn Healy being so nice to them? And the biggest question of all: what shocking secret is Egg about to discover in the shadow of an ancient Okalu temple?

ABOUT THE AUTHOR:
Geoff Rodkey is the author of the Chronicles of Egg middle grade comedic adventure series and the Emmy-nominated screenwriter of such hit films as Daddy Day Care, RV, and the Disney Channel's Good Luck Charlie, It's Christmas.
Geoff grew up in Freeport, Illinois and began his writing career on his high school newspaper. While in college, Geoff was an editor of both the Harvard Lampoon and the Let's Go travel guide series. His early writing credits include the educational video game Where In the World Is Carmen Sandiego?, the non-educational MTV series Beavis and Butt-head, and Comedy Central's Politically Incorrect.
Geoff's debut novel, Deadweather and Sunrise, is the first book in the Chronicles of Egg trilogy. The final volumes in the series, New Lands and Blue Sea Burning, will be published by Putnam in 2013 and 2014.
Check out the official Chronicles of Egg website and follow the author on Twitter

GIVEAWAY DETAILS:
We are giving away one copy of Deadweather and Sunrise and one copy of New Lands to one lucky winner. The contest is open to US addresses only and will run until Saturday June 8 at 12:01am. To enter, use the form below!