Hello everybody! To celebrate the upcoming Nebula Awwards, we are running a giveaway of one copy of Nebula Awards Showcase 2013, courtesy of Pyr Books.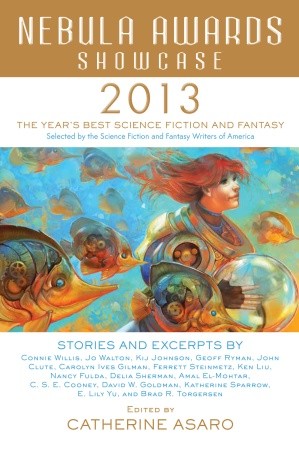 The Nebula Awards Showcase volumes have been published annually since 1966, reprinting the winning and nominated stories in the Nebula Awards, voted on by the members of the Science Fiction & Fantasy Writers of America®. The editor selected by SFWA's anthology committee (chaired by Mike Resnick) is two-time Nebula winner, Catherine Asaro.
This year's volume includes stories and excerpts by Connie Willis, Jo Walton, Kij Johnson, Geoff Ryman, John Clute, Carolyn Ives Gilman, Ferrett Steinmetz, Ken Liu, Nancy Fulda, Delia Sherman, Amal El-Mohtar, C. S. E. Cooney, David Goldman, Katherine Sparrow, E. Lily Yu, and Brad R. Torgersen.
THE GIVEAWAY:
We have ONE copy of Nebula Awards Showcase 2013 to giveaway! The contest is open to US and Canada addresses ONLY and will run until Sunday May 19 at 12:01am EST. To enter, use the form below. Good luck!