Author: Rachel Neumeier
Genre: Fantasy, Young Adult
Publisher: Alfred A. Knopf (Random House)
Publication Date: February 2011
Hardcover: 400 pages
When Trei loses his family in a tragic disaster, he must search out distant relatives in a new land. The Floating Islands are unlike anything Trei has ever seen: stunning, majestic, and graced with kajurai, men who soar the skies with wings.

Trei is instantly sky-mad, and desperate to be a kajurai himself. The only one who fully understands his passion is Araenè, his newfound cousin. Prickly, sarcastic, and gifted, Araenè has a secret of her own . . . a dream a girl cannot attain.

Trei and Araenè quickly become conspirators as they pursue their individual paths. But neither suspects that their lives will be deeply entwined, and that the fate of the Floating Islands will lie in their hands. . . .

Filled with rich language, and told in alternating voices, The Floating Islands is an all-encompassing young adult fantasy read.
Stand alone or series: Can be read as a standalone novel but my goodness I hope there are sequels
How did I get this book: ARC from the author
Why did I read this book: I have read and reviewed one of Rachel Neumeier's adult novels, Lord of the Changing Winds, which I really enjoyed (note: it's my own fault I've been super lazy about buying the final two books in her Griffin Mage trilogy; I really must get on that). So, when I saw this gorgeous cover, read the blurb, and realized this book was all from the same author, I was hooked. I haven't seen much around the interwebs for the release of The Floating Islands – which also, naturally, piques my curiosity.
Review:
Trei was fourteen the first time he saw the Floating Islands. He had made the whole long voyage south from Rounn in a haze of loss and misery, not really noticing the harbors in which the ship sometimes anchored or the sea between. But here, where both sea and sky lay pearl-gray in the dawn, the wonder of the Floating Islands broke at last into that haze.
After losing his mother, father and elder sister in the devastating volcanic eruption that leveled his hometown of Rounn, Trei has been in a fog of despair. Turned away by his Tolounn dwelling Uncle and Aunt, Trei has no other choice but to make his way to his mother's family in the mythic Floating Islands to the south. From his first glimpse of the islands, emerging like jewels in the mist-shrouded sky, Trei instantly feels in awe at his new home – and from his first glimpse of the mysterious flying men, the kajuraihi, Trei knows that his destiny lies in the winds and sky. When he arrives at his Uncle's home, Trei finds himself warmly embraced by his southern family, although his younger cousin, the headstrong Araenè is initially resentful of his presence, disturbing her privacy and routine at home. For Araenè is no docile Island girl, ready to do her part and become a submissive wife; instead, Araenè dresses up as a boy and sneaks out of her home to explore the city and attends lectures from famous cooks to hone her own skills, all the while lamenting the fact that she was not born a boy and can never use her talents for anything other than homemaking.
When Trei wins his audition to become one of the kajuraihi and passes the initiation, and Araenè finds herself drawn to the hidden school of mages – only a select few mages are drawn each generation – it becomes clear that for both Trei and Araenè, the future holds unexpected, dramatic twists. The fates of these two cousins will intertwine, resulting in heartache and tragedy, and courage and triumph.
The Floating Islands is Rachel Neumeier's second novel for young adults, and in this humble reviewer's opinion, a completely winsome, traditional fantasy novel, with adventure and intrigue in spades. The first striking thing about the book is its unique vista setting; for once, the cover gets the feel and tone of the novel almost perfectly. The titled islands are these gorgeous, magical bodies, floating above the sea, proudly independent of the nations surrounding them by virtue of the same dragon magic that the kajuraihi use to fly. Beyond creating a unique airborne landscape and atmospheric setting for the book, the actual islands play a vital role in the plot, and also shape the characterizations of the book's dual protagonists. One of the biggest (but most important) challenges with creating a new world in fantasy is managing to imbue a landscape with enough influence to create a unique culture, psyche, and flavor for its characters – and in this, Ms. Neumeier excels. Easily, the southern floating islands with their dragons, flying men, mages, and potent mix of spices is one of my favorite YA fantasy settings in recent memory.
But enough of setting and atmosphere – what of the story and the characters? In terms of character, Rachel Neumeier manages to do the dual protagonist thing with alternating storylines, but told in a single third person (limited omniscient) voice, which is awesome and effective. Although I found myself a little less tolerant of Araenè (at least, initially), both protagonists are worthy heroes with their own sizable obstacles to overcome. Trei's struggles, with his confused sense of loyalty and patriotism as both a child of Tolounn and a newly-made kajuraihi, is the defining story of the novel, in my opinion. While Araenè's struggles with gender roles and her inadvertent secret keeping certainly are fascinating and play a vital role in the development of the story, and certainly Araenè is a spirited and enjoyable young heroine, to me, this is Trei's story. As he tries to prove himself to his peers and teachers, as a true islander and an asset, he also feels undeniable twinges of regret – for although his adopted home is this strange new place in the sky, he was born of Tolounn. Also, he struggles with his own grief with the loss of his family – and the accusations that Trei may be a spy for Tolounn, in the face of all that he has suffered, makes Trei an instantly sympathetic and powerful character. In contrast, Araenè's struggles are no less genuine, but a bit more…familiar. Although both characters use common fantasy tropes (the orphaned, powerful child; the girl warrior that masquerades as a boy to gain denied power), they are used skillfully enough, and with the imaginative scope of setting and plotting, this traditionalism is not so much an annoyance as it is a familiar and comfortable friend. My only quibble with character lay with the inner workings of these dual protagonists, as both felt a little too adult in their thought processes and narrative voices. Granted, these are two young adults that have gone through a whole lot over the course of the book, so perhaps this is warranted.
From a storytelling perspective, Ms. Neumeier truly shines – just as in her adult work, the world and societies that the author has created with The Floating Islands is truly remarkable stuff. I loved the intricate differences in politics and technology between the Islands and the militant Tolounnese, just as I loved the role of the mages, the dragon-men and their different types of magic within this world. The story itself is a coming of age tale, a war story, and – above all else – an adventure. For fear of spoilers, I won't say too much about the story, other than even though a number of familiar plot fixtures abound, Ms. Neumeier manages to imbue her story with enough life and originality to make it a truly memorable new entry in the YA fantasy arena. Absolutely recommended for young readers, old readers, and those that want an excapist, nostalgic traditional fantasy.
Notable Quotes/Parts: From Chapter 1:
Trei wondered how a city would look if it was deliberately built to be splendid. In Tolounn, all the towns had just sort of grown up where people had once decided to settle, like the town of Rounn growing up around the Rounn River, where, according to family legend, Great-grandfather Meraunn had once made his fortune backing the new steamboats over ox-drawn keelboats. He found he was curious about this new city, but didn't know exactly what to ask.

"We won't see Milendri before tomorrow afternoon," Mana rattled on. "We'll be passing islands all day, of course. . . ."

But Trei was no longer listening. He had just caught sight of his first winged Island fliers, and had attention to spare for nothing else.

There were a dozen of them—no, Trei saw as they approached: fourteen. Fifteen. They flew as geese fly in the fall, in a formation like a spear point. At first the shape the winged men made was stark as a rune against the empty sky, but as they approached the ship, they broke their formation, wheeled, and circled low. The morning light caught in the feathers of their glorious wings, crimson as blood, except for one man whose wings were black as grief.

As the fliers passed above the ship, Trei saw how each man wore his wings like a strange kind of cloak. Crimson bands crossed the fliers' arms and bodies. Though the wings looked like real wings, he saw clearly that the men were flying by some understandable kind of magic and were not actually winged people.
Additional Thoughts: Reading about these Floating Islands instantly puts me in the mind of Avatar's Hallelujah Mountains – or the actual mountains the film was based on: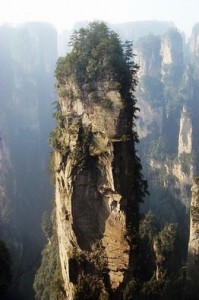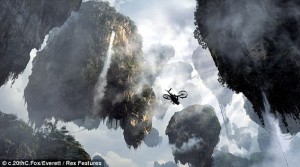 The inspiration for the film, in China.
Reading Next: Agatha H and the Airship City by Phil and Kaja Foglio

Giveaway Details: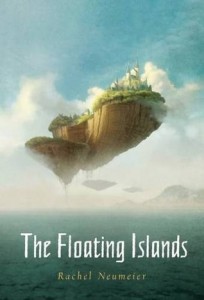 Courtesy of the author, we have ONE copy of The Floating Islands up for grabs! The contest is open to everyone, and will run until Saturday, February 19 at 11:59PM (PST). In honor of the gorgeously evocative titled Floating Islands, to enter leave a comment telling us your favorite atmospheric YA fantasy book setting (for example, someone could name the enchanted castle from Robin McKinley's Beauty, or the ice palace from Sarah Beth Durst's Ice, and so on and so forth). Only ONE entry per person please! Multiple entries will be automatically disqualified. Good luck!