"On The Smugglers' Radar" is a feature for books that have caught our eye: books we have heard of via other bloggers, directly from publishers, and/or from our regular incursions into the Amazon jungle. Thus, the Smugglers' Radar was born. Because we want far more books than we can possibly buy or review (what else is new?), we thought we would make the Smugglers' Radar into a weekly feature – so YOU can tell us which books you have on your radar as well!
On Ana's Radar:
I got some marketing materials from Chicken House this week and The Cry of the Icemark by Stuart Hill looks especially appealing to me. When preparing the radar though, I saw it is a reissue of a 2006 book and that it has mixed reviews. Anyone here has read it? Thoughts?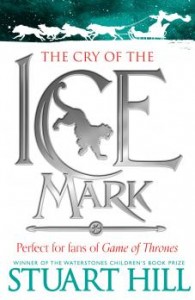 An epic, highly acclaimed fantasy that has just been optioned as a feature film by Fox 2000!

The Icemark is a kingdom in grave danger. Its king has been killed in battle, its enemy lies in wait, and its fate rests on the shoulders of one girl. Thirrin Freer Strong-in-the-Arm Lindenshield, a beautiful princess and an intrepid warrior, must find a way to protect her land from a terrible invasion. She will forge an extraordinary alliance of noble Snow Leopards, ancient Vampires, and ferocious Wolf-folk. She will find unexpected strength in her friendship with a young warlock. And she will lead her allies to victory with her fierce battle cry: "Blood! Blast! And Fire!"

Words cannot describe how excited I am about the new Lauren Beukes novel, coming later this year. Time travel stories are my kryptonite and everything I have ever heard about the author makes me believe this will be AWESOME.
The girl who wouldn't die, hunting a killer who shouldn't exist…

A terrifying and original serial-killer thriller from award-winning author, Lauren Beukes.

1930's America: Lee Curtis Harper is a delusional, violent drifter who stumbles on a house that opens onto other times.

Driven by visions, he begins a killing spree over the next 60 years, using an undetectable MO and leaving anachronistic clues on his victims' bodies.

But when one of his intended 'shining girls', Kirby Mazrachi, survives a brutal stabbing, she becomes determined to unravel the mystery behind her would-be killer. While the authorities are trying to discredit her, Kirby is getting closer to the truth, as Harper returns again and again…

We also first heard about this Sarah Newton book this week and we are exciting about reading it: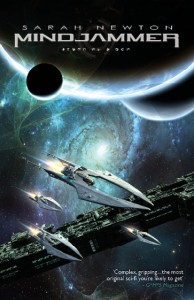 In the seventeenth millennium, the New Commonality of Humankind is expanding, using newly-discovered faster-than-light travel to rediscover lost worlds colonised in the distant past. It's a time of turmoil, of clashing cultures, as civilizations shudder and collapse before the might of a benevolent empire ten millennia old.

In the Solenine Cluster, things are going from bad to worse, as hyper-advanced technologies destabilise a world in chaos. Thaddeus Clay and his special ops team from the Security and Cultural Integrity Instrumentality are on the trail of the Transmigration Heresy. But what they find is something beyond even their imagining – something which could tear the whole Commonality apart!

I am going to make a conscious effort to read more SciFi written by ladies and I wishlisted the first in this series (recommended by SciFi Signal) by Jean Johnson, which incidentally has also been on Thea's radar for a long time: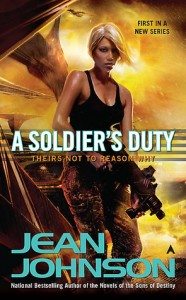 …What if you could see the future? What if you foresaw that, three hundred years from your time, your entire galaxy would be destroyed in an overwhelming invasion? What would you do to stop it, when it would all happen long after you were dead and gone?

These are the questions that Ia must face, and the obstacles she must overcome. Spurred by her teenaged visions of an apocalyptic future, the young heavyworlder woman seeks to set up a series of events, a domino-chain of actions and repercussions that will hopefully stop the coming invaders long after her time has passed. But in order to do so, she must enter the military and engage in a four-front war: an old, barely contained enemy whose twin goals of galactic conquest and lunch terrify all sane sentients; an ancient foe whose technology vastly outstrips anything the Alliance can fling at it; a fanatic, xenophobic religious movement on her homeworld which Ia dares not stop; and her ongoing battle against Time itself.

If Ia fails, the stars and planets of the Milky Way will cease to exist, and so will the countless lives that depend on them. But the odds of her winning the ultimate battle are very, very small, when even the slightest, most innocent-seeming misstep could domino down through time in the wrong way, and doom untold septillions of sentients to a dark and terrifying fall. Bound by the ice of her duty, burned by the fires of her conscience, driven by what she foresees, Ia must become the herald of death herself:

The soldier known as Bloody Mary.

Another time travel book? YES PLEASE. Aaaaand this makes this radar of mine, one of the most SciFi-oriented ever.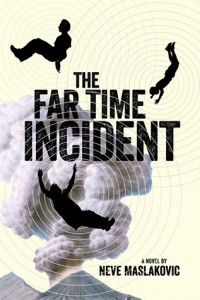 When a professor's time-travel lab is the scene of a deadly accident, the academic world and the future of St. Sunniva University get thrown into upheaval. As assistant to the dean of science, Julia Olsen is assigned to help Campus Security Chief Nate Kirkland examine this rare mishap…then make it quietly go away!

But when the investigation points toward murder, Julia and Chief Kirkland find themselves caught in a deadly cover-up, one that strands them in ancient Pompeii on the eve of the eruption of the world's most infamous volcano. With the help of their companions—a Shakespearean scholar and two grad students—Julia and the chief must outwit history itself and expose the school's saboteur before it's too late.

The Far Time Incident is a smart, richly inventive novel that skillfully weaves together mystery, history, and science to create a mesmerizing and addictive read.

On Thea's Radar:
*feels like she's entering an alternate universe* Ana into science fiction now? What else can 2013 bring!? Amazing.
First up on my radar is a fairytale retelling/extrapolation of Sleeping Beauty, featuring her two daughters. Yes please.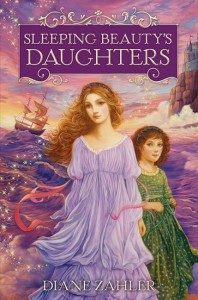 Author Diane Zahler transforms a classic fairy tale into a dazzling new story about Sleeping Beauty's daughters, Princesses Aurora and Luna, and the perilous quest they undertake when Aurora falls prey to a terrible curse.

Princesses Aurora and Luna have grown up in a cliff-top palace by the sea, where they are carefully protected by their parents, the king and queen. No one visits, the girls cannot stray beyond the castle walls, and, curiously, all sharp objects are forbidden from the castle.

But accidents will happen-particularly when an old curse still has power. Soon, in spite of all precautions, Aurora is struggling not to slip into an enchanted sleep.

Frantic, the princesses accept the help of a young fisherman named Symon and embark on a daring ocean voyage to find their aunt-a fairy who may be able to break the spell. From fearsome beasts to raging storms, many dangers befall them, yet they must not give up…for if Aurora sleeps, she will not wake for one hundred years.

With its brisk pace and lush descriptions, this spellbinding novel will appeal to readers who enjoy the work of Shannon Hale and Gail Carson Levine.

Next up, this book that is being compared to Cinda Williams Chima and Kristin Cashore – this blurb doesn't sound particularly novel, but I like the concept (and the cover…shallow, I know):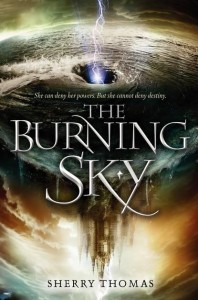 Magic, romance, and intrigue combine in this extraordinary novel, the first in a trilogy, for fans of Cinda Williams Chima and Kristin Cashore. An elemental mage discovers her shocking power and destiny when she is thrown together with a prince to lead a rebellion against a tyrant.

It all began with a ruined elixir and a bolt of lightning.

Iolanthe Seabourne is the greatest elemental mage of her generation-or so she's been told. The one prophesied for years to be the savior of the Realm. It is her duty and destiny to face and defeat the Bane, the most powerful tyrant and mage the world has ever known. This would be a suicide task for anyone, let alone a reluctant sixteen-year-old girl with no training.

Guided by his mother's visions and committed to avenging his family, Prince Titus has sworn to protect Iolanthe even as he prepares her for their battle with the Bane. But he makes the terrifying mistake of falling in love with the girl who should have been only a means to an end. Now, with the servants of the tyrant closing in, Titus must choose between his mission-and her life.

The Burning Sky-the first book in the Elemental Trilogy-is an electrifying and unforgettable novel of intrigue and adventure.

This next book is actually the sequel to The Voyage of Lucy P. Simmons, which I clearly need to read soon because this novel looks fantastic.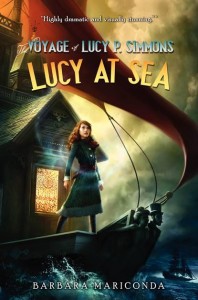 The thrilling sequel to The Voyage of Lucy P. Simmons, a book that Newbery-winning author Katherine Applegate called "a grand and adventurous tale, as magical and mysterious as the sea itself."

Ever since Lucy's parents drowned at sea, she's been protected by special magic. That's why, when Lucy's greedy uncle Victor tried to steal her house, her father's treasured "ship on shore" transformed into a real ship, leaving Lucy's troubles far behind.

Now her home is the ocean, and her family is her ragtag crew. Together, they set a course for Australia to find Lucy's last living relative, Aunt Pru-and answers about the curse that's said to haunt Lucy's family.

Even though magic still protects her, Lucy doesn't realize that she's sailing in dark and dangerous waters. There are those aboard her ship who seek to turn fate against her and steal her family's treasures. If Lucy doesn't unlock her family's secrets before her enemies do, she might fall prey to the curse….

Newbery Honor winner Patricia Reilly Giff called The Voyage of Lucy P. Simmons "a thrilling, magical story with a feisty, unforgettable heroine." Brimming with seafaring adventure and glittering magic and perfect for readers who love Avi and the American Girl doll books, Lucy at Sea is Barbara Mariconda's magnificent sequel to The Voyage of Lucy P. Simmons and a book that will leave readers eagerly awaiting the conclusion of the trilogy.

Next, a new book from Diane Stanley, author of The Silver Bowl (which I truly enjoyed), and the third novel that completes the trilogy. (Yes, I know, I have to read The Cup and the Crown first and soon!):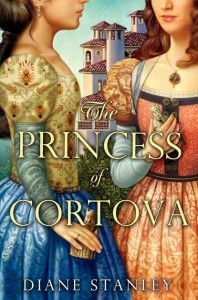 A princess, a scheming king, and a dangerous game mark this exciting finale to award-winning author Diane Stanley's magical trilogy about Molly, the spirited heroine who can see visions of the future.

With tensions rising between the kingdoms of Westria and Austlind, Molly and Tobias accompany King Alaric to Cortova, where he hopes to form an alliance with the powerful King Gonzalo-an alliance that would be sealed by Alaric's marriage to Gonzalo's daughter, the beautiful princess Elizabetta.

But the devious Gonzalo has plans of his own. Upon arriving in Cortova, Alaric is shocked to find that there is already another suitor vying for Princess Elizabetta's hand: his own cousin, Prince Rupert of Austlind.

As the days pass, Alaric, Molly, and Tobias find themselves trapped in a suspenseful game of courtly intrigue that soon takes a dangerous turn. For once, Molly's visions are little help-they reveal nothing beyond hazy threats. Everything turns around Princess Elizabetta, but is she truly a friend or simply another player in her father's crafty game?

The thrilling story that began with the acclaimed novels The Silver Bowl and The Cup and the Crown comes to a spectacular and surprising conclusion in The Princess of Cortova.

Then there's the sequel to last year's Dark Star – which I really liked, but Ana did not. I'm excited for book 2!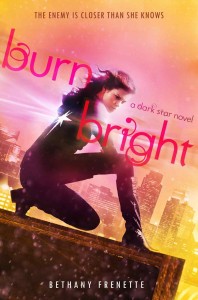 Audrey Whitticomb saved her entire city.

Well, kind of. The superhero Morning Star (who just happens to be Audrey's mom) might have played a small part, and her sidekick, Leon—Audrey's sort-of boyfriend, who is gorgeous… and frustrating—maybe helped, too.

But after two peaceful months, there is a vicious new threat in Minneapolis. Her name is Susannah, and she's a Harrower, a demon hell-bent on destroying people like Morning Star, Leon, and Audrey—the Kin. Like others before her, she seeks the Remnant, a Kin girl who has the power to unleash the inhabitants of the Beneath. But to what end?

Audrey already has a ton on her plate: dealing with her best friend Tink's boy drama, helping her other best friend Gideon figure out his nightmares, and exploring the highs and lows of "dating" Leon. But when she develops a powerful new ability, Audrey seizes on the chance to fight, despite her mother's protests and Leon's pleas.

As Audrey gets closer to figuring out Susannah's motives and tracking down the Remnant, she'll uncover more than she bargained for. The terrible truth is staring Audrey in the face. But knowing the truth and accepting it are very different things.

I just stumbled across this older series, which has some amazing reviews and comparisons – and I think I need to have it NOW (even better: the quartet is completed, so no wait between books if I happen to like it!)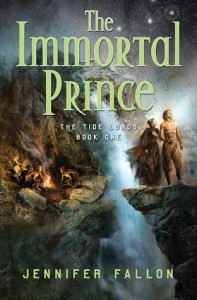 When a routine hanging goes wrong and a murderer somehow survives the noose, the man announces he is an immortal. And not just any immortal, but Cayal, the Immortal Prince, hero of legend, thought to be only a fictional character. To most he is a figure out of the Tide Lord Tarot, the only record left on Amyrantha of the mythical beings whom fable tells created the race of half-human, half-animal Crasii, a race of slaves.

Arkady Desean is an expert on the legends of the Tide Lords so at the request of the King's Spymaster, she is sent to interrogate this would-be immortal, hoping to prove he is a spy, or at the very least, a madman.

Though she is set the task of proving Cayal a liar, Arkady finds herself believing him, against her own good sense. And as she begins to truly believe in the Tide Lords, her own web of lies begins to unravel…

And, finally, one more science fiction novel to throw on the pile. I haven't yet read Madeline Ashby's highly recommended vN, but book 2 is coming out soon so I better get started (are you sensing the theme here? Clearly I need to start more new series' ASAP.):
THE SECOND MACHINE DYNASTY

Javier is a self-replicating humanoid on a journey of redemption.

Javier's quest takes him from Amy's island, where his actions have devastating consequences for his friend, toward Mecha where he will find either salvation…or death.

And that's it from us! What books do you have on YOUR radar?