Today, we are delighted to be hosting the cover reveal for Adrienne Kress's upcoming paranormal YA novel, Outcast! We truly enjoyed Adrienne's most recent novel, The Friday Society and are thrilled that she has a new book coming out so soon.
Behold! The Smugglerific Cover (and summary)!
THE SMUGGLERIFIC COVER: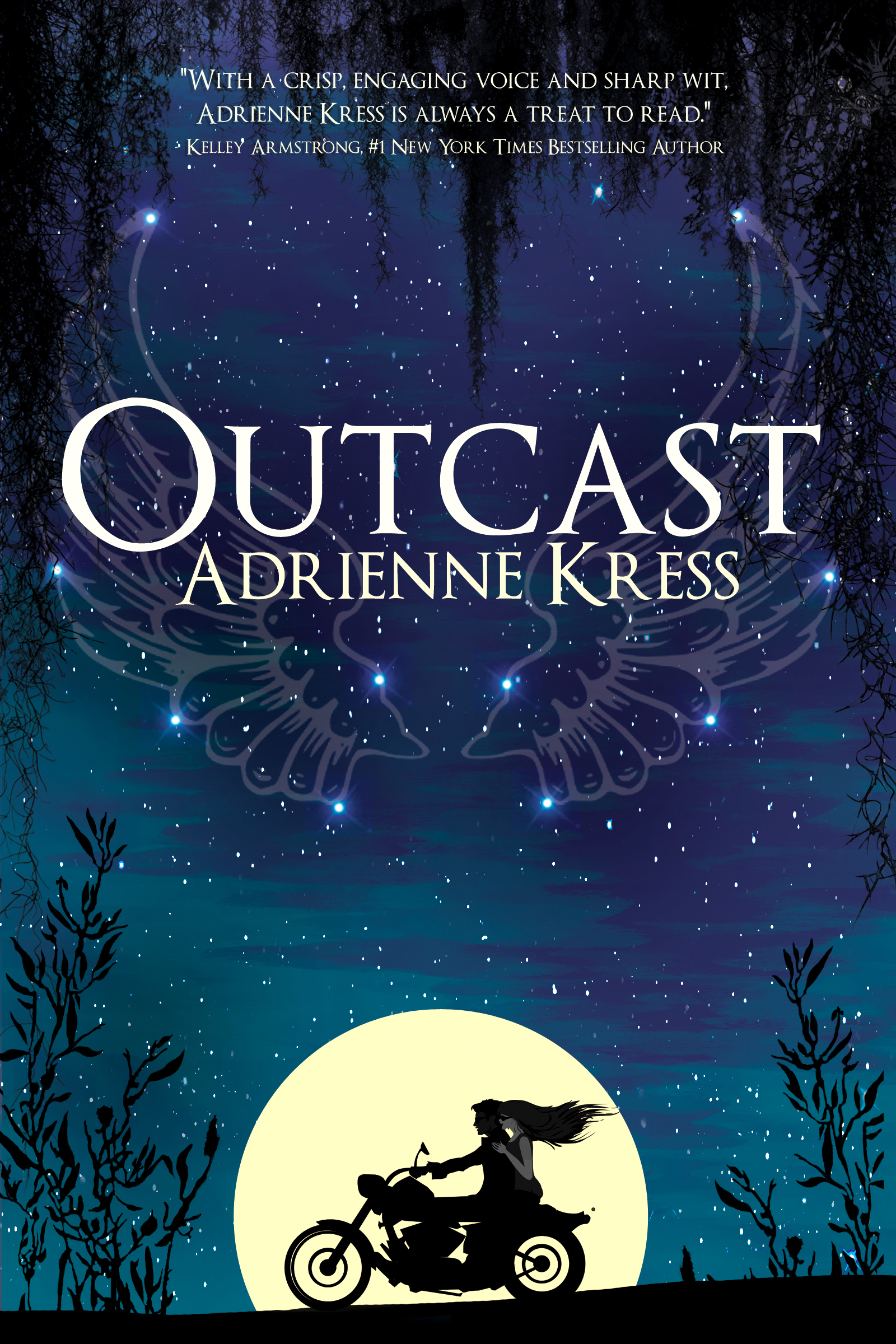 ABOUT THE BOOK:
They come out of the sky and take you. Everyone knows that.

After six years of "angels" coming out of the sky and taking people from her town, 16-year-old Riley Carver has just about had it living with the constant fear. When one decides to terrorize her in her own backyard, it's the final straw. She takes her mother's shotgun and shoots the thing. So it's dead. Or … not? In place of the creature she shot, is a guy. A really hot guy. A really hot alive and breathing guy. Oh, and he's totally naked.

Not sure what to do, she drags his unconscious body to the tool shed and ties him up. After all, he's an angel and they have tricks. When he regains consciousness she's all set to interrogate him about why the angels come to her town, and how to get back her best friend (and almost boyfriend) Chris, who was taken the year before. But it turns out the naked guy in her shed is just as confused about everything as she is.

He thinks it's 1956.

Set in the deep south, OUTCAST is a story of love, trust, and coming of age. It's also a story about the supernatural, a girl with a strange sense of humor who's got wicked aim, a greaser from the 50's, and an army of misfits coming together for one purpose: To kick some serious angel ass.
"With a crisp, engaging voice and sharp wit, Adrienne Kress is always a treat to read."
– Kelley Armstrong, #1 New York Times Bestselling Author
"A refreshingly different take on angel mythology with a funny, gutsy, shotgun-toting heroine and a rivetingly sexy hero. Set in an eerie deep south town, OUTCAST is a spooky, spirited, compulsively readable story—charged with wit, wisdom, and bittersweet romance."
– Lesley Livingston, author of the internationally bestselling Wondrous Strange series
Outcast is published by Diversion Books, and will be released on June 4, 2013.
The Excerpt:
ABOUT THE AUTHOR: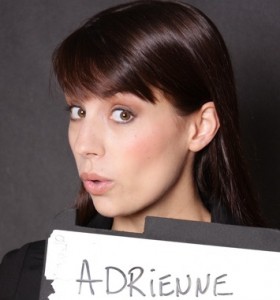 Adrienne Kress is a Toronto born actor and author who loves to play make-believe. She also loves hot chocolate. And cheese. Not necessarily together.
She is the author of two children's novels: Alex and the Ironic Gentleman and Timothy and the Dragon's Gate (Scholastic) and is a theatre graduate of the Univeristy of Toronto and London Academy of Music and Dramatic Arts in the UK. Published around the world, Alex was featured in the New York Post as a "Post Potter Pick," as well as on the CBS early show. It won the Heart of Hawick Children's Book Award in the UK and was nominated for the Red Cedar. The sequel, Timothy, was nominated for the Audie, Red Cedar and Manitoba Young Readers Choice Awards, and was recently optioned for film. She's also contributed to two anthologies in 2011: Corsets & Clockwork (YA Steampunk Romance short story anthology, Running Press Kids), and The Girl Who Was On Fire (an essay anthology analysing the Hunger Games series – Smart Pop).
Her debut YA, The Friday Society (Penguin), was released in the fall of 2012 to a starred review from Quill and Quire. And her quirky romantic YA, Outcast (Diversion Books), comes out this June.
Follow Adrienne on facebook, twitter (@AdrienneKress), her blog, tumblr, and on goodreads.

Thanks, Adrienne!