Hello everyone, and welcome once again to Mystery Appreciation Week! It wouldn't be a *real* Appreciation Week without some kind of list, so today we bring you two: Thea's list of recent Mystery/Thriller YA releases, On the Smugglers' Radar-style AND a list of current/recent television shows that I have been watching.
When organising this Mystery Appreciation Week and trying to decide on a topic for a list, I realised – quite belatedly – that HOLY GUACAMOLE I seem to have a thing for Crime/Mystery TV shows? I do watch a lot of TV shows and out of those I have been watching lately/have watched in 2012, a great number are Crime shows – and I didn't even count all the random episodes of Blue Bloods, Law and Order and CSI I often watch when I happen to stumble on them.
The list below shows my current favourites – some of them have already ended (The Killing and Cold Case) but most of them are ongoing and I highly recommend ALL.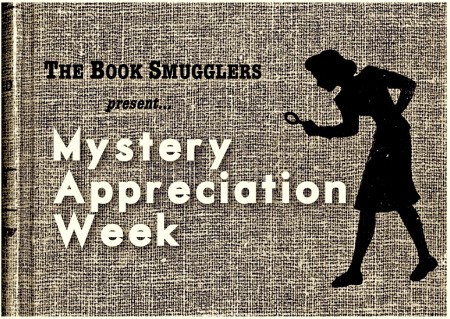 Scott and Bailey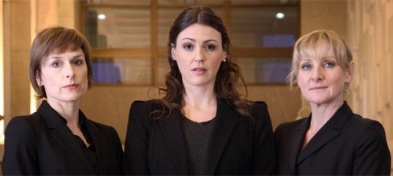 Scott & Bailey is a police procedural on ITV (a British channel) featuring cop-partners and close friends Rachel Bailey and Janet Scott as well as show-stealer tough police chief Gill Murray. The show features these complex, good, competent (if fallible) cops, struggling with cop-life and personal-life. I love how engaging the show is not to mention how extremely refreshing it is to see one focusing 100% on female cops – let's face it, Crime dramas are often so male-centric! Series 3 stars in May – HURRY UP MAY.
Sherlock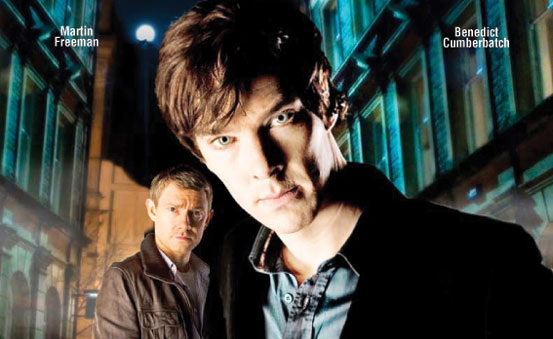 BBC's Sherlock is one of those shows that are both EXTREMELY awesome (the acting, the writing, the fantastic transition from historical to contemporary storylines, Benedict Cumberbatch and Martin Freeman are so talented) as well as problematic (treatment of female and POC characters). Last series' ending was so fabulous and I can't wait to see how they go from there. Series 3 starts filming in March.
The Killing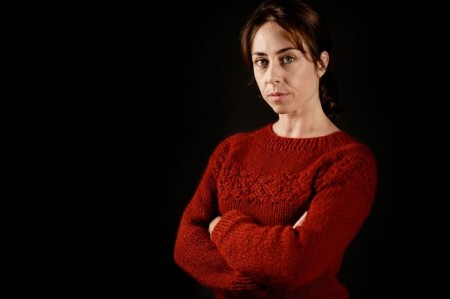 The Killing is a dark and gloomy Danish police procedural that just concluded its third and final (woe) series last year. It features the serious, extremely driven/workaholic and smart detective Sarah Lund. Each series featured only one crime and the plot was often twisterific with added storylines following the victim's family's struggles as well as the politics of the country (around the Prime Minister's office) on top of the investigative work that the police was doing. It's a very nail-biting, thought-provoking show and even if I was a little disappointed with how it ended (I thought it was very out-of-character), I still think it is well worth watching. And please, do not confuse with The Killing US because that is nowhere near as good as the original Danish.
The Bridge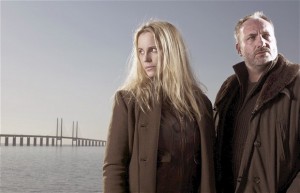 The Bridge is another Danish drama, co-produced by Sweden. It begins with the discovery of a dead body on the bridge between Denmark and Sweden and it follows the investigation with two lead detectives – one from each side of the bright. Like The Killing it is another show full of twists and turns that follows not only the investigation but also the lives of the characters involved as well as the complex politics and social injustices in the countries it depicts. Bonus information: the main detective Saga Norén – is an extremely competent cop who also happens to have Aspergers Syndrome. Series 2 is coming this year.
Agatha Christie's Poirot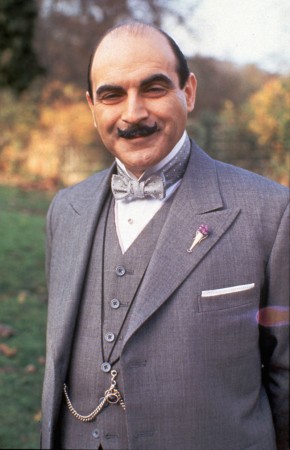 I only found out about this ongoing British TV show (ITV) last year and check this out: it has aired since 1989 and it features the same actors playing the main cast of characters (including Japp, Miss Lemon and Hastings) and the EVER SO FABULOUS David Suchet as Poirot. I have no words to describe how good and perfect he is as Poirot. I do love Christie's mysteries and I think these adaptations are incredible. Bonus points: the show also has amazing guest stars which include Emily Blunt and Michael Fassbender among others. The remaining Poirot stories will broadcast soon (hopefully this year) which means that Suchet will have filmed all the Poirot novels and short stories by the time the series is done. How awesome is that?
Agatha Christie's Marple
Another ITV series adapting Christie's novels featuring Miss Marple. Running since 2009, it has two actresses playing the main character Geraldine McEwan and Julia McKenzie (from series 4 onward) and I can't decide which one I like the most – both are equally good as Marple. This is definitely another comfort watching for me and I love the spot-the-superstar game I play (Benedict Cumberbatch!) when watching it. Series 6 is set to air this year.
Castle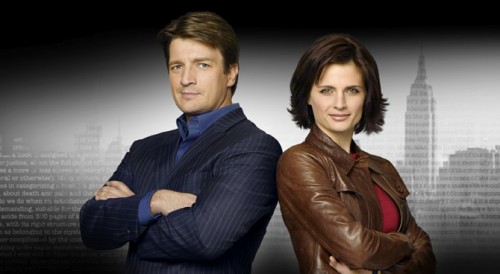 I have been a brazen Nathan Fillion fangirl ever since Firefly and I luuurve him. Castle is a procedural show (now on its fifth series) with an outlandish premise: Crime novelist Richard Castle partners up with NYPD detective Becket, shadowing her around as "research" and helping solving crimes. As a crime show Castle it's actually quite a run—of-the –mill procedural and a lot of the cases themselves are pretty boring (there, I said it) but what makes it so much fun is the geeky element with loads of inside jokes, the snappy dialogue and the will-they-won't-they dynamics between Castle and Becket. Also: I love secondary character Esposito, he cracks me up so much.
Cold Case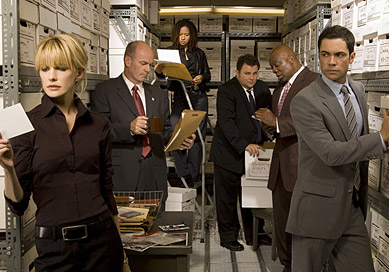 Cold Case is a US procedural show that ran for 7 series and ended in 2010. I've watched some episodes here and there when they showed on telly and always REALLY enjoyed them and recently decided to watch the whole thing from the start. I am completely hooked. The show follows Detective Lilly Rush as she and her co-workers in the Philadelphia Police Department investigate "cold cases", i.e. older cases that have never been solved. The gimmick is that throughout the episode there are flashbacks to the particular time when the crimes were committed and this gives the change for the show to examine and portray loads of interesting issues of US history including racism, sexism, homophobia. It's a catching premise and to top it all up, each episode also features songs from that particular time and at the end of the episodes there is always a montage in which the "spirit" of the dead person shows up and then disappears to rest in peace. I know it sounds cheesy as hell but the montages get me EVERY.SINGLE.TIME. Bonus Point: pretty diverse cast that shares the spotlight with Lilly.
The Bletchley Circle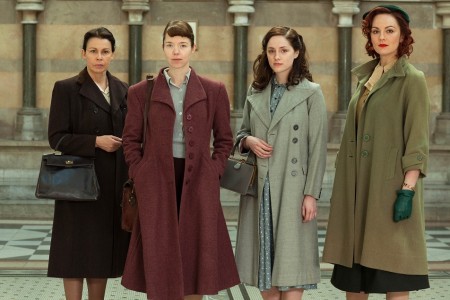 I am fascinated by WWII and about all the important work that went on at Bletchley, the top- secret wartime code-breaking centre in the UK especially because none of the people that worked there could actually use that on their CVs (imagine that!) or talk about it to anyone for years and years afterwards. Needless to say, when I heard about this series featuring a quartet or women that worked as code-breakers at Bletchley but who after the War had to return to their regular lives only to reunite years later to catch a serial killer (it is about patterns!) , I just had to watch it. I loved it: the portrayals of all 4 female protagonists, all diversely complex characters, their daily struggles to adapt to circumstances and hope there will be a second series at some point!
Ripper Street
Ripper Street is a brand-new BBC series set in London's Whitechapel in 1889, a few months after Jack the Ripper ravaged the streets of London. It follows the coppers of the H Division in East London as they investigate murders around that area. The lovely Matthew Macfadyen plays main character, the troubled detective Reid. But even though I am enjoying his character, I love Jerome Flynn's Drake (the hardened detective sergeant with a heart of gold) and Adam Rothenber's Jackson (the cheeky American surgeon) the most. Plus, it's Victorian London so yeah: I was bound to love it.
That said: I love it almost in spite of myself because the show is a veritable Fiesta de Dicks with the occasional female characters playing either whores or wives/mothers. It is just so incredibly male-centric, you look at the shots of London and you almost think women didn't exist at all. The worst thing? The incredibly complex glimpses we get now and then of the female characters – like Reid's wife and Jackson's former lover and now brothel madam.
And on that note, I ask you: what are your favourites Crime shows? Do share!