Happy Sunday, everyone! Ready for another week of Smugglivus Festivities?
This Week on The Book Smugglers:
Later today, we have the amazing Renay of Lady Business, over to talk about her tumultuous, eye-opening experience with the Hugo Awards this year.
On Monday, we have Flannery, Tatiana, and Catie – the amazing ladies behind The Readventurer – as our first guest bloggers for the day. They are followed by guest author/blogger Foz Meadows, who runs Shattersnipe: Malcontent & Rainbows, and who also wrote YA urban fantasy novels Solace and Grief and The Key to Starveldt.
On Tuesday, the wonderfully snarky gals behind Forever Young Adult are over to talk Smugglivus and favorites of 2012. They are followed by author Jenn Reese, plus Thea's review of her middle grade science fiction novel Above World.
Wednesday, our first guest is Kat Zhang, YA Dystopian/SFF author of one of Thea's favorite books of the year, What's Left of Me. Kat is followed by awesome book blogger Cass of Bonjour, Cass!
On Thursday, we are thrilled to have guest author Jennifer Nielsen – author of hands down one of Thea's other favorite books of 2012, The False Prince – over to talk Smugglivus. Our guest blogger of the day is the lovely other Ana (who, in a bizarre twist of fate is now Book Smuggler Ana's neighbor!), of Things Mean A Lot.
Friday, we have a long-standing smugglivus regular over as our guest blogger – Kristen, of fantasy blog Fantasy Cafe. We also have blogger Nic of the thought-provoking blog Eve's Alexandria. We are also stoked to have SFF author Max Gladstone – whose Three Parts Dead Ana loved – over for a guest post.
On Saturday, we close out the week with one of our favorite people – blogger and debut SFF YA author Phoebe North, followed by the book-lovin', educating, feminist ladies behind Slatebreakers.
PHEW. Once again, it's a crazy week – we hope you enjoy the madness! As always, we remain…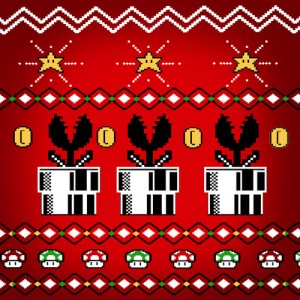 8-Bit-Christmas by Tim Shumate
~ Your Friendly Neighborhood Book Smugglers