Welcome to Smugglivus – Day 26!
Throughout this month, we will have daily guests – authors and bloggers alike – looking back at their favorite reads of 2009, and looking forward to events and upcoming books in 2010.
Today's Guest: Jessica of the romance dedicated blog Racy Romance Reviews. Jessica is, in a word, incredible. Not only is she one of the smartest bloggers we know, she also writes some of the most engaging and thoughtful reviews and essays on teh internets. Today, Jessica will regale us with a review of a holiday movie (well….sort of, it's a movie that came out during the holiday season at least!) – Avatar.
Please give a hand to Jessica!
********************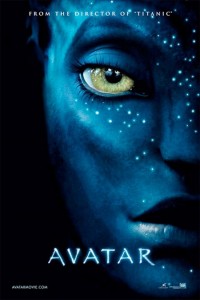 It is 2154, and a US corporation has encamped on the planet Pandora, to mine its precious (for reasons not explained in the film) mineral, humorously called unobtainium. Thwarting the corporation's efforts are the Na'vi, ten foot tall blue natives of Pandora who live in peace with the land and all the living creatures on it. There are two factions among the US invaders: the scientists, led by the tough but principled and caring Dr. Grace Augustine (a wonderful Sigourney Weaver), who hope to forge diplomatic ties with the Na'vi, and gain increased scientific and cultural knowledge that can be put to benign use. The other, SecFor, is the security division of the corporation, led by the trigger-happy Colonel Miles Quaritch. Quaritch channels Bill "I love the smell of napalm in the morning" Kilgore form Apocalypse Now in his disdain for the Na'vi and thirst for battle.
Jake Sully (Sam Worthington), is a disabled former Marine who is approached the the corporation to take up his dead twin brother's work with Sr. Augustine. Avatars are remotely controlled bodies that are mixes of human and Na'vi DNA. Jake gets into what looks like a tanning bed, is hooked up somehow (this is never shown) and goes to sleep. When he waked up, his consciousness animates the avatar. I spent a lot of time wondering how this was supposed to work. Unlike the mind controlled humans in the Matrix, the avatars are real, but there is no physical connection between the human brain and the Avatar it controls.
It was odd to me at first that Cartesian dualism, a very problematic and outmoded theory of mind body interaction which holds that minds are immaterial (spiritual) substance that somehow interact with and control material, physical substance (bodies). In both philosophy and neuroscience, provided the core of the avatar technology in this film. However, as the film progresses, it is clear that Cameron is in deep sympathy with the Na'vi, whose religion is a kind of amalgam of Native American spirituality and Hinduism: everything is connected, a mysterious benevolent force animates all living things, there is peace, balance, and harmony in the natural world which should be respected and preserved, etc.
Everything in the plot of Avatar is completely predictable, most especially the fact that our hero, Jake, starts out as a grunt going along for the ride and ends up falling in love with the chief's daughter and leading a rebellion against the US intruders. Other reviewers have called this film "Dances with Aliens" and the comparison to the Costner film is pretty apt. The bad guys are caricatures, not only the Colonel, but Giovanni Ribisi's Parker Selfridge, the corporate honcho on Pandora. (And yeah, with names like "Grace" and "Selfridge", Cameron is not leaving anything to chance). It is so apparent so quickly that the corporation would like nothing better than mass genocide that you wonder why they went to the trouble launching the multimillion dollar avatar program in the first place.
The messages in the film are obvious: biodiversity is good, imperialism is bad, we should take care of our natural resources, and we should be more aware of how our remote use weapons of war impacts its targets. as for the last, although I never felt quite as invested in the Na'vi as I was in the good guys in the Star Wars movies or the Lord of the Rings trilogy, there were a couple of moments of destruction and loss in this film that hit me almost as hard as, for example, the battle in The Two Towers at Helm's Deep. This film also practices the old trick of cliche inversion: the natives are not only not scary violent savages, as the Colonel describes them in an early scene, but they are far superior to humans in many ways, especially morally. They don't have any of the problems that beset such groups in real human history, such as sexism or autocratic rule, but are nonhierarchical, caring, and good.
Sci fi and fantasy can work when painting in these broad strokes, though, and the point of a movie like this isn't a lesson in morality or politics. visually, as so many viewers have taken to the internet to proclaim, the film is pretty amazing. 3D is not a gimmick, with things popping out at you, but suffuses the film and just feels like the right way to see Pandora. Pandora is realized in tremendous detail, and the Na'vi never seem like crude Jar Jar Binks clones (Cameorn used real actors and them digitized their performances). While I think Camron maye have lazed a bit too adoringly over the planet (the movie, at 2 hours 40 minutes felt a bit too long), I thought it was breathtaking.
For me, the most compelling part of this movie was the character of Jake Sully, played by Australian actor Sam Worthington. I believe he will become the Luke Skywalker of this generation. I thought he was very natural, sweet, tough-hearted, and in a cougaraish confession, totally hot in both human and avatar form. I thought Jake's disability — he became a paraplegic fighting in combat– was handled very well, and provided believable motivation for his participation in the avatar project. It's true that as his avatar, Jake can run and climb, but that alone would not have motivated him to leave earth and take on the jungles of Pandora. Rather, in the future, while the technology is there to fix his legs, he doesn't have the money.
The romance he develops with a Na'vi woman, voiced by Zoe Saldana (doing yeoman's work in 2009 as girlfriend of all the best looking sci fi heroes) was very sweet and compelling, probably Cameron's best romance since the Terminator's Reese and Sarah Connor.
The score, by James Horner was distracting, ponderous, and reminded me of nothing so much as a dark ride at an Orlando theme park. But then, I hate Horner's scores and always have. YMMV. The credits close over Leon Lewis sounding and singing a song, "I See You" that is so reminiscent of the Celine Dion theme to Titanic that I heard a number of people humming the tune to "My Heart Will Go On" as we left the theater.
Parental note: My school age boys have (surprisingly) no interest in Avatar, but they have seen Star Trek, Transformers 2, and G.I. Joe. I would say, if you don't mind the much more frequent use of coarse language, Avatar is on a par in terms of violence and sexual content as any of those, and probably tamer on both counts.
In sum, Avatar was an entertaining, visually arresting film. It does not, in my opinion, qualify as epic. For sheer sci fi fun, Star Trek was my number one of 2009. But even a non-geek like me could sense — if not actually describe — the technical heights Cameron scaled to make it, and that alone is worth the (higher, thanks to those free glasses) price of admission.
********************
Thank you Jessica! (Thea's note: I freakin' LOVED Avatar, and agree that everyone should up and see it. NOW.)
Next on Smugglivus: Kristi, The Story Siren