Hello everyone! Happy Sunday, and welcome to the first full week of Smugglivus! We've got a lot of goodies coming your way, so hold tight.
Thanksgiving Giveaway Winner:
The lucky winner of our Thanksgiving giveaway bundle of The Changeling Sea by Patricia A. McKillip, We Have Always Lived in the Castle by Shirley Jackson, and The Lost Conspiracy/Gullstruck Island by Frances Hardinge is…
JenP (entry #44)
Congratulations! You know the drill – send an email to us (contact AT thebooksmugglers DOT com) with your snail mail address and we'll get your winnings out to you as soon as possible.
An Infuriating Article, and Awesome Response:
If you were on twitter yesterday, you may have seen much outrage over author & editor William Giraldi's take on Bill Henderson's Rotten Reviews Redux in the Los Angeles Review of Books. Giraldi's glowing review for Henderson's compendium shows a decidedly vitriolic take on teh internetz and insidious book bloggers, whom Giraldi calls "jacklegs with no critical cunning" and describes as "a community of coddlers who approach literature as if it were a Sunday knitting circle." (Not to worry – other charmingly backhanded sexist barbs are littered throughout his rant.) (He also refers to the internet as "The Net" – telling of his familiarity and understanding of technology since 1995, the last time this moniker was hip.) Giraldi also goes on to liken reading a review on Amazon or a blog as being "identical to seeking relationship advice on the wall of a public restroom."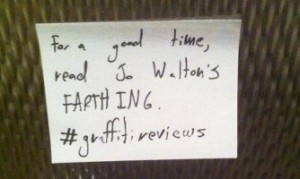 As you might have surmised, the reaction online amongst the blogging community – those reviewers with "unlettered opinions with scarcely more authority than the feral scratching in Cro-Magnon's diary" – was an unfettered shitshow. There are some great recaps and reactions online, but our favorite is this post from Clare McBride, The Literary Omnivore. We highly recommend you check it out and submit your own #graffitireviews (we certainly will be).
This Week on The Book Smugglers:
On Monday, we start the week with a bang – we have author Jessica Day George over as part of the blog tour for the third book in her Princess series, Princess of the Silver Wood. We also have Steph and Kat, the gals behind Cuddlebuggery, over as our guest bloggers for the day.
Tuesday, we have Renee and Sparky – the duo behind the amazingly thought-provoking, critical blog Fangs for the Fantasy – over for their Smugglivus contribution. We also have Andrea K. Höst, author extraordinaire (most recently of YA SFF novel And All the Stars), as our guest author of the day.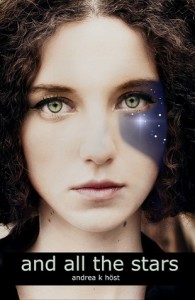 On Wednesday, our guest blogger is Justin, the prolific guy behind Staffer's Book Reviews (& Musings). Our guest author of the day is the amazing Susan Jane Bigelow, author of the amazing Extrahumans series (one of Ana's favorites).
Thursday, our guest blogger is the lovely April of Good Books & Good Wine to talk about her favorites of 2012. Our guest author is one of Thea's very favorite authors of fantasy, Rachel Neumeier. Plus, Ana finally posts about her experience with the (sadly disappointing) Angelmaker by Nick Harkaway.
On Friday, our guest author is Kate Milford (another new-to-us-author-but-now-we-LUUUURVES-her-preeeecious), author of such wonderful books like The Boneshaker. We also have the wicked smart Smart Bitch Sarah of the iconic Smart Bitches Trashy Books as our guest blogger/celebrity for the day! Plus, we have a joint review of In A Glass Grimmly, the follow-up to the lovely middle grade fantasy novel A Tale Dark and Grimm by Adam Gidwitz.
On Saturday, we have two guest authors. First up is Lenore Appelhans, fantastic blogger (Presenting Lenore) and soon to be debut author of YA dystopia Level Two. Then, we are thrilled to have Elizabeth Wein – author of the unparalleled Code Name Verity – to close out the week.
PHEW. It's a crazy week – viva la Smugglivus!!!!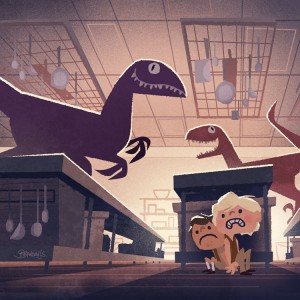 Jurassic Park from Brandon James Scott (is anyone else stoked for JP 3D in April?!?!)
~ Your Friendly Neighborhood Book Smugglers