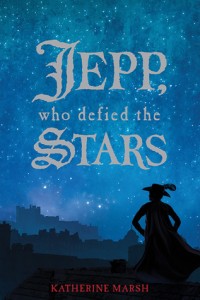 Title: Jepp, Who Defied the Stars
Author: Katherine Marsh
Genre: Historical Fiction, Young Adult
Publisher: Hyperion Children (Disney)
Publication Date: October 2012
Hardcover: 384Pages
Fate:
Is it written in the stars from the moment we are born?
Or is it a bendable thing that we can shape with our own hands?

Jepp of Astraveld needs to know.

He left his countryside home on the empty promise of a stranger, only to become a captive in a luxurious prison: Coudenberg Palace, the royal court of the Spanish Infanta. Nobody warned Jepp that as a court dwarf, daily injustices would become his seemingly unshakable fate. If the humiliations were his alone, perhaps he could endure them; but it breaks Jepp's heart to see his friend Lia suffer.

After Jepp and Lia attempt a daring escape from the palace, Jepp is imprisoned again, alone in a cage. Now, spirited across Europe in a kidnapper's carriage, Jepp fears where his unfortunate stars may lead him. But he can't even begin to imagine the brilliant and eccentric new master–a man devoted to uncovering the secrets of the stars–who awaits him. Or the girl who will help him mend his heart and unearth the long-buried secrets of his past.

Masterfully written, grippingly paced, and inspired by real histori-cal characters, "Jepp, Who Defied the Stars" is the tale of an extraordinary hero and his inspiring quest to become the master of his own destiny.
Stand alone or series: Stand alone novel
How did I get this book: Review Copy from the Publisher
Why did I read this book: When I first heard about this book, which features a dwarf, Jepp, as its protagonist, I was instantly hooked. Add to this an evocative title, a beautiful cover, and praise from the likes of Jonathan Safran Foer & Ruth Sepetys? Of course I was going to read this book as quickly as possible.
Review:
Being a court dwarf is no easy task. I know because I failed at it.
In the small village of Astraveld, just to the south of Utrecht in the dangerous crossroads between the Spanish Netherlands and the Protestants to the North, a young boy named Jepp is born. In the safety of his mother's well-loved tavern, Jepp grows to be a considerate and learned – if self-taught and isolated – young man. Though he is a dwarf and subject to taunts from the occasional traveler, his home and village is one of warmth and happiness. This all changes one fateful day, when Jepp is approached by a traveling stranger, who promises a life of luxury, importance and knowledge. Jepp leaves with the stranger and finds a new home in Coudenberg Palace, in the court of Her Royal Highness, the Infanta Isabella Clara Eugenia. Dressed in finery, fed well, and with access to all the books he could ever dream of, Jepp's new home is an exquisite prison – for all the spoils of court life, he and his fellow dwarves are playthings for the Infanta's fickle pleasure, without agency or freedom. As one of Jepp's friends, the lovely Lia, falls victim to a heinous and unpunished crime, the naive but large-hearted Jepp vows to help her escape her gilded cage. Jepp's vow takes him on a journey fraught with heartache and hardship, as an exile and prisoner on the road. Yet, ultimately, Jepp's journey is one tempered with love and hope, as tragedy leads him to the learned court of Tycho Brahe, where Jepp becomes a scholar, an equal, and finally achieves his heart's desire.
Jepp, Who Defied the Stars is the first book I've had the pleasure of reading from journalist and Edgar Award-winning author Katherine Marsh, but it certainly will not be my last; this is a wonderful, rich novel, both eloquently written and impeccably researched. I confess that upon starting Jepp, I imagined that there might be some fantastical element to the tale – rooted in history, of course, but perhaps embellished with some magical realism – which was a complete misconception (solely my fault), as this is thoroughly a tale of historical fiction, inspired in part by the Spanish Infanta's retinue of court dwarves in the sixteenth century. Marsh's novel takes place in the Spanish Netherlands of the 1500s, paying careful attention to both the intrigue and complications of the Spanish courts, as well as the tensions and realities of the time period. And the stars! The titular stars play a part in Jepp's life, from his birth onward, especially as he makes his new home in the court of Tycho Brahe. But I won't spoil that for you.
The two strongest features of this novel stem from Marsh's surehanded writing style, and this aforementioned eye for detail – never once does Jepp, Who Defied the Stars feel overly-exposition-y, nor does it ever feel like a history lesson, gratuitously crammed with detail for the sake of detail. No, the events in this book are all narrated by our hero, the earnest – if painfully young and naive – Jepp, who comes to life as a fully believable and compelling protagonist.
Which brings me to my next point: characterization. From this perspective, Jepp also shines (no pun intended). As our hero, Jepp is earnest and forthright, and his narrative feels wholly genuine. The acts perpetrated at the Infanta's court are not ever detailed specifically, but it's because Jepp simply does not perceive the acts around him. As the story progresses, though, so too does Jepp's incisiveness as narrator – the Jepp that arrives at Tycho's court is a far different Jepp than the one that plays his part (huddling in a pie, ready to jump out in surprise as part of an act) at the Infanta's whim. No one is quite as detailed or real as Jepp, but the other characters in this piece are still convincing and layered creatures (particularly Lia and the Infanta's court dwarves).
While the characters and attention to detail are fantastic, the only real drawbacks to this novel reside with the plotting. The timeline of the novel is slightly confusing, with a reminiscent Jepp alternating between realtime and the actions that have led to his capture. I'm also not a fan of the novel's final act, and the almost too tidy and perfect conclusion to Jepp's journey. That said, this is clearly a matter of opinion and taste, so certainly this may appeal to others.
Overall, I thoroughly enjoyed Jepp, Who Defied the Stars, and absolutely recommend it as one of the best works of straight-up YA historical fiction I've had the pleasure of reading this year. I'll be on the lookout for more from Katherine Marsh in the near future.
Notable Quotes/Parts: From the official excerpt:
Our coach proceeded along a cobblestone promenade to the side of the palace and then stopped. Don sprang out, as jaunty as a grasshopper, and lifted me down after him. My legs felt stiff and my nose cold, but it hardly mattered. In front of us was a small, arched door. I peered up at Don eagerly, awaiting his instruction. "Go ahead, Jepp," he said. "Open it."

For the first time in my life, I did not have to reach up for the handle. I pushed open the little door and stepped into a white marble hall illuminated by a pair of elegant brass candelabra. Don followed me inside, hunching beneath the doorframe, and when he straightened up, I noticed that the top of his head nearly brushed the ceiling. At the end of the hall was a staircase. Voices drifted down it.

Don gestured for me to follow him along the hall and up the stairs. It was the first time I had climbed so steep and winding a staircase. Halfway up, my head began to spin and I made the error of gazing back down. I ceased my climb and leaned against the wall, watching Don take the stairs ahead of me three and four at a time. It occurred to me that, like the little door and low-ceilinged hall, they too had been fashioned for a smaller-than-normal inhabitant. "Come along," said Don from the top of the staircase, mistaking my inexperience with heights for hesitation.

I steeled myself and continued to climb until I had reached his same eyrie platform. We passed through another small door and into a second hall. The voices were louder here. They beckoned from an illuminated chamber to our right. Don bent beneath the low doorframe to enter the chamber and I followed after.

I will never forget the sight that greeted me…
Rating: 7 – Very Good, recommended
Reading Next: Midnight City by J. Barton Mitchell
Buy the Book: (click on the links to purchase)





Ebook available for kindle UK, nook & apple