"Inspirations and Influences" is a series of articles in which we invite authors to write guest posts talking about their…well, Inspirations and Influences. The cool thing is that the writers are given free rein so they can go wild and write about anything they want: their new book, series or career as a whole.
Today, we are thrilled to have Jessica Khoury over for the first stop on the official Origin Blog Tour! To celebrate the release of Jessica's debut novel, about a young, genetically engineered immortal girl, we have an excerpt from Origin, along with Jessica's thoughts on the themes, characters, or writing of that passage.
Please give it up for Jessica!

The Excerpt:
The rules. The stupid rules that have been in place for over thirty years. A list of them hangs in the lounge, in huge print, so that no one can forget. No books, magazines, or movies from the outside, unless they're science textbooks, and even those get edited by Uncle Paolo. I have biology books full of blacked-out paragraphs and defaced photos. All music played must be instrumental only, no lyrics. No one can talk about the outside world, at least not when I'm around. No maps. No radios. No photographs. Anything deemed by Uncle Paolo, as the director of Little Cam, to be a "corruptive influence" is seized and locked up somewhere, probably in Uncle Timothy's room, until its owner retires. And that's if the item isn't destroyed altogether.

~ Origin, page 24
Thoughts from Jessica:
It's definitely not a good thing that Pia is so isolated. Pia is woefully unprepared to cope in the outside world, as Paolo constantly tells her. This isn't just his way of frightening her into staying in Little Cam — it's true. By equipping Pia only with knowledge she needs to fulfill their purpose for her, the scientists of Little Cam limit her idea of how big and diverse the world is. They figure, the less she knows about the outside, the less she'll want to see it and the better she'll be able to focus on their chosen path for her. Little Cam seeks to cure the world of these issues by creating a race which will be, for the most part, impervious to them. It's as if they've already given up on mankind as it currently stands and want to move on to another, stronger race of immortals. But of course, this approach is not the answer to the world's problems, nor can any amount of genetic alteration erase the fallibility of humans. We are not perfect creatures, and only a change in our very souls can erase our darker sides. By denying Pia knowledge of issues like discrimination, poverty, or war, the scientists ignore the fact that they are rooted not in our genes, but in our hearts. This is one of the scientists' greatest errors: a fundamental misunderstanding of what it means to be perfect, and this is exactly what Pia must learn.

About the Author:
Jessica Khoury is 22 years old and was born and raised in Georgia. She attended public school followed by homeschooling, and earned her bachelor's degree in English from Toccoa Falls College. She lives in Toccoa, Georgia with her husband Benjamin, two terrible dogs and three contrary birds, and an abundance of books, shoes, and sweet tea. When not writing, she's usually directing stageplays or coaching soccer. She began writing at age four and has dreamed of being an author ever since. Origin is her first novel.
You can read more about Jessica on her website, or follow her on blog and twitter (@jkbibliophile).
About the book:
For more about the book, make sure to check out the official website, origin-book.com, the book trailer, or facebook page.
You can also follow Breathless Reads online on Breathless Reads Facebook, Tumblr, or check out the official Breathless Reads Scribd Samplr.
About the Blog Tour: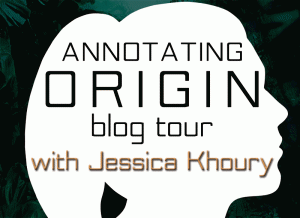 Also make sure to check out the stops on the official blog tour!
Monday 8.27 – The Book Smugglers
Tuesday 8.28 – Pure Imagination
Wednesday 8.29 – Steph Su Reads
Thursday 8.30 – Mundie Moms
Friday 8.31 – Forever YA
Monday 9.3 – Novel Thoughts
Tuesday 9.4 – Page Turners
Wednesday 9.5 – Frenetic Readers
Thursday 9.6 – Bookshelf Banter
Friday 9.7 – The Story Siren
Monday 9.10 – Green Bean Teen Queen
Tuesday 9.11 – The Book Muncher
Wednesday 9.12 – The Book Cellar
Thursday 9.13 – Book Chic
Friday 9.14 – The Compulsive Reader

The Giveaway:
We have ONE copy of Origin up for grabs! The contest will be open to addresses in the US only, and will run until midnight on Sunday September 2 at 12:01am EST. In order to enter, use the form below. Good luck!