Hello everyone and Happy Sunday! Thea here, reporting from a very, very hot New York.
Let's dive right in, shall we?
ARCs and Librarians and Bloggers! Oh My!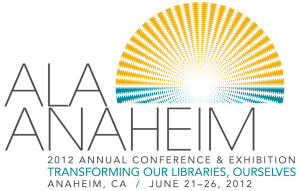 If you've been around the blogosphere these past two weeks, you've likely read the continued post-ALA fallout concerning ARCs, professional shows, librarians, and bloggers. Most notably, this week PW published this article, highlighting the increasing problem of ARCs getting snatched up by rude, greedy "non-professionals" (aka bloggers) at professional shows.
We understand where the ire is coming from. We know that librarians fill a vital part of the publishing ecosystem and admire them as invaluable gatekeepers that introduce readers to books. We love and respect librarians and all that they do for reading and for readers everywhere.
We DO NOt love the caustic tone toward bloggers (observed in the comments of the PW post, and on Twitter over the past few days) – who are portrayed as rude, unprofessional, and apparently only in it to brag about their impressive haul of ARCs. We do not appreciate the one-sided shaming of book bloggers that is going on, and we feel like we HAVE to step in and speak up for our fellow bloggers.
So, what do we think?
We think that the PW article was incredibly one-sided, disregarding bloggers' perspectives entirely. It was mostly based on Kelly Jensen's post at Stacked – the post that kicked-off this conversation – and it mentions the now infamous 22-minute video uploaded by a blogger (The Lost Lola) talking about the ARCs she and her sister collected at ALA. But the PW article completely fails to mention The Lost Lola's well-reasoned response.
We think that the witnessed horrible behavior on both sides of the line was a wake-up call for all of us. Librarians attacked bloggers, bloggers defending themselves by attacking librarians in return, librarians attacked other librarians (all now known as #ARCGate on Twitter). We had not realized the extent of the ill-feelings we all had harbored toward each other, apparently.
We think that we're all on the same team. We think that bloggers are an invaluable part of the same publishing ecosystem in which librarians play a vital role. Beyond our role as reviewers and critics, we think that bloggers also help spread buzz, awareness, and create some much needed excitement around books. Both of us Book Smugglers are thrilled when we go to BEA or Comic Con or any other conference, trade show or bookish event – not because of "free" books that we can brag about (please, do you have any idea how much it costs us to fly to these shows, take time off of work, and pay for passes?!!?! You think we do all of that for a few "free" ARCs?! DON'T MAKE US LAUGH, INTERNETS.), but because we meet so many fantastic bloggers, authors and publishers, and get hyped up about the thing that we love most of all: BOOKS.
ARCs are just as important to book bloggers as they are to librarians. ARCs are one of the main tools that a publicist or marketer has in their arsenal to build awareness and get the word out for a book, and a lot of this is through bloggers and reviewers. Over the past few years, we have tried to establish the importance and professionalism that book blogging can achieve. Getting ARCs, blogging about them, and potentially reviewing them can be a huge milestone for achieving this level of professionalism for bloggers. Are there cases where bloggers go over the top with the number of ARCs they get? Maybe – but who exactly gets to decide what is over the top? What is an "ideal" or "acceptable" number of ARCs? Both of us Smugglers frequent trade shows and we bring home a large number of ARCs each – surely a number that would be labeled as "greedy" by many of the recent commenters.
Ana & Thea's BEA 2010 ARC Haul
Our view is simple: as long as these books are being talked about, showed off, reviewed or yes, even given away, it is ALL good. We believe it is very telling that publishers did not wish to comment for the PW article because we have no doubt that in their minds, their mission – to get their books talked about! – has been achieved. There are those who seem to think that one reason for limiting ARC distribution is that bloggers sell books illegally (something we've never done, and we don't know any bloggers that would do this, but it's an argument we hear ALL THE TIME). The people that cling to this argument have obviously never been to places such as the famous Strand book store in NY where ARCs are shelved and sold (or even some library store sales, where we've seen ARCs for sale, for that matter).
We do think that some very valid points have been raised in the course of the conversation, and we understand that librarians feel like they are being pushed out of their own conference and have been denied the tools they need to do their work. But isn't this the fault of the conference creators and not the bloggers? Instituting a higher entrance fee for bloggers and other non-professionals and limiting access to the show are some interesting viable alternatives to help solve this problem. But we fail to see why enterprising, organized, excited bloggers are getting persecuted for something that is in the hands of show organizers.
And, to answer all of the vitriolic questions out there asking, why do bloggers want to go to a professional show for librarians, anyway? People. The answer is simple.
Why do you think bloggers, such as ourselves, spend countless hours reading, writing posts, working what is essentially a second full-time job? We certainly aren't making a ton of money off of this (if we make any money at all).
WE DO IT BECAUSE WE LOVE BOOKS. We love reading. We will willingly fork over hundreds – if not thousands! – of dollars a year to buy books, to travel to trade shows and events, to pay for costly webhosting fees and more. We do it all because we love books that damn much. Isn't that what it all comes down to, after all?
And on that note, let's talk about books.
This Week on The Book Smugglers:
On Monday, we continue the love for Seraphina (one of Thea's favorite novels of 2012) with a guest post from the author PLUS a chance to win a copy of the book.
Tuesday, Thea tackles another of her most highly anticipated novels of the year with a review of House of Shadows by the infinitely talented Rachel Neumeier. We'll also have a guest post from Rachel and a chance to win the book.
On Wednesday, Ana reviews Some Kind of Fairy Tale by Graham Joyce.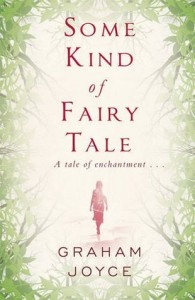 And on Thursday, Ana's back with a review of Fly By Night by Francine Hardinge.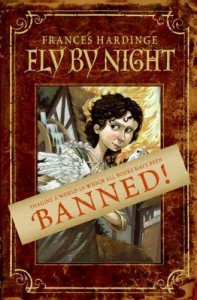 On Friday, we close out the week with a joint review of another highly anticipated title – the charming middle grade sequel to Aliens on Vacation, one of our unexpected favorites last year, Alien on a Rampage by Clete Barrett Smith.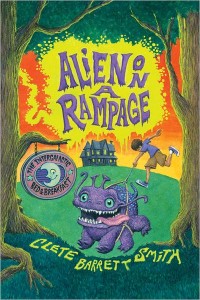 That's it from us for now! Until tomorrow, we remain…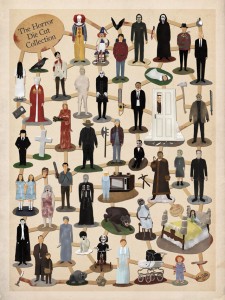 The Horror Die Cut Collection by Max Dalton
~ Your Friendly Neighborhood Book Smugglers