"Inspirations and Influences" is a series of articles in which we invite authors to write guest posts talking about their…well, Inspirations and Influences. The cool thing is that the writers are given free rein so they can go wild and write about anything they want: their new book, series or career as a whole.
Hello everybody! Today's I&I guest is Rachel Hartman, author of the fabulous Seraphina, one of Thea's favorite novels of 2012 thus far. Rachel is here today talking about the musical inspiration for the novel.
Please give it up for Rachel!

Five Albums in Seraphina, and One for the Road Ahead
A lot of music went into Seraphina. I don't just mean the storyline, although it's there too. Seraphina is assistant music mistress at the palace, after all; she plays flute and oud and teaches the princess harpsichord. The passages about her musical performances were some of my very favourite to write.
I listened to music almost constantly while writing Seraphina. I'm the sort who puts a single song on infinite repeat, but I also like playing whole albums straight through. The latter imparts a sense of forward motion, as the songs pass in sequence, and that in turn keeps me moving. Here are the five albums I listened to most while I worked, plus the one that has helped me go forward from there.
Fish Out of Water, by Chris Squire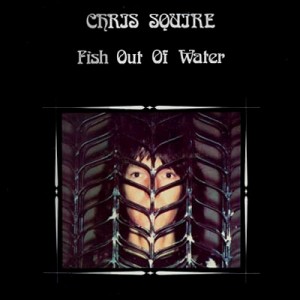 I have a thing for Chris Squire, I admit. He plays bass and sings backup for the prog rock band YES. I like his voice almost as much as his bass playing. I would describe his voice as humane, although I'm not sure what I mean by that. In YES, his voice provides a nice earthy counterpoint to the flutey lead singer, but I like it on its own too, apparently. This solo effort dates from 1975 but feels timelessly baroque in its textures. It's what I listen to when the blank page intimidates me, when I need something to stave off doubt and keep me grounded. Which is fairly often, alas.
Sol y Sombra, by Chatham Baroque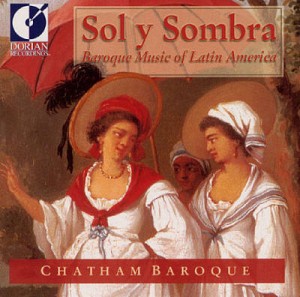 Baroque music usually brings to mind European masters like Bach, Vivaldi, or Handel, but composers in Latin America wrote music during the same era with a flare all their own. This album is a compilation of their chamber music and songs. It's the album I turned to when I wanted to write about music – especially dance music – at the Goreddi court. I know it's not the same period as my fantasy world, but there's a particularly lively undercurrent to Latin American baroque, and that's the mood I needed.
Ame, Corps et Desir, by Karen Young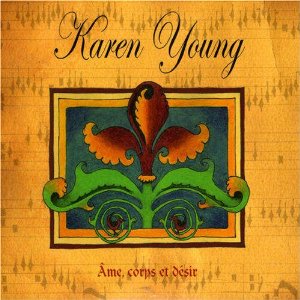 I stumbled upon this album by chance. I was listening to the CBC in my car when some haunting, ethereal polyphony came on. I am not usually patient enough to try to make head or tail of new polyphony while driving, but this was different. This had drums and bass guitar and… ululations? Utterly captivated, I drove several blocks out of my way just to learn the name of the artist: Karen Young. She'd combined fourteenth century polyphony with jazz instrumentation. It shouldn't have worked, and yet it was transcendent. I hunted down the album, and it's my go-to music for evoking Medieval grandeur, especially the cathedral.
Images and Words, by Dream Theater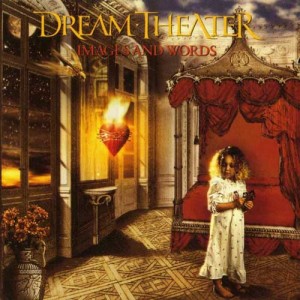 This is prog metal with thought-provoking lyrics; the first song evokes Hamlet, of all things. I listened to Dream Theater at points where the writing was difficult and I had to muscle my way through, or times when my characters – particularly Seraphina – needed to be fierce. But it's not all raging (but intellectual) metal. The song "Waiting for Sleep" evokes loneliness and sorrow and, in the end, comforting; I had a lot of use for that, too.
Invisible Fields, by Iarla O'Lionaird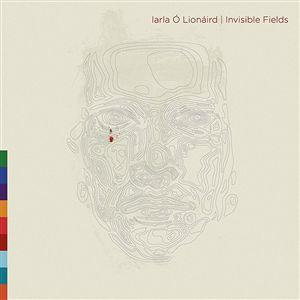 If you've heard of Iarla O'Lionaird at all, it's probably as one of the lead singers for Afro-Celt Sound System. I found him from a different direction: my husband is a fan of the traditional Irish singing called sean nós, literally "old style." It's sung a capella and solo, with elaborate vocal ornamentation, and the songs are often plaintive, but sometimes humorous. O'Lionaird has been a practitioner of this style since childhood, when he was considered something of a prodigy. In his solo albums, he combines sean nós with atmospheric backgrounds. I'm not religious by any stretch, but this music is church to me. I listened to it whenever my writing required me to tap into the very deepest part of myself, or when I was feeling burned out and needed a balm for my heart.
So those were the albums that saw the most play while I was writing Seraphina. It turns out that being finished with a novel presents its own challenges: anxiety over how it will be received; a strange, lost feeling; excitement alternating with dread. Music can speak to all those states. Here's the album that's been speaking to me most recently:
Please Don't Touch, by Steve Hackett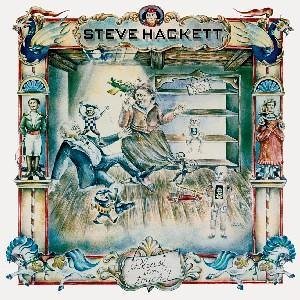 Hackett was the guitarist for Genesis; he left the band in '77 and made this album in '78. That's right, I've come full circle, back to prog rock solo albums of the seventies. This one is a strange hodgepodge, but it reflects the many weird moods of waiting for a book to come out. There's a sunny song called "Narnia" that makes me want to skip along, and then later on Icarus laments, "There are many places I would rather be." A carnivalesque tune sung by manic gnomes mocks the unrelenting grimness of ater instrumental pieces. "Racing in A" is a song about burnout, of all things, ending with a classical guitar solo that evokes Vivaldi. My favourite song, however – and if you take one thing away from this eccentric list, let it be this – is called "How Can I?" It's folkier than I usually like, but guest-singer Richie Havens's voice is warm, deep, and comforting. It's a calm, obscurely hopeful piece, gently questioning impatience and despair. It's just the thing to soothe the nervous writer as she waits for her book to come out into the world.
About the author: Rachel was born in Kentucky, but has lived a variety of places including Chicago, Philadelphia, St. Louis, England, and Japan. She has a BA in Comparative Literature, although she insists it should have been a BS because her undergraduate thesis was called "Paradox and Parody in Don Quixote and the satires of Lucian." She eschewed graduate school in favour of drawing comic books. She now lives in Vancouver, BC, with her family, their whippet, and a talking frog and salamander (who fight zombies)(really. There are a lot of zombies in the Pacific Northwest).YOu can read more about Rachel at her website.

Thanks, Rachel! And now for…
The Giveaway:
We have a copy of Seraphina up for grabs! The contest is open to ALL and will run until Saturday July 14 at 12:01am EST. In order to enter, leave a comment using the form below. Good luck!