After a few disappointing reads in the past few weeks, I was in need of some well-deserved comfort reading and some laid-back review-writing. So, I turned to the always reliable Diana Wynne Jones.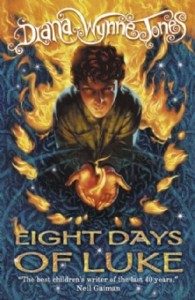 Title: Eight Days of Luke
Author: Diana Wynne Jones
Genre: Fantasy, Young Adult, Norse Mythology
Publisher: Harper Collins
Publication date: First published 1977
Paperback: 203 pages
It's summer vacation, but David's miserably stuck with his unpleasant relatives. Then a strange boy named Luke turns up, charming and fun, joking that David has released him from a prison. Or is he joking? He certainly seems to have strange powers, and control over fire…

Luke has family problems of his own, and some very dark secrets. And when David agrees to a bargain with the mysterious Mr. Wedding, he finds himself in a dangerous hunt for a lost treasure, one that will determine Luke's fate!
Stand alone or series: Stand alone
How did I get this book: Bought
Why did I read this book: I love Diana Wynne Jones' books and when I read The Other Ana's review recently, I IMMEDIATELY bought the book.
Review:
Young orphan David dreads the upcoming summer holidays as he will be stuck with his horrible relatives. When he meets the charming and friendly Luke he is willing to oversee the fact that Luke doesn't operate under the same rules as everybody else. But then things start to get dangerous and a Mr Wedding shows up offering David a bargain…one that will determine Luke's faith and will send David on a quest for a missing treasure.
As usual, this is a freaking brilliant DWJ novel. Even though I expected no less given The Other Ana's review, I was completely taken by surprise by how good it was. The elements of the quest, the bargain with Mr Wedding, it is all very cleverly done without being obvious. It always fascinates me how DWJ never underestimates the children she is writing for; and David is written in a way that makes his smarts completely believable and therefore possible for me to buy into the idea that he would face head on some of the wisest, smartest characters in Norse Mythology without it coming across as ridiculous.
The book is a reworking of Norse Mythology, featuring some of my favourite Norse characters in prominent ways. If you know anything about Norse Myths, you will be able to guess who exactly Luke is the minute he shows up. David is at first oblivious of all of this, but as he meets more members of Luke's family, and as he spends time on his quest, he slowly begins to realise who he is dealing with. I really appreciated how the author is able to show how complex the relationships between family and friends can be even when one of them turns out not to be entirely good.
More than anything though I loved how the book is about families and how it addresses David's own horrible family. Their treatment of him is terrible, they obviously don't like him and still they expect David to be grateful. David is no martyr though and he is fully aware of the mistreatment he receives and he is angry about it as he should be. And the way one of the family is able to break away from the vicious circle and help David was really awesome. Loved this book folks, and really recommend it.
Notable Quotes/ Parts: No quotes but can I just include ONE image which is kinda of spoilery but I just have to as it fits really well with the book.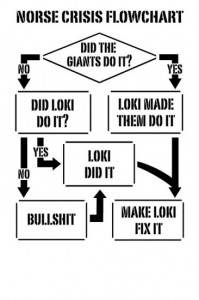 Rating: 8 – Excellent

Author: Diana Wynne Jones
Genre: Fantasy, Young Adult
Publisher: Harper Collins
Publication date: First published 1982
Paperback: 302 pages
SOMEONE IN THIS CLASS IS A WITCH

When the note, written in ordinary ballpoint, turns up in the homework books Mr Crossley is marking, he is very upset. For this is Larwood House, a school for witch-orphans, where witchcraft is utterly forbidden. And yet magic keeps breaking out all over the place – like measles!

The last thing they need is a visit from the Divisional Inquisitor. If only Chrestomanci could come and sort out all the trouble.
Stand alone or series: Book 3 in the Chrestomanci series
How did I get this book: Bought
Why did I read this book: I love this series and I have been slowly reading it. Next up: The Lives of Christopher Chant
Review:
SOMEONE IN THIS CLASS IS A WITCH says the anonymous note found by Mr Crossley amongst the books he was marking at the Larwood House boarding school for witch orphans. It is a Very Serious note as in this world, witchcraft is forbidden. What shall people do? Keep it a secret, start an investigation, call the inquisitors? Well, this being a boarding school and all, secrets can not be kept for long and soon gossip spreads and teachers and students start to turn on each other. Plus, there might be more than ONE witch. HECK, there might be more than TWO. But this is a book in the Chrestomanci series after all – so really, who you gonna call?
Witch Week is the third book in the Chrestomanci series and OH MY GOD, I can't even describe how awesome it is. It has so many different threads and even, different narratives: parts of it are the students' journal entries and you should know by now how much I ADORE epistolary narratives and each student has a voice and each journal entry is awesome in the way that it shows each of these students' personalities but also how HORRIBLE this world is in terms of prejudice against witches and how dangerous it can be for the budding witch to grow up without knowledge of what they can or can not do. *pauses for breathing* This is a very clever, deeply complex story with several points of view narrative as well – teachers, students – and each has a different view of what is happening and why. It is kind of fun yes, but also very serious and OMG trust DWJ to have so much head hopping without turning the book into a mess. Beyond that, the book also deals with the very grave subject matter of bullying and how it affects the lives of these kids. One of the kids is Nan, a girl at the lowest end of the pecking order and she has this fantastic observation about it:
I do not know if 2Y is average or not, but this is how they are. They are divided into girls and boys with an invisible line down the middle of the room and people only cross that line when teachers make them. Girls are divided into real girls (Theresa Mullett) and imitations (Estelle Green). And me. Boys are divided into real boys (Simon Silverson), brutes (Daniel Smith) and unreal boys (Nirupam Singh). And Charles Morgan. And Brian Wentworth. What makes you a real girl or boy is that no one laughs at you. If you are imitation or unreal, the rules give you a right to exist provided that you do what the real ones or brutes say. What makes you into me or Charles Morgan is that the rules allow all the girls to be better than me and all the boys better than Charles Morgan. They are allowed to cross the invisible line to prove this. Everyone is allowed to cross the invisible line to be nasty to Brian Wentworth.
And of course, there are stereotypes but also subversion of those and even the very real truth about how being so bullied and how being afraid all the time impacts on someone's character development and so on and so forth. There are great character arcs and relationships that develop between characters. And them Chrestomanci shows up and it all becomes even more cool BUT then there is the ending which is the only thing preventing me from giving this book a 10.
ATTENTION: SPOILERS SPOILERS! Because I felt the ending negates basically everything that went on before by erasing these kid's lives – literally – when Chrestomanci discovers that their horrible world is not supposed to exist. Although I appreciate the idea that a prejudiced world should not exist, wouldn't it be better to deal with the prejudice, to address it?? The resolution – as well done and clever as it was – left a sour taste in the mouth.
Still, Witch Week is a delight to read and my favourite Chrestomanci book so far even with my dissatisfaction with how it ends.
Rating: 8- Excellent
Additional Thoughts:
It is not going to be easy to talk about this. I LOVE DWJ's books, I think they are absolutely brilliant and it is really hard to criticize those books that I love so much. But I think I kinda came across something in these books that makes me really uneasy: a certain pervasive disdain for fat characters. I had noticed before in other books but always put it down as me being too critical. But reading these two in a row made it REALLY plain and obvious and I asked myself: is there a certain fat-phobia in these books? Cause I think there is. There are fat characters in most of her books and unfortunately they are not really presented in a positive, fat-acceptance, diversity-is-good way, you know? It is always "she is pretty…but fat" or "smart… yet fat". And sometimes, when we are talking about a villain or someone that is not sympathetic or a minor character, the way these characters are described, it is really quite harsh and uncomfortable. There is one scene in Witch Week that made me really uncomfortable and even though the thoughts described below belong to a character who is kind of a problem-kid, this scene is so completely pointless and random, I have no idea why it even needed to exist:
"Charles could see the thin boy's fingers digging into the girl's fat when his arm was round her. He wondered how anyone could enjoy grabbing, or watching, such fatness."
This is only but one example and I don't like it. I really don't. And it utterly devastates me to be even writing about it.
Is this fat-phobia a Thing? Am I imagining it? Has anyone noticed this? Comments are welcome.
Reading next: Struck by Jennifer Bosworth
Buy the Book:
Eight Days of Luke:
Witch Week: