Title: Blind Spot (in the anthology Must Love Hellhounds)
Author: Meljean Brook
Genre: Paranormal Romance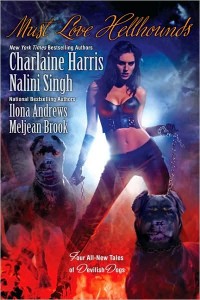 Publisher: Berkley Trade
Publishing Date: September 2009
Pages: less than 100
Stand Alone/ Series: A standalone story set in the Guardian's universe.
Why did I read the book: I have read all the books and novellas in this series, because they are THAT good.
How did I get the book: Review copy from publisher
Review:
I can always count on Meljean Brook to deliver a good story. I have read all of her novels as well as all of her novellas and she is very successful in writing both formats.
Blind Spot starts after the events of Demon Forged. Maggie Wren, a secondary character in that novel is now working for Colin Ames-Beaumont as his butler. He sends to her New York accompanied by Sir Pup (the hellhound) to aid his many times great-Nephew Geoffrey Blake in finding his missing sister Katherine. Maggie is a highly qualified former CIA operative and prepared to take care of this problem especially given as how the problem may be connected with her own past. What she did not know was that Geoffrey is a problem solver himself, working for the family business' Ramsdell Pharmaceuticals. He also happens to be blind – a fact Colin failed to mention and which surprises Maggie. But being a member of Colin's family means Geoffrey's blood is tainted by Dragon's blood giving him a very special ability.
I really liked this story. After the VERY dark Demon Forged it was great to see a story set in the same world but a little lighter. Of course, Maggie and Geoffrey are dealing with dangerous villains but the tone is much less heavy. Not only because the story is mostly a character piece with little connection with the overall story arc (no word of what is happening with the Guardians for example or with Michael) but also because of Sir Pup – he is a delight to read. A Hellhound with 3 heads and a sense of humour. Awesome.
Plus, in a world populated by Guardians, Demons, Vampires it is very refreshing to see a human couple taking the centre stage. The story takes place over a few hours and I love that Meljean Brook does not force a full-blown relationship down our throats. These two have a clear mission and they are working together towards it. As they move around the country, each of them is revealed to the reader – their past, their issues, their personalities. I loved for example the difference in background: Geoffrey coming from a huge, loving traditional family whilst Maggie was a loner. The prospect of being part of a family is one thing that he can offer her. Plus, I adored how Colin played a role here and how we see another side of him – the whole "Winters" thing was adorable.
It is plain that Geoffrey already knew Maggie and had a crush on her, but they only just barely got to know each other. And this is the great thing about Blind Spot: by the end of the novella, even though there were no words of love uttered, even though they only kissed twice, the promise is there and I know enough about each of them to believe that there is a HEA for them somewhere in the future.
And once again Meljean Brook delights me with fabulous last lines to close the story : it refers back to Maggie's thoughts about caring x being careless, completing her character arc and revealing the well-thought out (short) journey the author granted us with.
Notable Quotes/ Parts: I loved this passage:
"Who was this man? Was he for real? Her fingers were clumsy as she unbuttoned the cuffs of her sleeves. What kind of person offered trust like this? Acceptance? She wasn't family. Their only connection was one of the few impulsive acts Maggie had performed in her lifetime. She wouldn't even matter to him.

And yet…his acceptance and trust had begun to matter to her, too. It must have, because her throat was aching, and she wanted to say "Thank you" in return.

But as she moved toward the bathroom, she only said, "You aren't at all what I expected, Mr Blake."
Additional Thoughts: Blind Spot is only one of four stories in the Must Love Hellhounds anthology. The other three are:
Angels' Judgment by Nalini Singh – part of her Guild Hunter series. I plan to read this story next.
And two other stories which are part of series I do not read and I have no plans to read them.
"The Britilingens Go to Hell" by Charlaine Harris (note: NOT a Sookie Stackhouse story) and "Magic Mourns" by Ilona Andres (set in the Kate Daniel's universe)
You can check other reviewer's thoughts about these stories here:
SciFi Guy's
Janicu's
Mandi's
Babbling About Books and More
Verdict: Blind Spot is a good, solid character-centric story of two interesting people. Even though it is connected with the world of the Guardians it is not essential to the overall story arc. As a die-hard fan of the series though, it is essential to my keeper shelf. But then again, I basically devour any morsel of writing that Meljean Brook deems to throw at me.
Rating: 8 – Excellent
Reading Next: The Dust of 100 Dogs