Title: Skinned
Author: Robin Wasserman
Genre: Speculative Fiction, Dystopian, Young Adult
Publisher: Simon Pulse (US) / Simon & Schuster Children's (UK)
Publication Date: September 2008 (US) / August 2009 (UK)
Paperback: 384 pages
Stand alone or series: Book 1 in a planned Skinned Trilogy.
Why did I read this book: Post-Apocalypse Dystopian YA title? Check. Searing questions of humanity? Check. Machines versus people? Check. Seriously…how could I refuse? The question, rather, should be – what took me so long to read this book?
Summary: (from amazon.com)
Lia Kahn was perfect: rich, beautiful, popular — until the accident that nearly killed her. Now she has been downloaded into a new body that only looks human. Lia will never feel pain again, she will never age, and she can't ever truly die. But she is also rejected by her friends, betrayed by her boyfriend, and alienated from her old life.
Forced to the fringes of society, Lia joins others like her. But they are looked at as freaks. They are hated…and feared. They are everything but human, and according to most people, this is the ultimate crime — for which they must pay the ultimate price.
Review:
Lia Kahn is dead.
I am Lia Kahn.
Therefore — because this is a logic problem even a dimwitted child could solve — I am dead.
Except here's the thing: I'm not.
Lia Kahn had the world. She was beautiful, driven and smart. Born blonde and blue-eyed from a gene depository hand-tailored by her parents, Lia was the kind of girl that the world revolved around – apple of her parents' eye, darling of her high school, a sister, a friend, and a girlfriend. But then one day when she reluctantly agrees to cover for her underachieving sister Zoie at her job, Lia is in a freak car accident. In a series of improbable, unfortunate events, her car's self-driving mechanism crashes headlong into a truck and Lia is horribly injured and burned alive.
Then, she wakes up.
Lia knows that she has died. She can think but she cannot move her body or open her eyes or speak. Gradually functions return to her body and she's able to communicate by blinking her eyes, and then by a machine hooked up to her brain. She sees the extent of her injuries, and the face in the mirror looking back at her is not her own. Lia has become a skinner, a mech, an automaton programmed to think it is human with Lia Kahn's memories. The new Lia feels and acts as herself, her downloaded silicone brain a perfect replica of Lia's organic one. When her family, friends, and boyfriend turn away from this new Lia skinner, she must come to terms with what has happened to her, and what she is. Is she human or machine? Is she even Lia anymore?
Robin Wasserman's Skinned will draw obligatory comparisons to Mary E. Pearson's outstanding novel The Adoration of Jenna Fox as they are very similar in concept, though they differ wildly in their execution. Though Skinned isn't as polished, stylistically beautiful or lyrically haunting as Ms. Pearson's take, Ms. Wasserman's novel is more overt and forceful – which is both good and bad. Skinned, narrated in the first person by Lia, is a tale of self-discovery at its heart. Dead and reborn, Lia struggles with big concepts – what does it mean to be human? What does it mean to be Lia? She has all of her memories and thinks with Lia's brain, but her engineered body of wires and gadgets do not resemble her old form in any way. Of course, there's the anti-skinner sentiment from friends, family and strangers which is to be expected and about as subtle as a hammer over the head in its execution (there's even a religious fanatic element, violently opposed to these mechanical aberrations). This storyline lacks finesse, broadly retreading very familiar sci-fi territory.
But, there are a few interesting questions that the novel quietly raises (unconsciously, perhaps): humans in Lia's rich and privileged world have test-tube babies, with genomes hand selected with traits they desire (boy/girl, hair/eye/skin color, intelligence, beauty, a family physical trait, emotional empathy, etc). There's a degree of uncertainty with some of the non-physical traits, but children are made to order in this dystopian vision of the future. Too, at one point Lia argues with her track coach about those on the team with robotic body parts who are not discriminated against as Lia is. So, the question (that is never asked but implied) isn't just 'what is human?' but rather 'what is the defining limit of human?' There's also a blink-and-you'll-miss-it touch on race in this dystopian view of the future when discussing the skinners other than Lia – those who were experimented on to become the first mechanized creatures. Unfortunately, Ms. Wasserman doesn't explore these issues very much at all in Skinned, though I'm hopeful these are topics that will be touched on in the second book.
Far more interesting than the tired and somewhat ham-handed discrimination angle is the storyline of Lia's inner struggle. As a character, Lia is a spoiled princess brat. She's pretty and rich and popular, and as those traits are wont to breed, Lia is a shallow bitch. When she finds herself displaced from her position atop the social totem pole at school, however, Lia learns that there is more to life than setting fashion trends and going to parties, and she begins to tap her own unexplored emotional depth. Though it's hard to sympathize with Lia initially, I have to applaud the author for creating a normal, self-obsessed teenage girl. Like the brats on The Hills or other insipid MTV or CW shows, Lia resonated as real because she was infinitely believable as a self-entitled snob. For all Lia's faults, she isn't a too good to be true heroine – she simply is who she is, and she felt like a genuine character because of that. As Lia discovers that her old "friends" want nothing to do with her, and she forms a new friendship with outcast Auden, Lia grows and changes. She questions whether or not she should try to be human or join the team of other skinners, embracing her differentness. Lia questions herself, her role in life, and most especially, her role in her family.
Which brings me to my favorite part of Skinned – the volatile, rocky relationship between Lia and her younger sister Zo. When Lia returns from the hospital, she finds that her unmotivated and unpopular younger sister has usurped her throne of teen royalty at school. Zoie sets trends, she steals Lia's friends, and Zo rubs it in Lia's face at every turn. Zoie's motivations are layered and though it seems like she's simply being a bitch, I relished in the confrontation the two sisters finally have in the novel. Of all the characters in this book, Lia and Zo are the two standouts.
I should also mention that Skinned is a dystopian, post-apocalyptic novel set in a version of the future where nuclear war has decimated the Middle East, and radiation and disease has claimed all of the major cities of the United States (and presumably the world). The atmosphere is destroyed as the world is covered by constant gray clouds and plunged into cold. A select few – those rich and influential enough – have escaped the cities and live out cushy lives in a futuristic version of suburbs; but the rest of the population scrounges in the ruins, mutated, hungry and without energy. This vision of the future is a bleak one, and especially effective since it's told through the perspective of a rich kid who doesn't know – nor does she care – much about the outside world. It's a cold, cruel hierarchy and one that I desperately hope is covered more in depth in the next book. We get a few tantalizing glimpses at the ruinous cities, a taste of how those who grew up there have had to live, but I want so much more.
Finally, what's a YA speculative fiction novel without its Obligatory Romance? Yes, Skinned has one of these – heck, it's even a triangle of sorts. But, it's a bit of a twist. Auden, the geeky outcast boy from Lia's school, befriends her instantly and crushes on her (of course). Lia, however, wants nothing to do with Auden romantically. Then, there's Jude, the original skinner who leads a group of mechs just like Lia, helping them embrace the new creatures that they are – not human, but not machine either. The usual yawn-inducing romantic shenanigans ensue. BUT – unlike other paranormal teen romances, however, these are very flawed characters, playing out some bitter roles. I like that Skinned doesn't end happy for anyone involved – especially Auden and Lia, and I give Ms. Wasserman major kudos for that.
It wasn't a perfect book and walks on well-trod ground, but Skinned is a worthy read in its own right. And I am eager to see what happens in the next novel, Crashed.
Notable Quotes/Thoughts:
"So, what's it like?" Walker asked, crossing the room. To the bed—to me. He sat down on the edge, leaving a space between us. "Can you, like, feel stuff?"

"Yeah. Of course." If it counted as feeling, the way the whole world seemed hidden behind a scrim. Fire was warm. Ice was cool. Everything was mild. Nothing was right.

I held out a hand, palm up. "Do you want to . . . ? You can see what it feels like. To touch it. If you want."

He lifted his arm, extended a finger, hesitated over my exposed wrist, trembling.

He touched it. Me.

Shuddered, snatched his hand away.

Then touched me again. Palm to palm. He curled his fingers around the hand. Around my hand.

"You can really feel that?" he asked.

"Yes."

"So what's it feel like?"

"Like it always does." A lie. Artificial nerves, artificial conduits, artificial receptors, registering the fact of a touch. Reporting back to a central processor the fact of a hand, five fingers, flesh bearing down. Measuring the temperature, the pressure per square inch, the duration, and all of it translated, somehow, into something resembling a sensation. "It feels good."
You can read the full excerpt online HERE.
Additional Thoughts: Skinned isn't the first book or work of science fiction to explore the question of humanity, and though it's a good book it's not the first I would recommend to those looking for a good futuristic read that questions the definitions of "human." I'd encourage readers to try Mary E. Pearson's poignant (not to mention beautifully written) The Adoration of Jenna Fox first, or to give M.T. Anderson's Feed a try.
That said, I really did enjoy Skinned and look forward to the second book in the trilogy, Crashed. Check it out: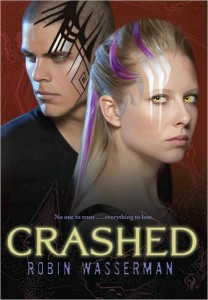 No one to trust… everything to lose.

Before the accident, Lia Kahn was happy.
Before the accident, Lia Kahn was loved.
Before, Lia was a lot of things: Normal. Alive. Human.

Lia no longer lives in before. Six months after the crash that killed her, six months after being reborn, Lia has finally accepted her new reality. She is a machine, a mech, and she belongs with her own kind. It's a wild, carefree life, without rules and without fear. Because there's nothing to fear when you have nothing left to lose.

But when a voice from her past cries out for revenge, everything changes. Lia is forced to choose: between her old life and her new one. Between humans and mechs. Between sacrificing the girl she used to be and saving the boy she used to love.

Even if it means he'll hate her forever.
Check out the book trailer for both books below:
You can catch an excerpt of Crashed online HERE. Crashed hits stores in the US on September 8, 2009 from Simon Pulse.
Also, there's a new movie coming out that you may or may not have seen posters and trailers for – and it's very Skinned in theme. (Actually, it's very similar to a short story I read last Halloween in The Beast Within anthology, "SQ 389? by David W. Hill) (Actually the second, it's based on a graphic novel titled The Surrogates)
Check it out (click images for full size):
(I love that both of the models for the billboards look like Angelina Jolie and David Beckham – there's one that looks kinda like Heidi Klum too)
My only qualm with the preview? Bruce Willis' HAIR! GAAH!
Rating: 7 Very Good – but there's room for improvement. I eagerly await Crashed!
Reading Next: The Strain by Guillermo del Toro and Chuck Hogan