In preparation for the release of one of the most highly anticipated titles of the year, Veronica Roth's Insurgent, you may have noticed that a number of folks around the blogosphere have started choosing factions. We're thrilled to be a part of the Insurgent book release tour, repping the Abnegation Faction. As you know, Thea loved Divergent (it even made her top 10 of 2011).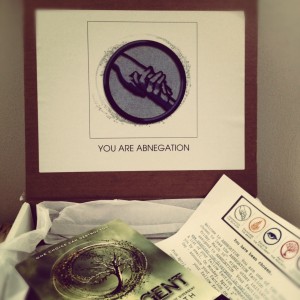 Ta-da! Team Abnegation came in the mail!
Abnegation values selflessness in the service of others. They are volunteers, community service workers, and eschew anything that draws attention to them.

I will be my undoing
If I become my obsession.

I will forget the ones I love
If I do not serve them.
~From The Abnegation Faction Manifesto
We are thrilled to be involved in Divergent Nation and love the idea of bloggers being assigned factions. Heck, we love it so much that Thea even made it one of her final projects last fall at an NYU book publicity presentations. (Guess it had to have been a good idea, if Harper Collins decided to pick it up, right?) Interested in choosing a faction for yourself, on this very special faction choosing day? Give Abnegation a try by checking out our Faction Blog.
If you choose Abnegation as your faction, you'll be in good company. Check out our fellow Abnegates:
Divergent Examiner
The Divergent Trilogy
I Am a Reader Not a Writer
Icey Books
Katie's Book Blog
Mundie Moms
My 5 Monkeys
Reading Writing Breathing
Stacked
So how do you choose Abnegation and support us above all other factions? Simple. You vote for Abnegation by clicking on this link:
Yeah, this link doesn't actually take you anywhere cool. BUT if you click it, your clicks will be measured by The Internet Powers That Be. Who knows what they will do with the clicks?
And Now For The Giveaway:
In the spirit of selflessness, the motto of the Abnegation Faction, we've got a copy of Divergent and Insurgent up for grabs. The giveaway is open to ALL and will run until Saturday April 14 at 11:59PM (PST). In order to enter you need to vote for Abnegation, which you can do in 1 of 2 ways:
1. Click on the Vote Abnegation link and leave a comment here saying you did;
2. Donate to any cause you think is worthy (you can donate a book to your local library, or a dollar to a charity of your choice) and leave a comment here letting us know what your selfless deed of the day is.
We're on the honor system here, so we'll take you at your word that you've donated or clicked. We're fellow Abnegation faction members, after all, right?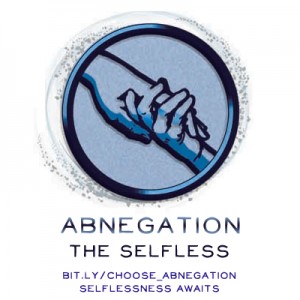 Good luck!