Today, we welcome you to our very own launch party for the third novel in Lisa McMann's "Wake" trilogy! First, we offer a double feature review of Fade and Gone. Then, we invite YOU dear readers to enter our international giveaway for the chance to win one of TEN copies of Gone!
Fade (Book 2 in the "Wake" Trilogy)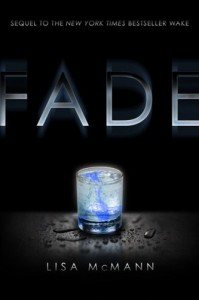 Publisher: Simon Pulse
Publication Date: February 2009
Hardcover: 256 Pages
For Janie and Cabel, real life is getting tougher than the dreams. They're just trying to carve out a little (secret) time together, but no such luck. Disturbing things are happening at Fieldridge High, yet nobody's talking. When Janie taps into a classmate's violent nightmares, the case finally breaks open–but nothing goes as planned. Not even close. Janie's in way over her head, and Cabe's shocking behavior has grave consequences for them both.

Worse yet, Janie learns the truth about herself and her ability. And it's bleak. Seriously, brutally bleak. Not only is her fate as a Dream Catcher sealed, but what's to come is way darker than she'd even feared…
REVIEW: Fade picks up where Wake leaves off, following Janie and Cabel as they delve headfirst into another undercover sting at Fieldridge High. The police force follows up on an anonymous lead that a teacher may be having an illicit, sexual relationship with students, with Janie accepting the role as point-person – i.e. bait. As Janie struggles to discover the identity of the sleazy teacher, she also has a lot to deal with, personally. She juggles her growing relationship with Cabel (which must be kept secret from her friends and the student body, lest they blow their cover) with her own growing understanding of her power as a Dreamcatcher. With Miss Stubin's old police files and journals to help guide her, Janie comes to terms with some of the hard truths about her very unique abilities – both good and bad.
Lisa McMann really puts Janie and Cabel through the grinder with this second book. In Wake, she introduced readers to Janie's unique ability to enter the dreams of anyone sleeping near her – a curse Janie has to bear, which means she's constantly tired, hungry, and isolated. Though Janie has had her "power" since she was eight years old, she doesn't know much about it (other than how drastically it interferes with her ability to lead a normal life). In Fade, Ms. McMann explores the implications of being a Dreamcatcher in much more detail, creating a heartbreaking future for Janie and Cable. And I mean heartbreaking. This is heavy stuff. I loved that Ms. McMann doesn't shy away from the gritty in this second novel – the characters speak like teens (swearing, believable slang, etc), they drink, they have sex. The sleazier elements of teacher-student relationships and date rape are also examined in an unflinching way, and I really appreciated that that (as horrifying as it is to read).
Again, the strength of Fade (as with Wake) lies with Janie and her relationship with Cabel. I love the natural progression with these two characters! They have disagreements and misunderstandings, but are undoubtably in love with each other, and I love that their relationship is changing and growing as they spend more time together. While Cabel's character isn't given as much insight as with the first book and he does feel a bit "support system"-y (i.e. he's always – only – there to pick Janie up when she falls), there IS some significant development in his believability as a character. At least, there is to me. Whereas in the first book, Cabel came across as the typical too good to be true hawt dude with a troubled past that of COURSE is always there for Janie no matter what, in this second novel, you see some chinks in his perfection. He has to realize that Janie is an independent, intelligent young woman who wants to help, even if it means putting herself in dangerous situations. And when Cabel tries to go all alpha and protect her from herself (yecch, I abhor this type of "hero" behavior), Janie calls him on it…and he gets it. That's a good thing.
There's also another marked improvement in Fade from Wake – the revelations about the nature of her gift. Some of those questions that weren't asked in the prior book are addressed here, in particular about the future that awaits young Janie. With Miss Stubin's notes (and her spectral, from-the-grave dream guide persona) to guide her, Janie has a very dramatic decision to make that will change her life. This also means that the stage is set for some serious drama in Gone…
The only problem I had with Fade, as with Wake was how silly and implausible the Janie and Cabel working as super secret agents for a very well funded and influential branch of the Michigan police department. It's a little too TV movie for me. But, with the strength of Janie's character and the difficult issues she must grapple with, I was more than willing to suspend my disbelief in the sillier (and more trivial) aspects of the story.
Much better, more complicated and heartbreaking than Wake, Fade is a smart, sharp book. Highly recommended – if you were underwhelmed with book 1, I beg you to give book 2 an honest shot.
Notable Quotes/Parts: From Chapter 1:
Chapter 1
A NEW YEAR

January 1, 2006, 1:31 a.m.

Janie sprints through the snowy yards from two streets away and slips quietly through the front door of her house.

And then.

Everything goes black.

She grips her head, cursing her mother under her breath as the whirling kaleidoscope of colors builds and throws her off balance. She bumps against the wall and holds on, and then slowly lowers herself blindly to the floor as her fingers go numb. The last thing she needs is to crack her head open. Again.

She's too tired to fight it right now. Too tired to pull herself out of it. Plants her cheek on the cold tile floor. Gathers her strength so she can try later, in case the dream doesn't end quickly.

Breathes.

Watches.
You can read the full chapter online HERE.
Rating: 7 – Very Good

Gone (Book 3 in the "Wake" Trilogy)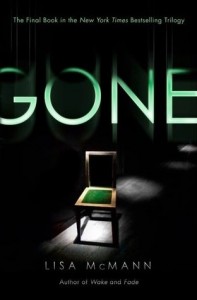 Publisher: Simon Pulse
Publication Date: February 2010
Hardcover: 224 Pages
Janie thought she knew what her future held. And she thought she'd made her peace with it. But she can't handle dragging Cabel down with her.

She knows he will stay with her, despite what she sees in his dreams. He's amazing. And she's a train wreck. Janie sees only one way to give him the life he deserves—she has to disappear. And it's going to kill them both.

Then a stranger enters her life–and everything unravels. The future Janie once faced now has an ominous twist, and her choices are more dire than she'd ever thought possible. She alone must decide between the lesser of two evils. And time is running out….
REVIEW:
NOTE: This review contains SPOILERS for the first two books in the trilogy. If you have not yet read Wake and Fade, and if you do not wish to be spoiled for these two books, READ NO FURTHER. You have been warned…
Gone is the last book in the Wake trilogy, in which Janie comes to terms with the biggest decision of her life. She faces a traumatic, all around shitty decision: to stay with Cabel, to be loved, to continue with her work for the Police Force and go blind and lose the use of her hands….or to isolate herself, giving up Cabel but keeping her sight and dexterity. Janie loves Cabel and he loves her, but she knows from his horrifying nightmares every night that he has his own doubts and fears about Janie's future (and how his future will be affected by her crippling disability). During the day, he doesn't betray even the slightest hint of doubt, and Janie feels so very alone – because the love of her life can only be honest to her in his dreams. Then, she gets a frantic message from her best friend and neighbor, Carrie – her father, a man she has never known, lies in the hospital and is very near death.
Gone is a worthy close to this trilogy, and is a very different animal than the first two books. While books 1 and 2 were centered on detective work/high school police stings with Cabel and Janie working undercover, this final book is much more introspective and focused on Janie's abilities and her future (which makes it all the better, in my opinion). There is the mystery of who Janie's father was before his debilitating injury, but Gone is really much more a book of answers and revelations, and, ultimately, of choices. Janie must choose between a hard road of love (always feeling that she's holding back Cabe or making him resent her) or cutting herself off from the rest of the world entirely. It is, as one character puts it, Janie's "Morton's Fork" – a choice between two impossible alternatives.
In Gone, everything comes full circle. We learn what happened to Janie's sad, alcoholic mother – a seed planted in the first book (one I had since been dying to see more of). In Gone, all answers are given. This is a HARD book. One thing Ms. McMann does so brilliantly throughout the trilogy is convey how very tough and messed up Janie (and Cabel's) lives are, and I cannot help but feel for these two characters. I feel for them, but I admire them too – Cabel and Janie's relationship goes to a whole new level in this book with Cabel's subconscious doubts and fears (all extremely valid, all things considered). He becomes more real and believable as a character and I finally "buy" him in this third book because he's no longer a too good to be true, completely selfless hot boyfriend. And Janie is fantastic as well, coming face to face with her own greatest fears and making the only decision she can with the hand she has been dealt.
The revelations are wonderful and the book ends the trilogy in a very smart way. It's bittersweet, but just so…fitting. It couldn't have been any other way. I'm glad that the trilogy doesn't end with Janie magically all better and all her issues resolved in a sparkle of rainbows and living happily ever after with nary a worry in the world. I have mad respect for Lisa McMann, for continuing to go there. This is a far more mature book than Wake, and it is good to see Janie come full circle.
The Wake Trilogy, in this reader's opinion, is one that just gets better with each subsequent book – and it's a story arc that grows on you, the longer you think about it. Absofreakinglutely, highly recommended.
Notable Quotes/Parts: From the official excerpt:
Janie and Cabel move carefully through the hallways, watching for open doors. She gets caught in a weak dream but only for a few seconds—she barely even has to pause in step. They stand outside Henry's room, Janie's hand tense on the handle.

Static and shockingly bright colors. Janie nearly crumples to her knees, but this time she is more prepared. She steps blindly toward the bed and Cabel helps her safely to the floor as her head pounds with noise. It's more intense than ever.

Just when Janie thinks her eardrums are going to burst, the static dulls and the scene flickers to a woman in the dark once again. It's the same woman as the day before, Janie's certain, though she can't make out any distinguishing features. And then Janie sees that the man is there too. He's in the shadows, sitting on a chair, watching the woman. He turns, looks at Janie and blinks. His eyes widen and he sits up straighter in his chair.

"Help me!" he pleads.

And then, like a broken filmstrip, the picture cuts out and the static is back, louder than ever, constant screams in her ears. Janie struggles, head pounding. Tries pulling out of the dream, but she can't focus – the static is messing up her ability to concentrate.

She's flopping around on the floor now. Straining.

Thinks Cabel is there, holding her, but she can't feel anything now.

The bright colors slam into her eyes, into her brain, into her body. The static is like pinpricks in every pore of her skin.

She's trapped.

Trapped in the nightmare of a man who can't wake up.

Janie struggles again, feeling like she's suffocating now. Feeling like if she doesn't get out of this mess, she might die here. Cabe! She screams in her head. Get me out of here!

But of course he can't hear her.
Rating: 8 – Excellent

GIVEAWAY DETAILS: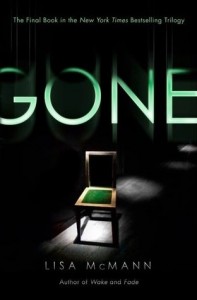 Courtesy of publisher Simon Pulse, we have TEN copies of Gone up for grabs! The contest is open to everyone and will run until Saturday, February 13th at 11:59 PM (PST). To enter, leave a comment here answering this question: If you were faced with your own "Morton's Fork" – living with Janie's ability as a Dreamcatcher, or completely isolating yourself from other slumbering people – what would you choose?
Good luck!