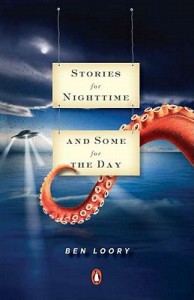 Title: Stories for Nighttime and Some for the Day
Author: Ben Loory
Genre: Speculative Fiction, Short Fiction, Literary Fiction
Publisher: Penguin Books
Publication date: July 2011
Paperback: 208 pages
Loory's collection of wry and witty, dark and perilous contemporary fables is populated by people–and monsters and trees and jocular octopi–who are united by twin motivations: fear and desire. In his singular universe, televisions talk (and sometimes sing), animals live in small apartments where their nephews visit from the sea, and men and women and boys and girls fall down wells and fly through space and find love on Ferris wheels. In a voice full of fable, myth, and dream, Stories for Nighttime and Some for the Day draws us into a world of delightfully wicked recognitions, and introduces us to a writer of uncommon talent and imagination.
Stand alone or series: Stand alone collection of short stories
How did I get this book: Review Copy from the publisher
Why did I read this book: Octopi! UFOs! Bizarre stories that are suited for reading at night or during the day! How could I resist?
Review:
The woman returns from the store with an armload of books. She reads them quickly, one by one, over the course of the next few weeks. But when she opesn the last one, the woman frowns in surprise.

All the pages of the book are blank.

Every single one.
So begins Ben Loory's strange and wondrous collection of short stories for both the nighttime and the day. This is the author's debut work, and it sparkles with imagination, strangeness, terror, and wit. Each of the collection's 40-odd stories averages at around 5 pages and are unrelated, save for the same sparing prose and atmospheric oddness. Imaginatively reminiscent of Neil Gaiman's older work, Stories for Nighttime and Some for the Day is simply…unique. For collections and anthologies, I usually like to say a few things about each story, however given the number of those in Stories, this is impractical. Instead, I will just ruminate on just a few of my favorites. These include:
"The Book" – in which a woman purchases books from a store, discovers one has no words in it and publicly rails against those who would purchase it;
"The Octopus" – in which a solitary, apartment dwelling cephalopod with a fondness for tea and spoons hears from his family in the sea;
"UFO: A Love Story" – in which childhood sweethearts discover that love triumphs all ambition and personal folly;
"The Hat" – in which a malevolent hat seems to follow a man;
"The Magic Pig" – in which a man asks for a sign from God to prove His existence, and is taunted by a dancing wooden pig;
"The Rope and the Sea" – in which a boy and his girlfriend pull a mysterious rope in the ocean to find a canvas covered pair of corpses;
"The Tree" – in which a tree decides to walk and explore the world;
"The Sea Monster" – in which a man dies at sea on a hunt to kill sea monsters, but inexplicably is alive and in town when the voyage returns;
"The Man and the Moose" – in which an unlikely friendship begins between a skydiver and a talking moose;
"The End of it All" – in which a man loses his wife to invading aliens, and embarks on a mission to find her;
As with any collection, certain stories shine more than others and this is certainly true of Mr. Loory's debut. And yet, none of these stories are bad. As a whole, the collection is both eerie and heartening, strange and lovely. Short fiction – especially of this brevity – is hard to write and can be even more painful to read, but Mr. Loory manages to pare down his stories to those words and phrases at the core of any good tale – adventure, heart, pathos, catharsis. Some stories are bright and some are dark, some have a deeper resonance, some simply are. One thing is certain: Stories for Nighttime and Some for the Day is utterly unique, magnificently memorable, and indubitably ineffable. It was a pleasure to travel through the talented Mr. Loory's imagination, and I am excited to return one day (or night), very soon.
Notable Quotes/Parts: I will give two examples, in keeping with the collection title. The first, from "The Tunnel"
Two boys are walking home from school when one of them sees a drainpipe set back in the woods.
Look at that, the boy says. I never knew that was there. Let's go in and see where it goes.
But the other boy takes one look at the pipe and quickly shakes his head.
Uh-uh, he says. Not me. No way.
Why not? says the first boy. Are you scared?
I just don't want to, his friend says, and takes a single step back.
Come on, says the first boy. It's just a pipe.
But the other boy won't be swayed.
I'll see you later, he says.
And then he turns around and runs.
The second, from "The End of it All"
A man and a woman fall in love and are married, and are happy in every single way.
Then one day a flying saucer lands in their backyard, and a door opens, and an alien comes out.
I'm going to have to take one of you away, it says.
What? say the man and woman. Why?
I don't know, says the alien. That's just how it is.
And in the end, the woman gets taken away.
You can read a full story, "The Girl in the Storm" on the author's website HERE.
Rating: 8 – Excellent, and a notable read of 2011
Reading Next: Eat Slay Love by Jesse Petersen
Buy the Book:





Ebook available for kindle US, kindle UK, nook, kobo, & sony