Today, we give you an urban fantasy double-shot of goodness, in the spirit of Smugglivus! Now, we take a look at the first two books in UF author Adrian Phoenix's The Maker's Song series, A Rush of Wings and In the Blood. And later today, Ms. Phoenix will be stopping in to answer YOUR burning questions – plus you'll have a chance to win one of TWO autographed sets of the books.
A Rush of Wings (Book 1 of The Maker's Song)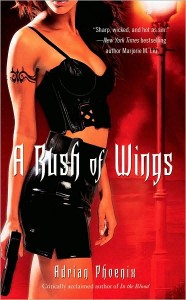 Publisher: Pocket (Simon & Shuster)
Publication Date: January 2008
Paperback: 416 pages
Summary: (from Simon&Schuster.com)
HIS NAME IS DANTE.
Dark. Talented. Beautiful. Star of the rock band Inferno. Rumored owner of the hot New Orleans nightspot called Club Hell. Born of the Blood, then broken by an evil beyond imagination.
HIS PAST IS A MYSTERY.
FBI Special Agent Heather Wallace has been tracking a sadistic serial murderer known as the Cross Country Killer…and the trail has led her to New Orleans, Club Hell, and Dante. But the dangerously attractive musician not only resists her investigation, he claims to be nightkind: in other words, a vampire. Digging into his past for answers reveals little. A juvenile record a mile long. No social security number. No known birth date. In and out of foster homes for most of his life before being taken in by a man named Lucien De Noir, who appears to guard mysteries of his own.
HIS FUTURE IS CHAOS.
What Heather does know about Dante is that something links him to the killer — and she's pretty sure that link makes him the CCK's next target. Heather must unravel the truth behind this sensual, complicated, vulnerable young man — who, she begins to believe, may indeed be a vampire — in order to bring a killer to
justice. But what Heather doesn't know is that Dante's past holds a shocking secret, and once it is revealed not even Heather will be able to protect him from his destiny…
Review:
Heather Wallace is a Federal Agent on a mission – to stop and capture the "Cross Country Killer" from striking again and ending another innocent life. Her investigation has taken her to New Orleans, to the scene of the CCK's latest murder outside of a nightspot called Club Hell. The CCK's modus operandi has changed ever so slightly, but Heather cannot shake the gut feeling that this latest murder is his – and she's determined to figure out the cryptic message he has left behind. When she attempts to question the owner of Club Hell, band front man Dante Prejean, however, she's met with a stubborn refusal to cooperate. Turns out, Club Hell is not only a happening nightspot for goths and vampire wannabes, but an actual haven for supernatural creatures – at least, that is what they tell Heather. Dante insists that he is nightkind, that is, a born vampire. His entourage and circle of friends also are creatures that aren't exactly mortal, both vampire and fallen (as in fallen angels) alike. It soon becomes clear to Heather that Dante is the focus of her suspect's murders, and she attempts to protect him only to meet strange resistance at the FBI – someone doesn't want her poking around Dante Prejean, or the CCK. But Heather won't rest until she gets to the bottom of the mystery, even though it takes her down a dark and dangerous road.
At first glance, A Rush of Wings sounds like countless other entries in the Urban Fantasy genre – one unbelievably sexy (and promiscuous, and french-speaking, and leather wearing) vampire meets one attractive yet totally competent badass officer of the law (with a heart of gold) and try to overcome sizable obstacles together. But, despite the familiarity of the character tropes and subject matter, A Rush of Wings manages to distinguish itself enough from the myriad sexy-vampire/cop books to make it a worthwhile read. From a plotting and writing standpoint, this debut novel from Adrian Phoenix has a distinct style and complicated, well-conceived world. The idea of nightkind, of True Bloods and Fallen may be a tad familiar, but are enhanced by the new terms and concepts Ms. Phoenix creates (and there's a handy glossary in the back of the book to help readers sort out exactly what certain things mean). The plot, unfortunately, is somewhat uneven as the novel starts strong but crumbles under the complicated side-plots and shadow conspiracies (for example, the involvement of the government in a super secret project to create sociopaths seems a tad over the top – in any case, it's hard to suspend disbelief as the novel progresses). Ms. Phoenix does manage to make ends meet by the conclusion of the novel, but the road there is rocky.
Though the plotting isn't the most sure-footed, Ms. Phoenix's characters are the true standouts that make A Rush of Wings worthwhile. The archetypes for Heather and Dante are standard fare, but Ms. Phoenix manages to give these protagonists complicated and unique backstories that add layers of realism to the characters. Dante Prejean is much more than just a promiscuous, leather-clad vampire; he's also an orphan with a dark past, and, in a wonderful twist, is only 23 years old (and acts like it). He's beautiful and self-assured, but he also struggles with some truly horrible inner demons – if there's any vampire that deserves to wallow in self-disgust, it's the sociopathic Dante. Ms. Phoenix also gives him a distinct voice with his creole french interspersed in his speech (in a kind of Gambit-esque way), that feels very real, if a little cheesy at first. Even more impressive, however, was heroine Heather Wallace. Though her FBI-procedurals are a bit shaky and unconvincing, as a character, Heather is a firmly grounded and mature woman. I loved that she is the older, more experienced one in the relationship (31 to Dante's 23), and her determination to do her job at all costs is an admirable trait. The secondary characters too – particularly Dante's more-than-friend Lucien DeNoir, one of the fallen and strangely protective of young Dante.
Overall, I enjoyed A Rush of Wings – enough so to continue with the series. There's a lot of potential in this first novel, and as it was Ms. Phoenix's first, I had high hopes for her subsequent work.
Notable Quotes/Parts: You can read chapter one online HERE.
Verdict: Despite an uneven plot, the characters were enough to salvage the novel and keep me engaged. Definitely recommended for those looking for a sexy, paranormal read with complexity.
Rating: 6 – Good
In the Blood (Book 2 of The Maker's Song)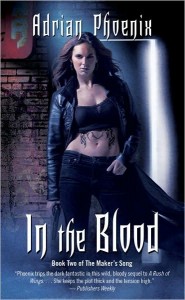 Publisher: Pocket (Simon & Schuster)
Publication Date: January 2009
Paperback: 480 pages
**PLEASE NOTE: The review of In the Blood (including the synopsis below) necessarily and unavoidably contain spoilers for the first book, A Rush of Wings. If you have not read book 1 and wish to remain unspoiled, stop reading now!
Summary: (from Simon&Schuster.com)
DANTE LIVES.
Vampire. Rock star. Begotten son of the fallen angel Lucien. Dante Baptiste still struggles with nightmares and seizures, searching for the truth about his past. It is a quest as seductive as his kiss, as uncontrollable as his thirst, and as unforgiving as his determination to protect one mortal woman at any cost.
KNOWLEDGE KILLS.
FBI Special Agent Heather Wallace now knows the extent of the Bureau corruption that surrounds her, but worries she is losing the battle. And when Dante and his band Inferno come to Seattle on tour, Heather can't help but be drawn back to the beautiful, dangerous nightkind. But what Heather and Dante don't know is that new enemies lurk in the shadows, closer than they think…and even deadlier than they fear.
DESTINY UNFOLDS.
Shadowy government forces have pledged to eliminate all loose ends from Project Bad Seed — and Heather and Dante are at the top of the list. Elsewhere, the Fallen gather in Gehenna, intent on finding their long-awaited savior, the True Blood nightkind whom Lucien DeNoir would die to protect. And a damaged and desperate adversary, with powers as strange and perilous as Dante's own, plots to use Dante as a pawn in a violent scheme for revenge. But only one of these lethal forces holds the key to Dante's past — a key that could finally unlock the secret of his birth and the truth of his existence…or destroy him completely.
Review:
What a difference a book makes! While A Rush of Wings was a strong character novel with a shaky plot, In the Blood shows more of what Ms. Phoenix is really capable in terms of writing. The plotting has grown stronger and more assured, the mythology of her Maker's Song universe more intense and layered – and add to that her already solid characterizations, and you've got a strong sophomore effort on your hands.
The Bad Seed project has been terminated, E destroyed, and Dante and Heather have gone their separate ways. Dante still struggles with his migranes and the darkness that bubbles beneath the surface, a legacy of his Bad Seed days and his not quite restrained alter-ego, S. But though the primary doctor of the experiments is now dead, Bad Seed has even deeper roots in the FBI and government, and those in charge are not so easy for Heather and Dante to avoid. A nefarious plan ensues to "trigger" Dante and to control Heather is set in action, and once again the two must team up to get to the bottom of the powers threatening them both. Meanwhile, Lucien finds himself embroiled in a power struggle between his fallen brethren in the alternate plain of Gehenna – he must protect the identity and very existence of his son Dante, lest Dante's unique powers as a creawdwr (an extremely rare and powerful creator) are discovered and claimed by the other Elohim.
Once again, Ms. Phoenix has an ambitious undertaking with In the Blood – the plot involves two parallel locations (the more earthly Seattle and otherworldly Gehenna), and multiple side characters hungry for a piece of Dante's power, each fueled by different motivations. The storytelling is less confusing and more believable this time around, though the police procedurals and government conspiracies still feel somewhat forced. The additions to the Maker's Song universe, are more than enough to make up for any shortcomings in terms of plotting – Dante's uniqueness, the role of Lucien and the other Elohim are fascinating as well. And, as with the first book, the true strength of In the Blood lies with Ms. Phoenix's characterizations – which are expanded and built upon in this second book. Dante – vampire, crazed sociopath, uncontrollable, and incredibly powerful creature – is a risky choice of hero. He's both familiar (as the French speaking sexy vamp) but unique (he's got issues, brainwashed and conditioned from his bad seed days). Heather, as in the first book, is an irresistible heroine with her levelheadedness and her devotion to her job and those she loves. In In the Blood, we learn a lot more about Heather's colored past – the shaky and mistrustful relationship she has with her father, the truth of her mother's murder, her manic depressive and manipulative younger sister Annie. Lucien too gets much more attention in this novel, which is a welcome addition as he is one of the more fascinating characters from the first book, and the history of the fallen and his brethren add an extra dimension to this novel. Too, the new additions to the cast are complex and layered – from the "cleanup" crew vampire Caterina, to the twins Alexander and Athena, to Heather's sister and father, to the nefarious Wells himself.
Overall, I was much more impressed with In the Blood than I was with its predecessor, and I eagerly await the release of book 3 in the series, Beneath the Skin.
Notable Quotes/Parts: You can read chapter one online HERE.
Verdict: A much stronger novel than its predecessor, In the Blood has enough action, mystery and character to satiate any fan hungry for a dark and sexy Urban Fantasy read. Recommended.
Rating: 7 – Very Good
**********
Make sure to stick around for a chance to ask Adrian Phoenix your own questions, and for a chance to win an autographed set of all the books in The Maker's Song series!