"On The Smugglers' Radar" is a new feature for books that have caught our eye: books we heard of via other bloggers, directly from publishers, and/or from our regular incursions into the Amazon jungle. Thus, the Smugglers' Radar was born. Because we want far more books than we can possibly buy or review (what else is new?), we thought we would make the Smugglers' Radar into a weekly feature – so YOU can tell us which books you have on your radar as well!
This week, as you may have guessed, both of us have been going crazy at BEA. In addition to picking up a ton of fantastic adult and YA books, we've noticed that this year has seemed to be the Year of the Middle Grade book. Everywhere we turned, we kept seeing these awesome MG titles popping up – and with that in mind, and our BEA stashes in tow, we've decided to devote this week's Radar to our joint MG discoveries at BEA. First up, an intriguing story set in a strange place called the Whippet Hotel: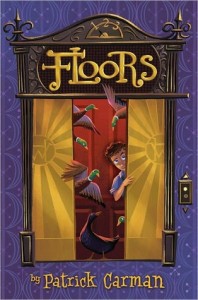 Charlie had his chocolate factory. Stanley Yelnats had his holes. Leo has the wacky, amazing Whippet Hotel.

The Whippet Hotel is a strange place full of strange and mysterious people. Each floor has its own quirks and secrets. Leo should know most of them – he is the maintenance man's son, after all. But a whole lot more mystery gets thrown his way when a series of cryptic boxes are left for him . . . boxes that lead him to hidden floors, strange puzzles, and unexpected alliances. Leo had better be quick on his feet, because the fate of the building he loves is at stake . . . and so is Leo's own future!

This next title has a great backstory with a father/son writing team, and a delightful cover (old cover on the left, new cover – sans words – on the right):

In a magical realm filled with creatures of every possible shape and size, war is brought upon the peaceful kingdom of Sonnencrest by evil goblin King Malmut. Princess Babette, the only surviving member of the royal family, manages to escape and seeks refuge with Asterux, a powerful wizard who agrees to teach Babette magic, and who disguises her as an ugly gypsy girl to protect her from King Malmut's thugs.

Ten years later, Babette must use the magic she has learned to help aid the kingdom's only hope at defeating the goblins' horrible reign: Darrow, a lame boy who can barely pick up a sword but has a great gift for inspiring others. With Babette's unseen help, Darrow begins a journey to free his country once and for all and bring peace back to Sonnencrest.

Written by a father and his then eight- year-old son who struggled with a learning disability at the time, "The Sword of Darrow" is an enjoyable adventure that shows how even the unlikeliest of heroes can rise up against injustice.

I (Thea) loooooove Jessica Day George and so was thrilled we got this galley. And it's such an adorable cover, too.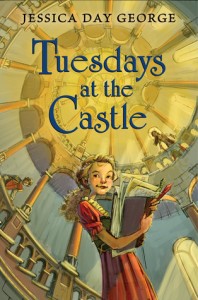 Tuesdays at Castle Glower are Princess Celie's favorite days. That's because on Tuesdays the castle adds a new room, a turret, or sometimes even an entire wing. No one ever knows what the castle will do next, and no one—other than Celie, that is—takes time to map out the new additions. But when King and Queen Glower are ambushed and their fate is unknown, it's up to Celie, with her secret knowledge of the castle's never-ending twists and turns, to protect their home and save their kingdom. This delightful book from a fan—and bookseller—favorite kicks off a brand new series that is sure to become a modern classic.

As you might guess, Lauren Oliver's new middle grade title came with a huge line – but we were lucky enough to snag two copies.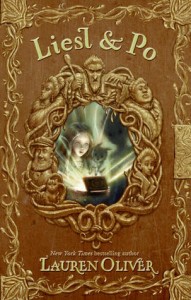 We meet Liesl the night after the day her young father has died. That same day she is visited by a ghost, Po, an eight year old boy who lives on the other side, the territory between life and death that runs parallel to the living world. Po has come to tell her that her father is stuck on the other side, and that she is the only one who can help him cross over. A couple of wooden boxes. Some ashes. Some magic dust. A ghost, its pet, and a boy who forgot to wear a hat in the cold. From these seemingly odd, random characters Oliver weaves the enchanting story of how, with the aid of Liesl, these elements come together over the course of one week to restore love and luster to a world gone grey and heartless.

This next book comes in a beautiful package, complete with gorgeous illustrations (and, oh yeah, the story sounds fun, too):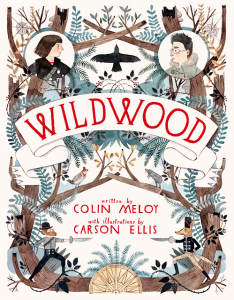 The first book in the epic middle-grade fantasy series full of magic, wonder, and danger—nothing less than an American Narnia—from Colin Meloy, lead singer of the highly celebrated band the Decemberists, and Carson Ellis, the acclaimed illustrator of the New York Times bestselling The Mysterious Benedict Society

Two words: Scrabble Superpowers. AWESOME.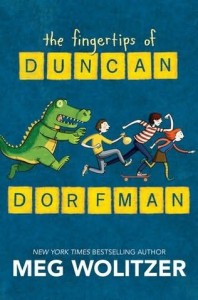 At first glance, Duncan Dorfman, April Blunt, and Nate Saviano don't seem to have much in common. Duncan is trying to look after his single mom and adjust to life in a new town while managing his newfound Scrabble superpower – he can feel words and pictures beneath his fingers and tell what they are without looking. April is pining for a mystery boy she met years ago and striving to be seen as more than a nerd in her family of jocks. And homeschooled Nate is struggling to meet his father's high expectations for success.

When these three unique kids are brought together at the national Youth Scrabble Tournament, each with a very different drive to win, their paths cross and stories intertwine . . . and the journey is made extraordinary with a perfect touch of magic. Readers will fly through the pages, anxious to discover who will take home the grand prize, but there's much more at stake than winning and losing.

With shrewd observations, wry humor, and a touch of whimsy, bestselling author Meg Wolitzer's classic storytelling will delight readers of all ages.

This next one is a title Ana picked up for the both of us at random – and OMG, I am SO glad she did.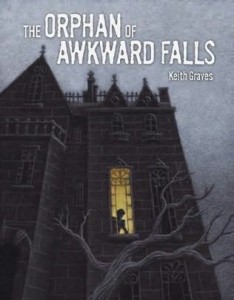 When thirteen-year-old Josephine moves to Awkward Falls she can't help but snoop around the dilapidated mansion next door. She finds a little more than she bargained for when she is captured by the strange characters who live there: an ancient automaton who serves as a butler, a cat patched together with a few odd parts, and most surprising of all, a boy named Thaddeus Hibble. Meanwhile, the most feared patient in the Asylum for the Dangerously Insane is on the loose. Fetid Stenchley has escaped in the most dramatic fashion, and there is only one thing on his mind…revenge. Unfortunately for Thaddeus and Josephine, he's headed their way. Can these unlikely friends stop Stenchley before he destroys them all? Full of hilariously spooky details, surprising twists, and haunting black and white illustrations, Keith Graves delivers a suspenseful and engaging first novel. Inspired by the classic tales of Frankenstein and mad scientists, with a splash of contemporary technology, the wonderfully tense action and gory descriptions will hook boys from the start, while Josephine provides a clever and unique heroine that girls will adore.

We had the great pleasure of attending the infamous Disney Dinner this year, and met the delightful Clete Barrett Smith – which made us even more excited for this hilarious, sweet sounding book.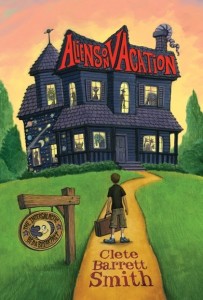 David, otherwise known as Scrub (don't ask), isn't happy about leaving Florida and his friends to summer with his grandmother in "Middle of Nowhere," Washington. When he arrives at her Intergalactic Bed & Breakfast, he isn't surprised by its 60s meets Star Wars decor, but he issurprised by the weird-looking guests. It turns out that each room in the inn is a portal, and his grandma is the gate-keeper, allowing aliens to vacation on Earth. Grandma desperately needs Scrub's help with welcoming (and disguising) the tourists, shopping for cartloads of aluminum foil for dinner, and taking rambunctious alien kids camping in the nearby woods. The problem is, the town sheriff–already suspicious about Granny–is a scout leader camping in the same spot. Will Scrub blow Granny's cover, forcing the B&B to shut down forever? Full of cosmic chaos and mind-bending mayhem, Scrub's summer adventure will leave readers wanting to make a return trip.

This was another impulse-grab for the both of us, but the illustrations look GORGEOUS. And, we are told they look even MORE gorgeous in full color.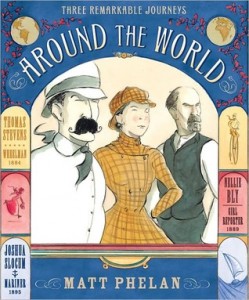 A Scott O'Dell Award-winning graphic novelist follows three dauntless adventurers on a Jules Verne-inspired challenge: circling the world, solo!

As the nineteenth century wound down, a public inspired by the novel Around the World in Eighty Days clamored for intrepid adventure. The challenge of circumnavigating the globe as no one ever had before—a feat assuring fame if not fortune—attracted the fearless in droves. Three hardy spirits stayed the course: In 1884, former miner Thomas Stevens made the journey on a bicycle, the kind with a big front wheel. In 1889, pioneer reporter Nellie Bly embarked on a global race against time that assumed the heights of spectacle, ushering in the age of the American celebrity. And in 1895, retired sea captain Joshua Slocum quietly set sail on a thirty-six-foot sloop, braving pirates and treacherous seas to become the first person to sail around the world alone. With cinematic pacing and deft, expressive art, acclaimed graphic novelist Matt Phelan weaves a trio of epic journeys into a single bold tale of three visionaries who set their sights on nothing short of the world.

Another case of a cute cover, augmented by a compelling blurb, equaling a very, very happy Ana & Thea.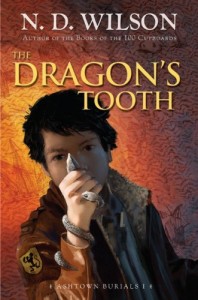 For two years, Cyrus and Antigone Smith have run a sagging roadside motel with their older brother, Daniel. Nothing ever seems to happen. Then a strange old man with bone tattoos arrives, demanding a specific room.

Less than 24 hours later, the old man is dead. The motel has burned, and Daniel is missing. And Cyrus and Antigone are kneeling in a crowded hall, swearing an oath to an order of explorers who have long served as caretakers of the world's secrets, keepers of powerful relics from lost civilizations, and jailers to unkillable criminals who have terrorized the world for millennia.

N. D. Wilson, author of Leepike Ridge and 100 Cupboards, returns with an imagination-capturing adventure that inventively combines the contemporary and the legendary.

This next one is Lisa McMann's foray into MG-land. We likey.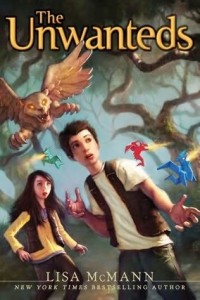 Every year in Quill, thirteen-year-olds are sorted into categories: the strong, intelligent Wanteds go to university, and the artistic Unwanteds are sent to their deaths

Thirteen-year-old Alex tries his hardest to be stoic when his fate is announced as Unwanted, even while leaving behind his twin, Aaron, a Wanted. Upon arrival at the destination where he expected to be eliminated, however, Alex discovers a stunning secret–behind the mirage of the "death farm" there is instead a place called Artime.

In Artime, each child is taught to cultivate their creative abilities and learn how to use them magically, weaving spells through paintbrushes and musical instruments. Everything Alex has ever known changes before his eyes, and it's a wondrous transformation.

But it's a rare, unique occurence for twins to be separated between Wanted and Unwanted, and as Alex and Aaron's bond stretches across their separation, a threat arises for the survival of Artime that will pit brother against brother in an ultimate, magical battle.

I know we've blogged about this before, but HOLY CRAP we got to meet Bill Willingham. He SIGNED our books. Can we please take a moment to squee it out?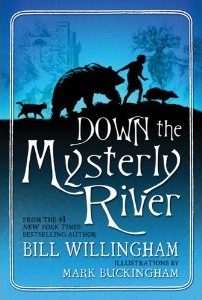 Down the Mysterly River is the children's book debut of Bill Willingham, the creator of the #1 New York Times bestselling graphic novel series Fables. Complete with illustrations by Fables artist Mark Buckingham, it is a spirited, highly original tale of adventure, suspense, and everlasting friendship.

Max "the Wolf" is a top notch Boy Scout, an expert at orienteering and a master of being prepared. So it is a little odd that he suddenly finds himself, with no recollection of his immediate past, lost in an unfamiliar wood. Even odder still, he encounters a badger named Banderbrock, a black bear named Walden, and McTavish the Monster (who might also be an old barn cat)—all of whom talk—and who are as clueless as Max.

Before long, Max and his friends are on the run from a relentless group of hunters and their deadly hounds. Armed with powerful blue swords and known as the Blue Cutters, these hunters capture and change the very essence of their prey. For what purpose, Max can't guess. But unless he can solve the mystery of the strange forested world he's landed in, Max may find himself and his friends changed beyond recognition, lost in a lost world…

We were so very lucky to grab up copies of this book (since we missed the signing – whoops):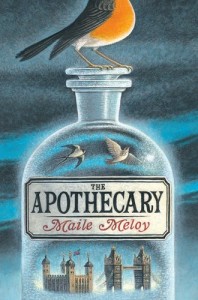 It's 1952 and the Scott family has just moved from Los Angeles to London. Here, fourteen-year-old Janie meets a mysterious apothecary and his son, Benjamin Burrows–a fascinating boy who's not afraid to stand up to authority and dreams of becoming a spy. When Benjamin's father is kidnapped, Janie and Benjamin must uncover the secrets of the apothecary's sacred book, the Pharmacopoeia, in order to find him, all while keeping it out of the hands of their enemies–Russian spies in possession of nuclear weapons. Discovering and testing potions they never believed could exist, Janie and Benjamin embark on a dangerous race to save the apothecary and prevent impending disaster.

Together with Ian Schoenherr's breathtaking illustrations, this is a truly stunning package from cover to cover.

Aaaaaaaand finally, we got copies of a book that has been on Ana's radar!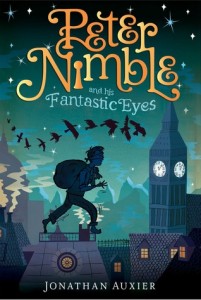 "Now, for those of you who know anything about blind children, you are aware that they make the very best thieves. As you can well imagine, blind children have incredible senses of smell, and they can tell what lies behind a locked door- be it fine cloth, gold, or peanut brittle- at fifty paces. Moreover, their fingers are so small and nimble that they can slip right through keyholes, and their ears so keen that they can hear the faint clicks and clacks of every moving part inside even the most complicated lock. Of course, the age of great thievery has long since passed;today there are few child-thieves left, blind or otherwise. At one time, however, the world was simply thick with them. This is the story of the greatest thief who ever lived. His name, as you've probably guessed, is Peter Nimble."

And that it's from us! What books did you get from BEA that you're excited about, or the books that are on YOUR radar?