Author: Written by Steven Arntson, Illustrated by Daniela J. Terrazzini
Genre: Dystopian, Speculative Fiction, Middle Grade
Publisher: Running Press Kids
Publication Date: May 2011
Hardcover: 256 Pages
Young Henrietta is about to uncover a mystery she was never supposed to solve. In the new-age world she lives in, everything is ruled by computers, and every person's movements and actions are watched and analyzed. Henrietta feels suffocated by technology's rule and questions a world she's expected to blindly accept. She and her two newfound friends believe that there is more to life than what's expected of them—they just haven't found it yet.

That all changes when Henrietta finds a wounded Wild House Cat in the attic above her bedroom. This discovery sets off a chain of events that begin to poke holes in the secrets left behind by the well-hidden past. It also awakens a mysterious creature called The Wikkeling . . .
Stand alone or series: Stand alone novel
How did I get this book: ARC from Publisher
Why did I read this book: I hadn't heard or seen anything of The Wikkeling anywhere, so when the publisher contacted us with a review copy, I was intrigued. Not only by the striking cover, but by the interesting premise involving a technological dystopia, a unique cat, and a terrifying creature called the Wikkeling.
Review:
The Old City lies at the bottom of a hill, with its cobbled, old streets and musty, moldering houses. Above it lies The Addition – the new, orderly, ever-growing metropolis where everything is Safe, Secure and Supervised. Students sit in orderly classes, tapping out repeated sentences on identical computers. Advertisements blare from horns and adults shop from the comfort of their automatic, self-driving cars. Everything is quantified; everything has a purpose. In this world, where the most obedient and top test takers succeed, those that don't are labeled At Risk or Finished and sentenced to a bleak life of working dump trucks and living in the Old City.
Henrietta Glad-Fly is a student with a poor track record. She's not pretty or charming or intelligent (at least not by her class rank standards), and though Henrietta can do her assignments well, she frequently gets distracted. And then there are the headaches – because Henrietta's family lives in an Old House with a steepled roof (which sticks out like a sore thumb amongst and all her neighbors live in shiny, identical condos), she suffers from an ailment known as Old House Sickness, in which she gets horrid, bone-grinding headaches. Little does Henrietta know that the cause of her headaches isn't her old house, but something far more sinister entirely. When she finds a wild housecat in the attic above her bedroom, Henrietta will soon discover that her world is not at all the place she thought it was. With her across-the-street neighbor Gary and a precocious kindergartener named Rose, Henrietta and her new friends discover a whole new sinister side to The Addition.
The Wikkeling is an interesting endeavor, mixing a horrific sort of Coraline-ish fantasy element with a dystopian, high-technology society. From the outset of the novel, I loved the setting of this world and the concept of a strange, creeping monster that only certain children see. The ideas in this book are wonderfully creepy and brilliantly imagined, from the eerie dystopian elements that are so very similar and conceivable in our own world, to the conceit of a time-immune attic, and a near extinct species of feline known as a Wild Housecat. I also loved the writing style, the gorgeous illustrations, and the characters – in particular, Henrietta. As the excerpt below in the Notable Quotes section shows, Henrietta is not your usual heroine. She won't magically become beautiful and she's described as looking like a brick – but she's a believable, endearing young girl with enough adventure and heart in her to carry this book on her assured, sturdy shoulders. I also loved the characters of Gary, with his own secrets and penchants (for garbage collecting, of all things), and Rose (in all of her bibliophile glory) – although I will say that for a five year old, calling Rose precocious is stretching it.
However. Despite my love of the world and the characters and the writing style, there are a few sizable issues that I had with the book, especially in the later chapters. While the build up and conceptualization of the novel and the creature called the Wikkeling are fantastic, I cannot help but be disappointed with the ultimate explanation for the Wikkeling's coming to be, and the hasty way that the story reaches its climax and resolution. There's such a loving amount of time and description poured into the building of the world and exposition, but when the dramatic showdown finally comes about, it takes a hugely disproportionate amount of the book. Unlike Coraline by Neil Gaiman, which The Wikkeling pays homage to in many ways (not unlike M.P. Kozlowsky's Juniper Berry, another MG novel reviewed earlier this month), this title does not manage to quite tie itself up in a way that satisfies or lives up to the huge, shining promise of the early chapters.
These criticisms said, I did enjoy the book very much. There's enough to love about The Wikkeling, and it's different enough from other YA/MG books out there to wholeheartedly recommend it. Furthermore, it's clear that Steven Arntson has quite the imagination, even if he's lacking a bit in the execution of those ideas, and I'm very excited to see what his next book holds.
Notable Quotes/Parts: From one of my favorite passages in the book:
Henrietta looked a little like a brick – her face and body were squat, thick rectangles. Her ruddy skin was prone to pimples, and flushed red when she was embarrassed, like now. Her small, black, beady eyes were set closely together, which lent her a confused and peevish expression that often caused people to explain things to her twice, and then scold her. Her thin eyebrows made her look a little surprised, which didn't help matters.

And yet Henrietta was not a stupid, confused, petulant block. Or at least, she didn't feel like one. Inside, she was just herself – a person to whom she'd scarcely yet been introduced.

~ ~

Henrietta is the main character o this story. This whole book will be about her – and it's worth mentioning at the outset a few things that aren't going to happen to her.

She will not become beautiful when someone gives her a new hairstyle.

She will not find a miracle cure for her pimples when an angel sees she's a good girl inside.

She will not find out that she's actually a princess, and she won't become happy forever when a prince marries her.

Those books are out there, and your school librarian can help you find one.

This isn't it.
Isn't that fantastic!?! Love. So much love.
Additional Thoughts: Check out some of the book illustrations – the illustrations are in black and white print silhouettes, but the entries about animals from the bestiary are in glorious, gorgeous color (pictures from the author's blog):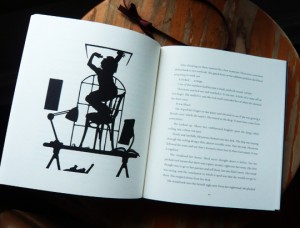 Black and white print illustrations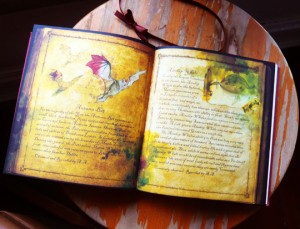 Full color illustrations of bestiary entries
Rating: 7 – Very Good, although it wavered on a 6, I loved the concept so much that I couldn't help but bump it up a notch.
Reading Next: Undead by Kirsty McKay
Buy the Book: