"Inspirations and Influences" is a series of articles in which we invite authors to write guest posts talking about their…well, Inspirations and Influences. The cool thing is that the writers are given free reign so they can go wild and write about anything they want. It can be about their new book, series or about their career as a whole.
Kate Noble is one of my favourite Romance writers and I have loved every single one of her books. Her latest book, Follow My Lead is another great one (with SUCH a lovely ending) and to celebrate its release next week, we have invited the author to write a guest post about writing it.
Please give it up for Kate Noble!

I love a good road trip. There really is nothing like climbing into a packed-to-the-gills car, full tank of gas, Twizzlers and Diet Coke at the ready, and just taking off, with little more than a road map and general sense of geography to guide you.
Although, my love of road trips was not always so well-developed.
Every summer growing up, my family and I packed up the car and drove fourteen hours straight (up to eighteen if my mother was driving) to our summer cottage. It was cramped, and with a brother and a sister, annoying, and after a while the smell of Twizzlers can really get to you. Those few times we stopped for fast food, eating at an Interstate rest stop picnic bench were welcome respites from close quarters, a chance to stretch our legs. But soon enough we were on the road again, intent upon our destination.
Then came what I call the American Grand Tour. When I was twelve, my mother and her best friend packed up their kids and we hit the road together – to visit historic American sites, such as Lexington and Concord, the Luray caverns of Virginia, the St. Louis Arch, Yellowstone, the Grand Canyon, and Mt. Rushmore. It was one maroon minivan, two moms, three tweenage girls, two nine-year-old boys, and only one Walkman.
To this day, I consider Hell a maroon minivan.
The Grand Canyon and Mt. Rushmore, both of which young Kate visited at a time before digital photography, and since her dad is behind on his "digitize everything" project, there is blessedly no photo available of her at age twelve.
This killed any desire to be on a road trip for quite some time… until I got my license. Then, I made the drive to the summer cottage one year by myself. And it was GLORIOUS. It's a very different thing being dragged along on a journey having agency over where you go and what you do. I would tuning into well loved radio stations, see old landmarks go flying by. Enjoying the time where I got to know myself.
When I moved to New York City, I didn't have a car. While thanks to superior public transportation, I didn't need one, (not to mention I would never in a million years be able to park it) I did miss the occasional road trip – so much so that during my vacations, I would plot a course, borrow or rent a car, and hit the open road.
So by the time I was plotting Follow My Lead, I knew I wanted to send my characters, Jason Cummings, the Duke of Rayne (and Jane's brother from The Summer of You) and Miss Winnifred Crane, on a road trip.
Of course, when you're writing a historical romance novel, there are a couple of things you have to take into consideration.
1. Travel in 1822 is HARD.
Not only did Jason and Winn not have the benefit of a combustible engine, air conditioning, and top 40 radio programming to keep their minds occupied, the roads they were traversing were not in the world's best shape. In one section of Follow My Lead, Jason and Winn travel from London to Dover along the Great Dover Road (now the A2), which had by that time been turnpiked – meaning that anyone could travel the road for a small fee, collected at tollhouses, which was then used to maintain and improve the road. For 1822, the Great Dover Road was about as good as it got. But it was still a dirt-packed road, with ruts that made the traveler pray for a better sprung vehicle, prone to being washed out when it rained, and twisted with the lay of the land (i.e., not a direct highway that cut through the earth).
I had my characters not only travelling to Dover, but to Bavaria and Austria… I can only imagine the conditions of those narrow, untamed country roads!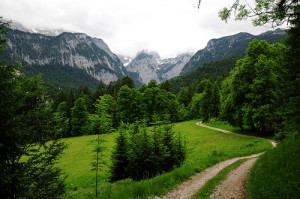 A dirt road in the Bavarian Alps. Huh, actually it doesn't look so bad…
2. Travel in 1822 is SLOW.
I have no right to complain about how long it takes me to get across town in my car. In the regency era, and for centuries before that (it would be another 20+ years before trains became prevalent in England) the main mode of transportation was via horse and carriage. The generally taken average speed for a horse and carriage is 4 miles/hour (taking into account starting, flat-distance walking, and the effort of going uphill, if necessary). Which means, if you're on your treadmill at home, and walking/jogging at a pace of 4.0, that is how fast the horse and carriage went. Add to that the time spent changing horses, conditions of the road, etc, and a traveler would be lucky to cover 60 miles in one day.
3. They have to fall in love on the road.
What should be the easiest part of a romance novel is sometimes the most grueling when you place it in a new setting. You want your heroine to find your hero appealing? Try making her enjoy being with him when he hasn't bathed in a week and smells like the salted fish he was bunked next to on their passenger ship. You want your hero to wine and dine your heroine? How is he going to do that when they have next to no money, and have no idea where they are going to get more?
That said – when you remove characters from where they are comfortable… you find out who they truly are. And just how ingenious they can be when the situation calls for it. Winn and Jason discover just how much two people from completely different walks of life can have in common when they are forced to be in each other's company for as long as it takes to get to where you're going.
For the record, I am, in retrospect, incredibly glad that my mother forced us all on the American Grand Tour. I'm glad that we would pack the car up every summer and drive all day north. I'm glad that I decided to spend a week, on a whim, driving down to New Orleans. Because when you're on the road, you get to know your travelling companions in a way you never would otherwise. You get to know yourself.
Although the next time I go to the Grand Canyon, I'm taking a convertible.

Giveaway details: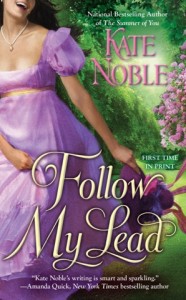 Jason Cummings, Duke of Rayne is feeling the weight of his responsibilities – one of which is to get married. Being the most sought after bachelor in London can be trying, so who can blame him if he seeks refuge from the voracious hordes of young debutantes at the decidedly female-free Historical Society? Female-free, that is, until Winnifred Crane marches up to the door, demanding entrance.

Despite her prowess as a historian, Winn is denied membership the Society. So she daringly offers an unusual bargain: if she can prove the authenticity of a certain painting, she'll be granted recognition, fame, and respect. But to do that, she must go abroad. And to go abroad, she must have an escort, even a stubbornly unwilling one…

Jason has no desire to accompany Winn on her adventure across Europe, but even he is not immune to Winn's passion for her profession. As the journey proves more difficult than planned, they must work together to stay one step ahead of their rivals…. and the closer they get to the proof Winn seeks, the closer she and Jason become. But as their adventure turns dangerous, can Jason keep this headstrong bluestocking safe? And what will become of their growing bond when the adventure ends?
We have ONE signed copy of Follow My Lead to give away to a lucky winner! The contest is open to addresses in the US and Canada and will run until Saturday, April 30 at 11:59pm (PST). In order to enter, simply leave a comment telling us about your best or worst road trip experience. Good luck!