Hello and welcome! Caitlin Kittredge is one of our favourite UF writers – we read and loved Street Magic, the first in her Black London series (reviewed HERE) and the two books in the Icarus Project series which she writes with Jackie Kessler (review of Black and White HERE; review of Shades of Grey HERE).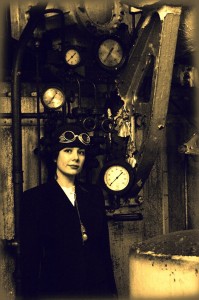 The Iron Thorn (Iron Codex #1) is her first foray into YA and to celebrate its release (as well as our successful return to blogging), we are offering one copy to one lucky winner.

The Book: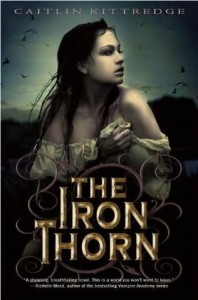 Genre: Steampunk/ Fantasy YA
Publisher: Random House
Publication Date: February 2011
Hardcover: 512 pages
In the city of Lovecraft, the Proctors rule and a great Engine turns below the streets, grinding any resistance to their order to dust. The necrovirus is blamed for Lovecraft's epidemic of madness, for the strange and eldritch creatures that roam the streets after dark, and for everything that the city leaders deem Hereticalas born of the belief in magic and witchcraft. And for Aoife Grayson, her time is growing shorter by the day.

Aoife Grayson's family is unique, in the worst way as every one of them, including her mother and her elder brother Conrad, has gone mad on their 16th birthday. And now, a ward of the state, and one of the only female students at the School of Engines, she is trying to pretend that her fate can be different.
You can read more about the book (and the author) at Caitlin Kittredge's website HERE.
The Excerpt:
There are seventeen madhouses in the city of Lovecraft. I've visited all of them.

My mother likes to tell me about her dreams when I visit. She sits in the window of the Cristobel Charitable Asylum and strokes the iron bars covering the glass like they are the strings of a harp. "I went to the lily field last night," she murmurs.

Her dreams are never dreams. They are always journeys, explorations, excavations of her mad mind, or, if her mood is bleak, ominous portents for me to heed.

The smooth brass gears of my chronometer churned past four-thirty and I put it back in my skirt pocket. Soon the asylum would close to visitors and I could go home. The dark came early in October. It's not safe for a girl to be out walking on her own, in Hallows' Eve weather.

I called it that, the sort of days when the sky was the same color as the smoke from the Nephilim Foundry across the river, and you could taste winter on the back of your tongue.

When I didn't immediately reply, my mother picked up her hand mirror and threw it at my head. There was no glass in it–hadn't been for years, at least six madhouses ago. The doctors wrote it into her file, neat and spidery, after she tried to cut her wrists open with the pieces. No mirrors. No glass. Patient is a danger to herself.

"I'm talking to you!" she shouted. "You might not think it's important, but I went to the lily field! I saw the dead girls move their hands! Open eyes looking up! Up into the world that they so desperately desire!"

It's a real shame that my mother is mad. She could make a fortune writing sensational novels, those gothics with the cheap covers and breakable spines that Mrs. Fortune, my house marm at the Lovecraft Academy, eats up.

My stomach closed like a fist, but my voice came out soothing. I've had practice being soothing, calming. Too much practice. "Nerissa," I said, because that's her name and we never address each other as mother and daughter but always as Nerissa and Aoife. "I'm listening to you. But you're not making any sense." Just like usual. I left the last part off. She'd only find something else to throw.

I picked up the mirror and ran my thumb over the backing. It was silver, and it had been pretty, once. When I was a child I'd played at being beautiful while my mother sat by the window of Our Lady of Rationality, the first madhouse in my memory, run by Rationalist nuns. Their silent black-clad forms fluttered like specters outside my mother's cell while they prayed to the Master Builder, the epitome of human reason, for her recovery. All the medical science and logic in the world couldn't cure my mother, but the nuns tried. And when they failed, she was sent on to another madhouse, where no one prayed for anything.

Nerissa gave a snort, ruffling the ragged fringe above her eyes. "Oh, am I? And what would you know of sense, miss? You and those ironmongers locked away in that dank school, the gears turning and turning to grind your bones . . ."

I stopped listening. Listen to my mother long enough and you started to believe her. And believing Nerissa broke my heart.
You can read the full excerpt online HERE.
The Giveaway: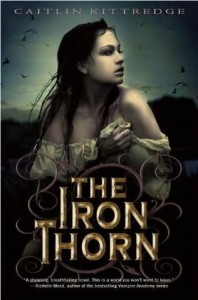 We are giving away one copy of the The Iron Thorn, courtesy of the author to one lucky winner. The contest is open to EVERYBODY and will run until Saturday, April 2, 2011 at 11:59 PM (PST). In order to enter, all you have to do is leave a comment here. Only ONE comment per person, please! Multiple entries and/or duplicate comments will be automatically disqualified. Good luck!