"On The Smugglers' Radar" is a new feature for books that have caught our eye: books we heard of via other bloggers, directly from publishers, and/or from our regular incursions into the Amazon jungle. Thus, the Smugglers' Radar was born. Because we want far more books than we can possibly buy or review (what else is new?), we thought we would make the Smugglers' Radar into a weekly feature – so YOU can tell us which books you have on your radar as well!
On Ana's Radar:
There is absolutely no end to the amount of books I want to read.
Meredith Duran's next book finally has a cover – and I love it, it might my favourite so far: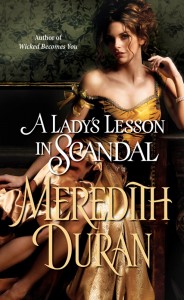 When Nell Whitby breaks into an earl's house on a midnight quest for revenge, she finds her pistol pointed at the wrong man. Pity the handsome devil is a lunatic. He thinks her a missing heiress, but more to the point, he'll help her escape the slums and get a bit of justice, too. Not a bad bargain. All she has to do is marry him.

A rake of the first order, Simon St. Maur spent his restless youth burning every bridge he walked across. When he inherits an earldom without a single penny attached to it, he sees a chance to start over—provided he can find an heiress to fund his efforts. But his wicked reputation means courtship will be difficult—until fate sends him the most notorious missing heiress in history. All he needs now is to turn her into a lady and keep himself from making the only mistake that could ruin everything: falling in love…

From Romance to Horror because that's how I roll: this next book, Anna Dressed in Blood sounds and looks totes creepy and I have no idea why but I want it!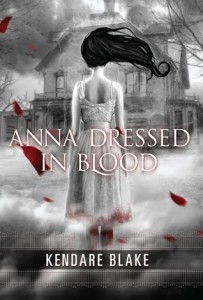 Just your average boy-meets-girl, girl-kills-people story. . .

Cas Lowood has inherited an unusual vocation: He kills the dead.

So did his father before him, until his gruesome murder by a ghost he sought to kill. Now, armed with his father's mysterious and deadly athame, Cas travels the country with his kitchen-witch mother and their spirit-sniffing cat. Together they follow legends and local lore, trying to keep up with the murderous dead—keeping pesky things like the future and friends at bay.

When they arrive in a new town in search of a ghost the locals call Anna Dressed in Blood, Cas doesn't expect anything outside of the ordinary: move, hunt, kill. What he finds instead is a girl entangled in curses and rage, a ghost like he's never faced before. She still wears the dress she wore on the day of her brutal murder in 1958: once white, but now stained red and dripping blood. Since her death, Anna has killed any and every person who has dared to step into the deserted Victorian she used to call home.

And she, for whatever reason, spares his life.

And look! The UK cover for Red Glove by Holly Black! I love it way more than the US cover!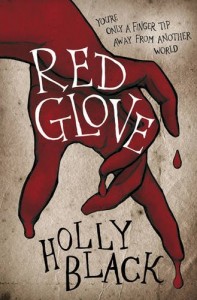 Geraldine McCaughrean is a hit or miss author for me, but I love the cover for her next book and I might give this a try: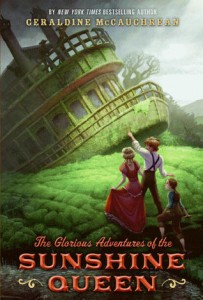 Cissy Sissney has always longed for a life filled with adventure, and her wish is unexpectedly granted when she is sent to live aboard the Sunshine Queen—a shipwrecked paddle steamer that houses the Bright Lights Theater Company. When the showboat is carried back out to sea, the motley crew on board embarks on a wild and hilarious journey. But along the way, one of their own falls into grave danger…and Cissy learns that the stakes of fame are higher than she could possibly have imagined.

Renowned storyteller Geraldine McCaughrean weaves a rip-roaring river adventure that's chock-full of sidesplitting humor and daring escapades. Readers won't be able to resist riding along on the Sunshine Queen's thrilling journey in this fun and accessible tale.

Coming from Orbit in May (and I am crushing on several of their titles this year, this is just another one):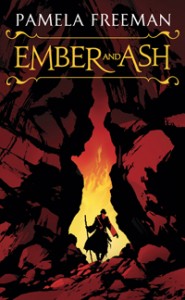 The old ones will have their revenge.

Two peoples have been fighting over the same land for a thousand years. Invaders crushed the original inhabitants, and ancient powers have reluctantly given way to newer magics. But Ember was to change all this with a wedding to bind these warring people together — until her future goes up in flames.

Ember's husband-to-be is murdered by a vengeful elemental god, who sees peace as a breach of faith. Set on retribution, she enlists the help of Ash, son of a seer. Together they will pit themselves against elementals of fire and ice in a last attempt to end the conflicts that have scarred their past. They must look to the present, as old furies are waking to violence and are eager to reclaim their people.

And after reading the recent, starred, Kirku's review for Chime, I had to get this up here: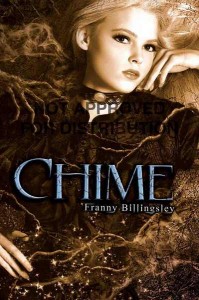 Before Briony's stepmother died, she made sure Briony blamed herself for all the family's hardships. Now Briony has worn her guilt for so long it's become a second skin. She often escapes to the swamp, where she tells stories to the Old Ones, the spirits who haunt the marshes. But only witches can see the Old Ones, and in her village, witches are sentenced to death. Briony lives in fear her secret will be found out, even as she believes she deserves the worst kind of punishment.

Then Eldric comes along with his golden lion eyes and mane of tawny hair. He's as natural as the sun, and treats her as if she's extraordinary. And everything starts to change. As many secrets as Briony has been holding, there are secrets even she doesn't know.

On Thea's Radar:
First, some gorgeous new reissued covers for Brandon Sanderson's Elantris and Mistborn. Love.

For the new stuff, Richelle Mead's Vampire Academy spinoff series, Bloodlines, has a temporary cover and countdown webpage – which has me excited (in spite of myself).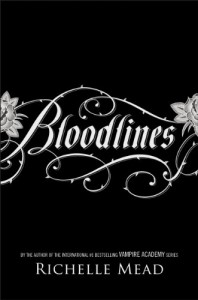 I read a recent review of The Weird Sisters and think it sounds pretty interesting, too…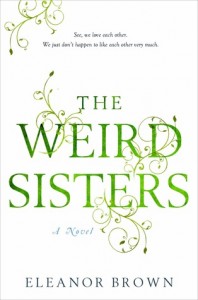 A major new talent tackles the complicated terrain of sisters, the power of books, and the places we decide to call home.

There is no problem that a library card can't solve.

The Andreas family is one of readers. Their father, a renowned Shakespeare professor who speaks almost entirely in verse, has named his three daughters after famous Shakespearean women. When the sisters return to their childhood home, ostensibly to care for their ailing mother, but really to lick their wounds and bury their secrets, they are horrified to find the others there. See, we love each other. We just don't happen to like each other very much. But the sisters soon discover that everything they've been running from-one another, their small hometown, and themselves-might offer more than they ever expected.

This cover caught my eye as well (despite not knowing anything about the novel, I felt the immediate "want" reaction kick in – and then I read the blurb and wanted it even more):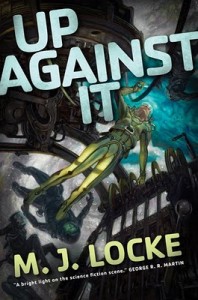 Geoff and his friends live in Phocaea, a distant asteroid colony on the Solar System's frontier. They're your basic high-spirited young adults, enjoying such pastimes as hacking matter compilers to produce dancing skeletons that prance through the low-gee communal areas, using their rocket-bikes to salvage methane ice shrapnel that flies away when the colony brings in a big (and vital) rock of the stuff, and figuring out how to avoid the ubiquitous surveillance motes that are the million eyes of 'Stroiders, a reality-TV show whose Earthside producers have paid handsomely for the privilege of spying on every detail of the Phocaeans' lives.

Life isn't as good as it seems, though. A mysterious act of sabotage kills Geoff's brother Carl and puts the entire colony at risk. And in short order, we discover that the whole thing may have been cooked up by the Martian mafia, as a means of executing a coup and turning Phocaea into a client-state. As if that wasn't bad enough, there's a rogue AI that was spawned during the industrial emergency and slipped through the distracted safeguards, and a giant x-factor in the form of the Viridians, a transhumanist cult that lives in Phocaea's bowels.

In addition to Geoff, our story revolves around Jane, the colony's resource manager — a bureaucrat engineer in charge of keeping the plumbing running on an artificial island of humanity poised on the knife-edge of hard vacuum and unforgiving space. She's more than a century old, and good at her job, but she is torn between the technical demands of the colony and the political realities of her situation, in which the fishbowl effect of 'Stroiders is compounded by a reputation economy that turns every person into a beauty contest competitor. Her manoeuverings to keep politics and engineering in harmony are the heart of the book.

Night Shade Books has been killing it lately with all the new releases I am dying to read, including this one: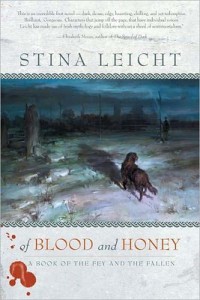 Liam never knew who his father was. The town of Derry had always assumed that he was the bastard of a protestant – his mother never spoke of him, and Liam assumed he was dead. But when the war between the fallen and the fey began to heat up, Liam and his family are pulled into a conflict that they didn't know existed. A centuries old conflict between supernatural forces seems to mirror the political divisions in 1970's era Ireland, and Liam is thrown headlong into both conflicts! Only the direct intervention of Liam's real father, and a secret catholic order dedicated to fighting "The Fallen" can save Liam… from the mundane and supernatural forces around him, and from the darkness that lurks within him.

And finally, this is a pick solely based on its cover: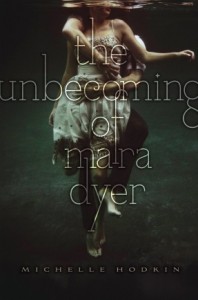 Mara Dyer believes life can't get any stranger than waking up in a
hospital with no memory of how she got there. It can.

She believes there must be more to the accident she can't remember
that killed her friends and left her strangely unharmed. There is.

She doesn't believe that after everything she's been
through, she can fall in love. She's wrong.

What about YOU? Any books on your radar?