Welcome to Smugglivus 2010: Day 18
Throughout this month, we will have daily guests – authors, bloggers and publishers alike – looking back at their favorite reads of 2010, and looking forward to events and upcoming books in 2011.
Who: Kathryn McKenna, Children's Marketing & Publicity Assistant for Simon and Schuster UK with a list of what to expect from S&S UK in 2011 and a most awesome and generous ARC giveaway!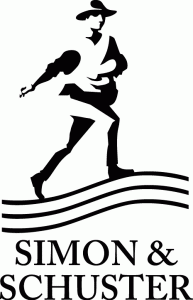 Please give it up for Kat!

Smugglivus – beginning of 2011
Hi guys! I'm back, again, taking up my resident position at The Book Smugglers whilst surrounded by tinsel and Christmas cards and festive nibbles. I'm here to talk to you guys about what's coming up for Simon & Schuster UK in the first half of 2011 – we've got some really exciting titles as always. 2011 is standing up to be one of our best publishing years yet, and with the teen/young adult market ever growing, our opportunities expand too, allowing us publish some varied and different teen fiction. In this post, I'll be recommending everything from vampires to faeries to road trips, to give you a little taster of what's in store… As ever, we'll be giving away a copy of every single book in this post to one lucky reader – all you have to do is tell us in the comments which one you're most excited about and why!
One quick bit of business before I proceed: back in my last post at The Book Smugglers, I gushed about The Replacement by Brenna Yovanoff, which was a bit of a cheat as it doesn't publish in the UK until January 2011. But my excitement took over as it often does, and I couldn't resist talking about it as an upcoming read to add to your wishlist. Unquestionably, I'm STILL very excited about it, as publication draws so close, that I can't resist reminding you all to pick up a copy in January – to read why, look back at my previous post here.
And now (drum roll please), I present to you the next batch of Simon & Schuster publications, coming to a bookshelf near you…
THE 13 SECRETS – Michelle Harrison (February)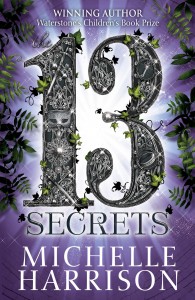 The final instalment of Michelle Harrison's stunning 13 trilogy, The 13 Secrets is one of our key reads at the beginning of 2011. The series has been going strong since its publication in 2009, with the first instalment, The 13 Treasures, winning the Waterstone's Children's Book Prize and winning the hearts of readers in the UK. Since then, the series has sold in excess of 100,000 copies – and for good reason. Dark, lyrical, expertly crafted, these books take on a new type of faerie story – one where the faeries are bad and magic is dark.
This close to the series does not disappoint its predecessors, with Harrison rounding off events neatly in a suspenseful climax. The hook in this instalment sees Red staying at Elvesden Manor with Tanya, Fabian and co., and suddenly faced with some of darker parts of her past… Forced to confront them, Red teams up once again with Tanya and Fabian for one last dark deed… but is all as it seems? Secrets will be revealed in all cases, and the sense of danger is higher than ever, making for an exciting, gripping finale.
If this hasn't wet your taste buds enough, we've also produced an amazing trailer for The 13 Secrets. Check it out below…
CRUSADE: THE CURSED ONES – Nancy Holder & Debbie Viguie (February)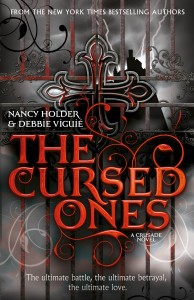 Welcome to a world where the vampires do not sparkle… I've been describing this book to reviewers as 'a vampire novel that takes its reader back to the unbeating heart of the genre…' and that's just exactly what it is. Written by Nancy Holder & Debbie Viguie, The Cursed Ones is the first instalment of a series that reflects what used to be absolutely irresistible about vampire fiction – we're talking about a time when the vampires used to be BAD, wars used to be brutal, and the supernatural scary rather than sparkly…
While The Cursed Ones does contain the odd irresistibly sexy remorseful vampire (think Angel, but Spanish – and even hotter), the premise of this book rings back more to classic paranormal romance, a story of war and fear with a romantic thread that creates further complication. Vampires are starting an out and out war, that can only be assuaged by vampire hunters, one of which is our leading character. The first sequence in The Cursed Ones throws the reader straight into the action that can be expected throughout – debris, smoke, blood, fire and death all paint the surroundings of a world we see through the eyes of Jenn. The only human in a band of misfit vampire hunters (a werewolf, a witch, a martial arts expert, an Irishman with anger issues – and a vampire), Jenn's experiences at her training camp in Spain have opened her eyes to a world of supernatural things that she never could have dreamed of experiencing… including falling in love with her vampire hunting partner, Antonio. When her family and hometown are endangered, and war seems to be getting out of hand, Jenn is forced to choose between love and honour, death and destruction, and saving her family…
The Cursed Ones is a hard book to resist, especially if you grew up in the Buffy generation. This book comprises a kick ass cast, and a return to what truly made the paranormal so exciting… and did I mention the cover is stunning? All the more reason to pick it up.
ROT & RUIN – Jonathan Maberry (March)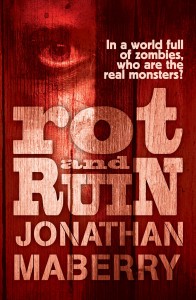 I love zombie stories – the opportunity for the metaphors they present is exciting, and who doesn't love a bit of guts and gore? From classic instalments such as Shaun of the Dead, to Planet Terror, zombie fiction has gone down as some of the most revered film, television and literature experiences of all time. Now with brand new series The Walking Dead, the genre is currently experiencing a new lease on life (or, well, walking deadness). So I am hugely excited to present a brand new zombie novel for our list in the spring – Rot & Ruin.
From THE zombie author, Jonathan Maberry, comes his first venture in young adult fiction – a dark, thought provoking read about a world overtaken by a virus that has left the landscape barren – and many of its inhabitants undead. The setting is important to the story – desert like landscapes add atmosphere to this already haunting depiction of the future. Benny, the lead character, has lived his whole life only knowing the world as such – inhabited by zombies that are hunted and killed by zombie hunters. One of these hunters is Benny's older brother Tom. Upon heading out with his brother and learning the unsettling way in which zombie hunters take to exterminating their prey, and seeing real zombies and the families that continue to protect them, Benny's previous beliefs are called into question…
Rot & Ruin is exciting, gripping, gory, and intriguing. It excitingly explores the themes and metaphors I mentioned initially: those of humanity, loneliness, love and death, through its zombie characters. The humans are key to this tale too; brothers Benny and Tom take the reader through the unfamiliar horrors of this exciting new novel. The reading level is higher than some teen books and definitely has major crossover appeal – a perfectly crafted story that is both scary, exciting and moving, wrapped up in a lovely red package. Read this one on a dark night and be prepared not to put it down!
BIRTHMARKED – Caragh O'Brien (April)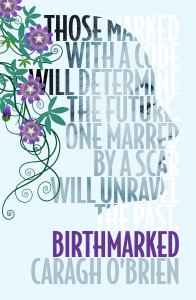 In the future, in a world baked dry by the harsh sun, there are those who live inside the walled Enclave and those, like sixteen-year-old Gaia Stone, who live outside. Following in her mother's footsteps Gaia has become a midwife, delivering babies in the world outside the wall and handing a quota over to be "advanced" into the privileged society of the Enclave. Gaia has always believed this is her duty, until the night her mother and father are arrested by the very people they so loyally serve. Now Gaia is forced to question everything she has been taught, but her choice is simple: enter the world of the Enclave to rescue her parents, or die trying.
Birthmarked sits perfectly beside the the likes of Matched (Ally Condie), The Hunger Games (Suzanne Collins), Never Let Me Go (Kazuo Ishiguro), The Declaration (Gemma Malley) – smart, gripping dystopian young adult fiction that battles current issues in a surrounding that allows them to be discussed more openly. Birthmarked takes on class, segregation, government among other topics that are thought provoking and often discussed in the guise of dystopia in teen fiction. Lead character, Gaia, leads us through a sympathetic story that will join the ranks of some of the classic teen fiction of our time.
DARKNESS BECOMES HER – Kelly Keaton (June)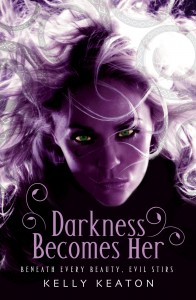 Have I mentioned how much I love our covers? Well, to join the stunning collection you've seen so far is Darkness Becomes Her. Yes, that is the black and purple calling card of classic paranormal fiction you see. Yes, those are snakes (!). Yes, that is a wild mane of hair… all these things make up for an absolutely awesome addition to our Simon Pulse list.
Darkness Becomes Her is a dark reimagining of the Medusa myth – for those of you who missed that one in your history homework, Medusa was one of three Greek sisters with snakes for hair and a gaze that turns mortals to stone. Not quite as immediately menacing is lead character Ari, who has spent her life in a brilliantly re-imagined New Orleans landscape. While not menacing, she is definitely out of place with a shocking silver mane of hair and bright teal eyes. When she uncovers a cryptic and alarming message from her dead mother, and realises that the terrifying creatures that now haunt New Orleans, or New 2, are actually more afraid of her, Ari knows she is about to discover a disturbing truth about her destiny…
AMY & ROGER'S EPIC DETOUR – Morgan Matson (July)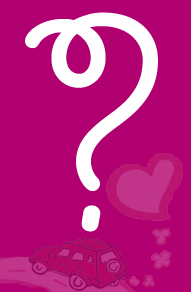 What can I say about this book to truly get over just how much I loved it? Amy & Roger's Epic Detour is one I just couldn't leave off this list, as much as it is a little ahead of publication. Morgan Matson is undoubtedly a new big talent, the next teen author who so perfectly depicts real teenagers that you will be chomping at the bit for a next offering.
Let's start with the plot before I get carried away with gushing. Amy Curry is our narrator, a seventeen year old who has recently suffered the awful loss of her father. Amy's life has been turned upside down since- her confidence knocked as her feelings of responsibility for his death consume her, her brother in rehab after developing a bad drug habit, her mother living in another state on the other side of the country waiting for her family to join her. Amy's job: to transport the family car and herself to Philadelphia where her new home will be. Amy's problem: she hasn't been in a car, let alone driven one, since she drove the one that caused her father's death. The solution: Roger. The son of a friend, Roger steps up to transport himself, the car, and Amy on a five day meticulously planned road trip that will get them from A-Z (or, the West Coast to the East Coast). Roger, however, wants to be more imaginative and enjoy the road trip as best they can, and thus starts a story that deals with love, life, death, growing up, friendship… the journey that Amy & Roger embark on is life changing for both of them.
The bonds you will forge with both these characters (and those who support them) are undeniably strong; Matson clearly knows both characters inside out and leaves you feeling like you do too. The book is illustrated with postcards, photos (most of which Matson took herself upon her own venture on the same road trip), doodles and playlists. Music plays a large part in Amy & Roger's Epic Detour, as each playlist is created by Roger as one part of the journey. These multimedia elements create a layered feeling to it that you can further explore yourself after reading if you wish to. If you love Sarah Dessen and Jaclyn Moriarty, this is the one for you. This is the kind of book I could read over and over and over again, and I hope you all will, too.
We don't have a finished cover for this book… I've seen a sneak peek and it's stunning. Watch this space!
**
And that's it! An exciting sneak peek at what's to come in the next year, and as I mentioned please do let us know what you're looking forward to – you'll be immediately entered into the draw to win all six of these fab reads. Thanks for all staying through my rambles as ever, and I look forward to resuming my post in a few months. Until then… happy reading!
Don't forget to follow us on Twitter (@simonkids_UK) and visit www.simonandschuster.co.uk for information on more upcoming titles!

You heard her! Comment away for a chance to win ALL six books. The contest is open to everyone and will run till Saturday January 1st 11:59 P.M. (PST). One entry per person, please. We will randomly pick the winner and post it on our January 2nd stash. Good luck!